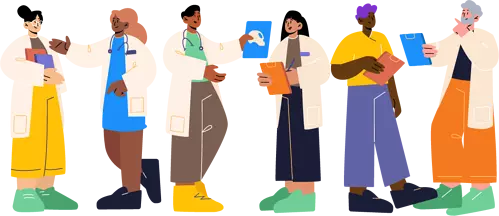 Different populations have dramatically different experiences with wellness providers. For example, according to a Gallup poll, Black and Hispanic individuals were less satisfied and more likely to experience discrimination when seeing their healthcare providers.
These issues are far from new. Marginalized groups have a long history of being mistreated by the healthcare system. For example, J. Marion Sims, a 19th-century doctor, conducted experimental surgery on enslaved Black women without their consent or anesthesia. In the infamous Tuskegee Experiment carried out by the United States Public Health Service (PHS) and the CDC between 1932 and 1972, researchers conducted various procedures on 400 African American men with syphilis. None of the men were told the nature of the experiment or that they suffered from the condition. Over 100 participants died.
Because of this history, individuals from underprivileged groups often lack trust in their wellness providers. In turn, they may avoid seeking preventive care and treatment.
Collectively, these factors result in significantly worse health outcomes. The following startling statistics compiled by the Center for American Progress, a public policy research and advocacy association, highlight the severity of the effects:
African Americans have the highest mortality rate for all cancers combined compared with any other racial and ethnic group.

Hispanic adults over age 20 are nearly twice as likely to have been diagnosed with diabetes.

Asian Americans are twice as likely to develop chronic hepatitis B and eight times more likely to die from hepatitis B than non-Hispanic white individuals.

Suicide was the second-leading cause of death among Native Americans and Alaska Natives ages 10 to 34 in 2017.
One of the best ways to help combat these tragic consequences is by ensuring your wellness program includes diverse providers. This is for two key reasons. First, individuals from marginalized groups are more likely to feel comfortable seeking care from a wellness professional of the same identity. Second, wellness professionals from underrepresented groups can better understand the needs of other individuals from underserved populations and deliver compassionate and judgment-free care.
Ensuring that employees have access to diverse health care providers may seem unattainable. After all, how can an organization control what doctors are available to their workers? In truth, companies have a significant degree of influence on the demographic makeup of the wellness professionals their employees have access to. One reason for this is that employers decide what insurance plans employees get, which determines what providers are in-network. When picking an insurance plan, be sure to choose one with a clear emphasis on diversity.
It's important to remember that a focus on offering diverse wellness providers shouldn't stop with doctors, nurses, therapists, or other professions that may be included in a health insurance plan. Instead, it must be all-encompassing and include everyone from fitness trainers to aromatherapists. The strategy for ensuring diversity with respect to this category of wellness professionals is similar to picking the right insurance plan. Employers need to carefully vet the vendor for a commitment to diversity.