Similar to wellness challenges, knowing the do's and don'ts will help ensure program success. Below are some best practices to get the most from a continuous program.
Provide Holistic Health Content
Even though a continuous program is running constantly, it doesn't mean that it should focus on the same thing all the time and become stagnant. Also, since holistic well-being is the best way to truly impact employee health and manage health care costs, building a dynamic program with a holistic approach to wellness ensures that employees will stay more engaged and fully embrace all areas of health-physical, mental, emotional, social, financial, and beyond.
For example, Wellable suggests that an employer includes a holistic well-being topic each month in addition to physical activity tracking. One way to do this is by creating a monthly health content calendar that focuses on a different topic each month and provides content and tips on the topic. A bonus would be to have behaviors associated with the monthly topic incorporated into the program, allowing employees to earn incentives for engaging in those behaviors. To simplify this for employers, Wellable created an easy-to-administer holistic health content calendar that pairs perfectly with a continuous program.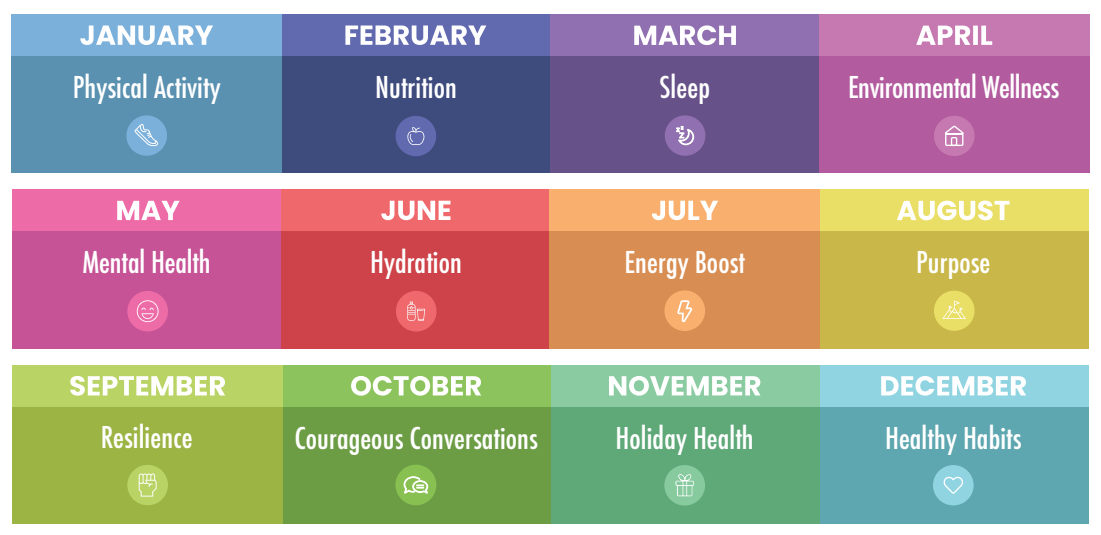 Make Reward Thresholds Attainable
Continuous programs are set up to incentivize employees with rewards for hitting certain thresholds or milestones. Generally, thresholds are measured in the form of points, and participants earn points by tracking their physical activity and/or healthy behaviors, such as steps taken and food consumed.
Many companies use a binary system for determining rewards-either a participant meets the goal or they do not. While simple, this structure has a number of drawbacks. Most notably, determining the level to set a single threshold at can be difficult. If it is set too low, many participants can earn the full reward without having to change their behaviors; if set too high, many individuals may decide not to participate because they view it as too difficult to achieve.
To address this roadblock, employers should create a tiered reward system, which includes multiple milestones. The first tier or threshold should be low enough to not discourage anyone from opting out of the program because of its difficulty. This will optimize engagement in the program. The remaining tiers should be close enough together to feel attainable once a participant achieves the tier before it. A tiered reward system should include at least three levels, but more levels provide greater flexibility and are less likely to prevent a participant from feeling like the next threshold is unattainable, both of which improve program performance.
A tiered reward system can also accommodate differences between individual participant needs without the administrative hassle of creating unique goals for each user. The highest tier should be matched for what the most active participants can attain.
If tiers are not an option because of budget restrictions, another option is a "Break The Bank" system. In this rewards model, the employer allocates a set amount of money for incentives during each reward period. At the end of each period, that amount is split evenly between the employees who hit the set point goal. This reward structure is often preferred for companies that have a restricted or fixed budget for rewards.
Distribute Rewards Frequently
Continuous programs have a defined period of time when rewards are distributed. Employers may choose to have the program reset points and distribute rewards monthly, quarterly, yearly, or however best fits the company's needs.
Wellable recommends this period be monthly because of "present bias." In behavioral economics, present bias describes how individuals value rewards in the present more than those same rewards in the distant future. Delivering a reward closer to the completion of a milestone strengthens the motivation to continue those healthy behaviors and achieve more goals. It makes small accomplishments more meaningful and can make bigger goals more manageable by breaking them up into smaller milestones. A month is a short enough time period to keep people from procrastinating efforts to gain points or otherwise losing interest in the program over the course of a longer time period. However, a month is not too brief a time period (like daily or weekly) that it creates an unnecessary administrative burden with managing and distributing rewards so frequently.
When rewards are distributed, the point system resets for each program period. In programs that reward at the end of the year, many employees who don't start from day one feel like catching up is not attainable and postpone participation to the following year. When a program resets every month, an employee always has opportune times to join the program without delay.
Despite this, many employers still create programs that have participants complete activities over the course of a year and reward them annually. Employers often create programs that reward employees annually because it is easier to manage. However, if employers work with the right partner to facilitate these programs and administer the rewards, the time and resources spent on managing rewards becomes less of an issue. Wellable provides the tools, technology, and features to make this process hassle-free, allowing employers to create programs that deliver rewards monthly and get the most from their rewards budget.
Provide Reward Options
Rewards need to be valued by participants in order to be effective. Since individuals are unique and value things differently, it can be hard to pick a single reward that is perfect for everyone. This is why it is easier and more effective to provide multiple reward options and let employees choose the one they prefer. For example, a participant could choose paid time off (PTO) compared to cash if they value time off more than a monetary reward. Since personal preferences can change over time, allowing employees to switch between options is also important.
Below is an example of a continuous program reward structure. Wellable considers this reward structure a best practice for many reasons. The rewards are delivered frequently (monthly) and participants can choose the prize they most prefer and will be motivated by. If a participant's preference shifts, they are allowed to change their reward selection anytime during a program. Additionally, the tiered rewards structure encourages everyone to participate and improve incrementally.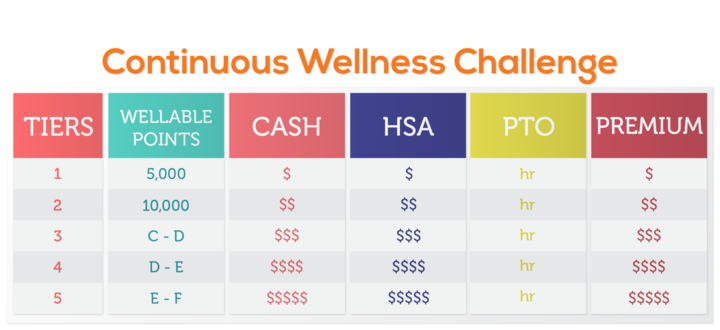 Communicate Clearly, Minimize Emails
Since participants are working toward goals by earning points on a system that remains the same throughout the duration of the entire program, they generally don't need to receive as many emails as they would during a traditional wellness challenge. Emails that are sent out during the month (or whatever the set time period for rewards may be) have a recurring schedule that matches previous and future months, which reduces administrative work and excessive notifications that may bother or overwhelm employees. For an even simpler approach, instead of distributing email notifications, program details and current statistics can be easily accessible within online user accounts.