Employee engagement is critical to organizational health and sustained business success. An engaged employee is one who is connected to their workplace, committed to their job, and invested in the growth of the organization.
When employees are engaged, they feel:
More aligned with their company's purpose
More connected to their peers
Greater motivation while completing tasks and projects
Higher morale and worth at work
Employers reap the following benefits of an engaged workforce:
Increased employee retention
Increased employee productivity and efficiency
Higher profitability
Better customer service provided by employees
Greater interest and recruiting ability for job candidates
Overall, employee engagement and job satisfaction result in higher business performance. Both employees and employers benefit from promoting and practicing engagement, making it a top priority for any organization.
However, the majority of workers are not engaged in their jobs, resulting in often overlooked consequences for companies. To understand the importance of employee engagement and how to improve it, let's explore the following nine crucial employee engagement statistics:
1. 85% of employees are not engaged at work
According to Gallup's recent State of the Workplace report, a significant proportion of employees are not fully engaged in their work. Specifically, 85% of employees are either unengaged or actively disengaged. Unengaged employees, who make up 67% of this group, are indifferent to the success of their company and do the bare minimum required of them. They are often referred to as "quiet quitters," as they may not overtly express their dissatisfaction but are unlikely to go above and beyond in their work. On the other hand, actively disengaged employees are not just indifferent, but actively resentful of their current work environment and may act out their unhappiness, potentially harming their colleagues' work in the process.
In June 2020, employee engagement fell to a record low at 31%. This sudden decrease could be partially explained by the COVID-19 pandemic, political and social turmoil, or high unemployment rates. Even post-pandemic, however, employee engagement continues to decline. The consequences of a disengaged workforce can be damaging for any organization, resulting in lower productivity, higher turnover rates, and increased absenteeism.
2. Highly engaged employees are 87% less likely to leave their employer
More than a third of US employees plan to leave their jobs in 2023, and nearly three-quarters reported that they would consider quitting if the right opportunity arose, even if they weren't looking for a new job at the moment. Switching jobs boils down to more than salary; in fact, 71% of Gen Zers would accept a pay cut in order to do more meaningful work.
Employees are 87% less likely to quit a job if they are engaged in the workplace, and an integral factor of engagement is company purpose. Unfortunately, 22% of employees feel completely disconnected from their company's purpose. There is a clear opportunity for employers to create a work environment where workers feel valued, and their duties have meaning. With US employers spending $2.9 million per day looking for replacement workers, it is in companies' best interest to invest in employee engagement in order to save money and increase retention.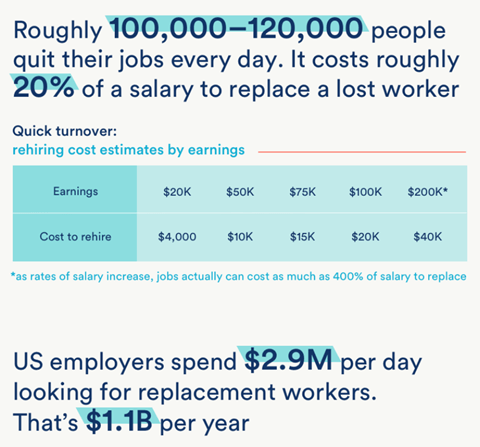 3. Disengaged employees cost an additional $3,400 for every $10,000 in salary
Disengaged employees are lower-performing than their engaged peers on multiple levels. They have an 18% lower productivity rate, 15% lower profitability rate, and higher absenteeism rate, with a 37% increased likelihood of taking time off work. On average, a disengaged employee costs a company 34% of their annual salary, or $3,400 for every $10,000 the employee makes.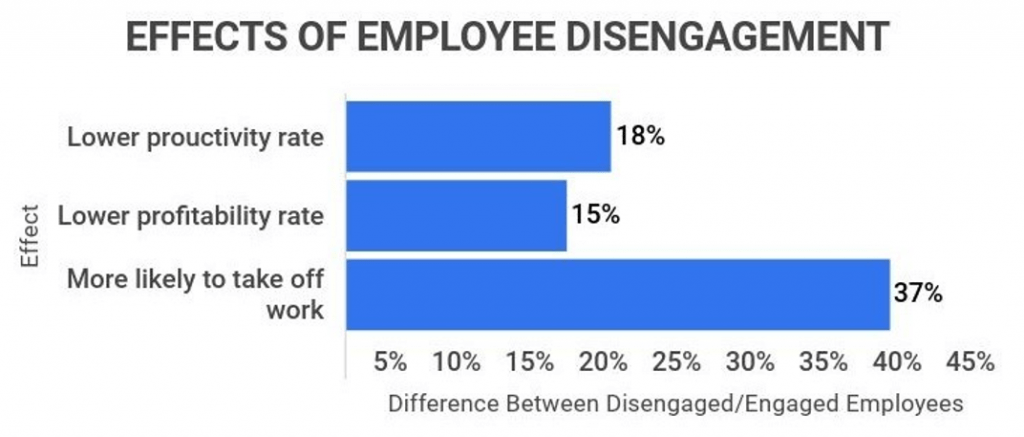 Other than connecting employees' jobs to an organizational mission, The Conference Board suggests that companies encourage personal agency, giving employees the opportunity to take ownership over their tasks and responsibilities. This will allow them to reach their full potential while becoming increasingly invested in their work. With self-agency comes a heightened sense of responsibility and pride in one's accomplishments, leading to improved job satisfaction and performance.
4. Companies with the highest rates of employee engagement are 21% more profitable
When it comes to business profitability, employee engagement is a fundamental factor. Companies with a highly engaged workforce are 21% more profitable and 17% more productive than those with disengaged staff. Engaged employees outperform their peers because they tend to be more innovative, efficient, and have higher customer retention rates. Strong employee engagement is an undeniable advantage to employers who are more likely to achieve a successful and profitable business.
Gong, a revenue operations and intelligence company, serves as a prime example of how investing in employee experience and engagement can lead to better company performance. An impressive 92% of Gong employees rated the company as a great place to work, compared to the industry average of just 59%. This positive culture has not gone unnoticed by industry experts, as Gong was recognized by Forrester in 2022 as a clear leader in its market, receiving the highest possible scores in 13 different evaluation criteria. Additionally, on G2, an enterprise software review site, Gong is ranked as the top solution in three out of the four categories it is listed in. These accolades demonstrate the tangible business benefits that can result from a positive and supportive work environment for employees. The role of an employee experience manager will become increasingly common and important to the organization's growth.
5. 69% of employees report that they would work harder if they felt more appreciated at work
Employee recognition matters for employees' overall job satisfaction and employers' ability to retain high-performing and engaged workers. Research shows that when employees are frequently recognized for their efforts, they are more likely to stay with the company and perform their best because they feel motivated and valued. Showing employees appreciation is key to retaining top talent.
Recognition goes beyond notable achievements; it can be as simple as thanking an employee for having a positive attitude, acknowledging their work ethic, or identifying ways they have improved. Expressing gratitude towards employees does not have to be public, either. In fact, 43% prefer to receive recognition one-on-one with their manager. Regular check-ins with employees in which employers ask for feedback and praise their employees will boost workers' morale and encourage them to work harder.
6. 89% of Human Resources professionals claim that providing ongoing feedback and clear expectations are optimal for increasing employee engagement
Ongoing feedback is incredibly valuable for increasing employee engagement. This can be done through consistent co-worker feedback and regular check-ins between employees and managers.
Setting clear expectations is another essential recommendation for employees to perform optimally and remain engaged. When setting expectations, employers should be as specific as possible with clear job descriptions and deadlines for tasks or projects. Additionally, employers should ensure employees are provided with resources such as access to training and development materials and support from team members. Providing transparent standards reduces confusion, builds trust in the workplace, and increases efficiency.
Encouraging work-life boundaries is essential to setting expectations, especially considering the backlash towards hustle culture. This includes avoiding making "fun" activities mandatory, offering breaks when needed, and ensuring workers leave the office on time. Employers can model behavior that reflects work-life balance, setting the tone for employees to maximize their productivity during work hours while maintaining separation from home and personal life. This will improve working performance and minimize burnout.
7. Strong company culture increases revenue 4x
In a long-term study conducted over 11 years, companies with thriving corporate cultures grew 682% in revenue, while those that lacked good company culture grew only 166% in revenue. They found that a strong corporate culture highly values employees, customers, and owners while also fostering leadership from everyone in the organization.
Developing strong organizational culture means creating an environment that is both challenging and supportive for employees. Successful companies experience greater profitability, retention, and increased engagement from workers. Employees who feel a strong sense of belonging and purpose are more likely to be proactive in problem-solving, express their ideas and opinions, and seek out opportunities for collaboration. Thus, emphasizing a positive company culture should be a priority for employers.
8. 89% of employees working for companies with wellness programs are engaged and happy with their job
The overwhelming majority of US employees who work for a company with a wellness program report being happy with their job and would recommend it to a friend. Only 17% of employees would recommend a company that is not committed to improving the well-being of its workforce.
Employers that want to attract top talent should implement a holistic wellness program that supports all dimensions of well-being. Sixty-seven percent of employees are not thriving in their overall well-being at work, so job seekers today are looking for companies prioritizing various aspects of employee health and offering meaningful benefits. A comprehensive wellness program can help employers stand out from the competition, making them more attractive to potential jobseekers.
9. Only 29% of employees are pleased with career advancement opportunities
One report revealed that while 41% of employees consider career advancement opportunities extremely important to overall job satisfaction, only 29% are "very satisfied" with the current opportunities at their company. Providing professional development resources and training is essential for positive employee engagement.
Employers should consider providing roadmaps to new employees who are aiming to work their way up the organization's ladder. This is especially important for younger generations, including millennials, who perceive career development opportunities to be very important. Access to mentors and experts who can provide insight and promote their professional growth will encourage employees to sharpen the skills needed to succeed.
Takeaway
A lack of employee engagement is detrimental to companies and could be the root cause of a failing business. The greatest companies maintain a workforce who have an emotional connection to the organization's success. The workplace engagement statistics outlined above highlight the repercussions of employee disengagement and the rewards of actively promoting and pursuing engagement. The advantages are evident in employees' performance, productivity, profitability, and job satisfaction. With these considerations, employers can save themselves from detrimental outcomes and promote business success by focusing on employee engagement.