Why is Employee Retention Important?
Corporations that address turnover risks and improve employee retention reap bountiful rewards. They report higher employee morale, work quality, improved productivity, and sales growth. An elaborate human capital management strategy includes a comprehensive plan for retaining the valuable employees a company took time to hire, train, and onboard.
Companies can effectively manage employee retention initiatives and related data through human resources management systems (HRMS). The HR software applications help with every stage of the employee lifecycle, from onboarding to candidate management and employee engagement. These tools provide better insights into the company's turnover rate and track the progress of any initiatives implemented to address existing challenges.
Employee retention promotes the success and health of an organization. Hiring and training employees are time-consuming and impose significant stress on the company, and turnover may impact business outcomes negatively. High employee turnover causes additional problems such as low productivity, knowledge loss, and increased costs.
The cost of replacing an individual employee ranges from one-half to two times the employee's salary. This implies that losing an employee whose annual salary is $80,000 can cost the organization approximately $160,000. A company with about 100 workers, earning an average salary of $50,000, will incur about $2.6 million per year in turnover and replacement costs. The turnover for high performers is equally high, but the cost of hiring the wrong talent is more heightened, costing $14,900 for corporations.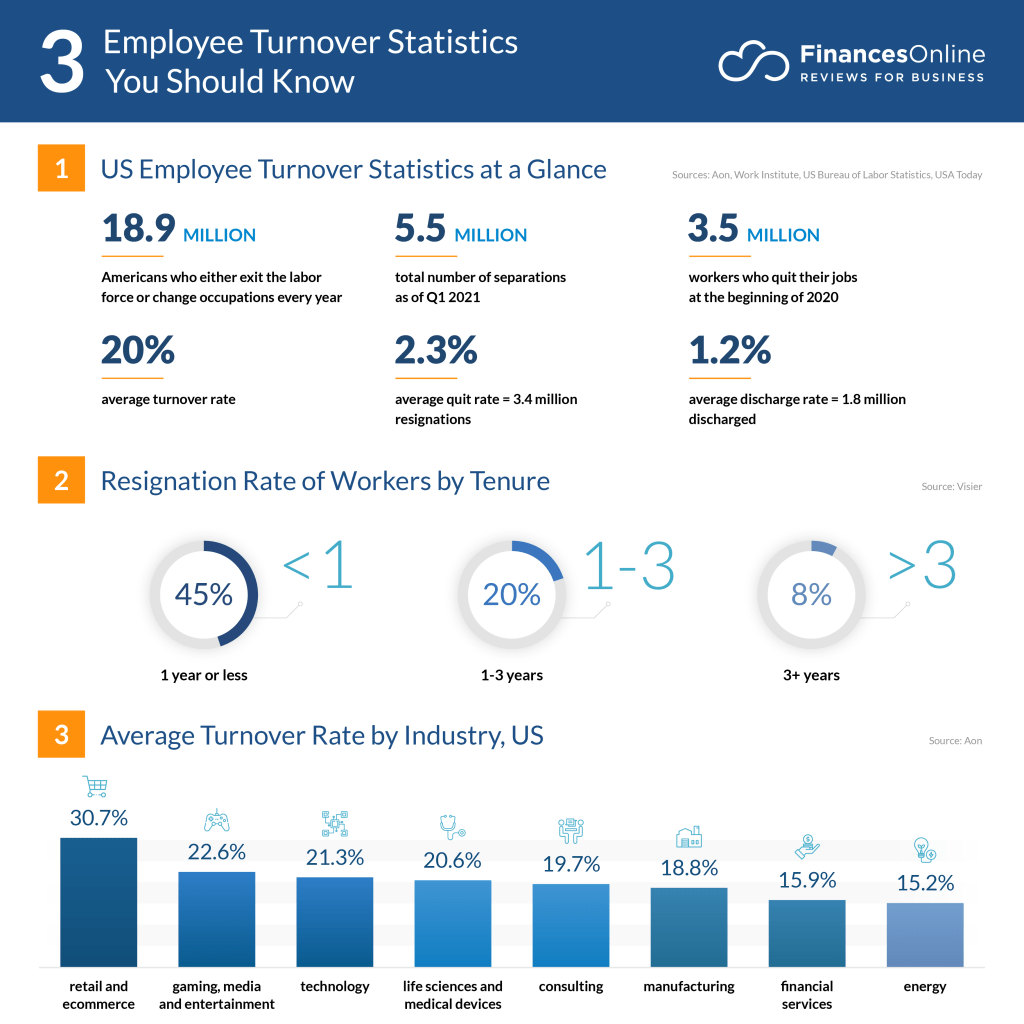 Employee retention creates opportunities to improve company performance across several metrics. Below are the key benefits of employee retention strategies and associated organizational benefits:
Morale improvement
Cost reduction
Increased productivity
Better customer experience
Improved corporate culture
Recruitment and training efficiency
Increased ROI
Higher employee engagement and satisfaction
Experienced employees
13 Employee Retention Strategies
1. Invest In Careers
Provide career and professional development suitable for each individual. This may take the form of an evaluation, coaching feedback, and an understanding of a person's specific needs, including intrinsic motivators, risk factors, and in-depth strengths. Promoting from within creates a path to greater responsibility and compensation and helps employees feel valued and are an essential part of the organizational success.
Investing in employees' education is integral to intellectual property and retaining talent when there is stiff competition for both. Evolving roles demand new skill sets and are in rapid demand at an increasing rate. Therefore, positioning someone on a career path that does not allow room for growth is career-constraining for the employee and a business-restricting move for the corporation.
2. Focus On Leaders
When employees and managers are on the same page, life at work flows smoothly. People come up with ideas, are considered and incorporated into the organization, and everyone feels valued. A direct supervisor has significant control over their employee's work conditions, environment, and culture.
The working relationship a supervisor/manager cultivates with each team member directly impacts whether an individual decides to leave their position or stay. The supervisor initiates the conversation that allows for open communication and guidance, leading to increased retention and engagement. Leaders should involve team members in decision-making, appreciate and create growth opportunities, sustain organizational culture, and build genuine employee relationships.
3. Recognize Contributions
Everyone desires to feel appreciated for their contribution to an organization. Corporations that prioritize employee recognition have workers who are 56% less likely to quit. According to the recent Gallup/Workhuman study for employees in Ireland, UK and US, employees are also 73% less likely to experience burnout when the company acknowledges their contributions. However, recognition is still not a strategic priority for 81% of the companies in the survey. Two-thirds of leaders claim they do not have a specific budget for recognition programs.
The good news is that when organizations prioritize recognition and do it in a manner that feels consistent and genuine to workers, the effect is impressive. For corporations with formal recognition programs, it is essential to conduct participation reviews on metrics to understand whether employees find these efforts practical and valuable. Individuals who thrive and feel valued in their roles are likelier to stay than those who don't achieve fulfillment or create connections at work.
4. Work-Life Balance
While some believe they can only achieve this balance by completely separating their personal lives from work, more people are embracing the notion of work-life integration. They expect to respond to occasional work emails from home or personal phone calls when at the office.
Workers also desire a sense of wellness in all aspects of their life, and an organization that demonstrates that they care is highly likely to earn their loyalty. For most people, work-life balance is more than spending time with family. They want to invest their time in a company that genuinely cares for them as individuals. Offering generous PTO policies and reasonable working hours is part of the equation.
Employees are innovative, and they understand when they are most productive. Flexibility is a crucial driver for employee retention and balance. Flexibility presents in several ways. Some people will require shifts that allow them to take advantage of their peak hours of productivity, while others will want to create schedules that allow them to spend time with their families. Whatever the case, considering such options affects balance and employee retention.
5. Benefits
Employee welfare – financially, physically, and mentally – is a crucial determinant of a successful business. Many business leaders improved and expanded their wellness offerings during the pandemic to prioritize employee well-being and make them feel supported. Stress management initiatives, reimbursement for fitness sessions, wellness programs, and retirement planning services are examples of what a company should consider offering its workers.
6. Growth Opportunities
Most corporations promote new hires and barely offer their employees ongoing training and education opportunities. Some people will become disillusioned in their work roles and are likely to quit because there are limited chances to improve or advance. Employees perceive development programs as an investment in their future.
Ongoing education makes employees feel valued and gives them something to anticipate. By implementing a training program and promoting it from within or leveraging external tools and resources (such as videos, online courses, books, workshops, etc.), an organization can develop a compelling incentive for team members to stay on board.
7. Remote Work
Finding suitable candidates for remote work positions can be complex and expensive. When a company hires workers with the talent and experience to perform specific tasks, it must develop employee retention ideas. Organizations that invest resources and time into retaining qualified talent in their roles may experience benefits such as reduced costs, enhanced team collaboration, increased competitiveness, improved employee experience and productivity,
Developing a successful retention plan makes companies more alluring to employees and helps reduces turnover. Some ideas to create an effective remote employee retention plan include:
Highlight the causes of turnover
Create an agile, open work context
Implement a remote work expenditure reimbursement strategy
Establish a performance appraisal rationale
Branding strategy
Retaining employees is one of the excessive HR functions in today's corporate world. However, it pivots on the effort and time employers invest into acting upon and understanding workers' best interests.
8. Flexibility
Workplace flexibility is the best solution to the ever-dynamic priorities and needs of employers and employees. Some factors promoting this trend include evolving expectations of the younger generation, changing workforce demographics, the virtual office, globalization, and the 24/7 world.
While some organizations are transitioning towards a more strategic approach, informal flexibility is the norm in many companies. It creates opportunities for flexible work arrangements that look like leaving work early for a doctor's appointment without consequences or reporting to work after hospital visits.
Businesses must review existing policies to keep up with the competition. Such organizations also have high employee attraction and retention, providing significant benefits such as increased employee morale, broader talent selection, and more employee buy-in. In business, the idea is to retain great talent for as long as possible. The ever-dynamic workplace environment necessitates revisiting some policies and providing desired employee benefits.
9. Prioritize Mental Health
In an era of heightened depression and anxiety, mental health awareness is more crucial than ever. Employers and employees focus on mental health and elevate the conversation to include meaningful support. Workplaces that offer mental health benefits experience higher employee job satisfaction, loyalty, and engagement rates. Consequently, this improves onboarding efforts, business recruitment results, and employee retention rates.
Some ways to improve employee mental health and wellness include identifying and addressing employee burnout, offering benefits for well-being and mental health options, and embedding the issue into the company culture. Showing compassion and care for a colleague who may be depressed or anxious is an act that demonstrates an organization's commitment to them as an individual – not just as an employee.
10. Onboarding
Each new hire should be strategically positioned for success from the start. This initial step is very crucial. Onboarding programs aim to train new employees about the job, teach them company protocols and policies, and allow them to meet their teammates. It also helps them get comfortable in the new setting and plays a pivotal role in assisting them in understanding their responsibilities and functions.
The support and training an organization provides from day one, virtually or in person, can set the tone for the employee's complete tenure at the firm. Onboarding engages employees and managers, and it is a sole obligation that could last up to a year, depending on the circumstances.
11. Mentorships
Pairing a new employee with a mentor is vital to a firm's onboarding program, particularly in remote working environments. Mentors welcome new hires into the firm and offer sound guidance. New team members provide mentors with fresh perspectives and learn specific concepts from experienced employees.
Do not restrict your mentorship opportunities to new team members. Existing staff, employee retention strategy, and job satisfaction revolve around mentee-mentor relationships. Nurturing social connections between workers increases retention; ensure to include remote employees during onboarding.
Finally, remember to find ways to reintegrate individuals or groups returning to work. This may include contract workers, people coming from extended leave, or new parents who are signing on full-time. Some of these employees are left out during onboarding efforts, and their transitions can be as challenging as those new hires face.
12. Training And Development
There is a direct connection between staff turnover and insufficient employee training and development investment. The cumulative losses from inadequate training can add up to $13.5 million annually for every 1,000 employees. On the other hand, supporting continuous learning and professional development boosts retention and uplifts your employees.
Instituting coaching programs, setting up clear career paths, and educating your employees to make everyone more effective, engaged, and creative at work. Explore providing reimbursement for continuing certification and education programs, as well as industry conferences and events.
The corporation can also host internal knowledge sessions where people teach each other new skills. Provide options for your employees depending on how they intend to grow. Supporting development and training in targeted ways without breaking the bank is possible.
13. Reward Systems
Incentives are one of the concrete ways to acknowledge employees for their meaningful contributions. 85% of workers are more motivated to perform their best when the company offers incentives. Numerous ways to incentivize your employees include ensuring the firm provides appropriate compensation, profit-sharing, tuition reimbursement, and referral programs. Raises and bonuses also go a long way.
Plenty of other incentives can keep employees happy and healthy. Wellness rewards such as subscriptions to meditation apps and gym memberships can help employees take care of themselves and unwind. Allowing employees to choose projects they can comfortably work on and providing extra paid time to recharge and relax are also excellent options that will motivate employees more than traditional incentives.
Conclusion
In today's labor market, the value of  employee retention strategies cannot be overstated.  Some team members will leave your organization earlier than you'd like, but you can still make a positive impact. If they leave feeling supported and valued, they will likely share positive reviews about your business and may return to the organization someday. It is crucial to embrace a proactive approach by implementing strategies such as providing opportunities for training and development, recognition programs, compensation review, remote work, and work-life balance.