Corporate wellness programs have existed since the late 1800s and have evolved over time, but in the last ten years, interest in those programs has exploded. Google the term "corporate wellness" and more than two million references appear. This escalating interest comes from both employees and employers. 
In today's competitive work environment, employees are more stressed than ever. Under pressure to perform faster and at higher levels than in the past, they also must adapt to changing business dynamics and sift through copious amounts of information quickly. With the expectation of constantly being accessible via email and text, employees feel the physical and mental pressure of being "always on" and look to their employers for help. 
Sixty-two percent of U.S. employers offered some type of wellness program in 2018, up from 59% the previous year, showing that most employers recognize that to perform their best, employees must be healthy. Employers are also beginning to recognize the need for a holistic approach to employee health, which includes physical, mental, and social well-being.
Wellness Programs Are Not Enough
Despite the majority of companies offering wellness benefits, organizations still struggle to help employees be healthy. For example, nearly 40% of U.S. adults suffer from obesity, which is linked to heart disease, cancer, stroke, and diabetes, and that percentage is increasing. Mental health is another growing medical concern. One in five adults experiences mental illness in a given year.
These statistics indicate that even though corporate wellness programs can be an effective tool for improving employee health, they are not doing enough to deliver on this promise. If companies want to develop and sustain a community of healthy employees, they must do more. They must create a culture of health.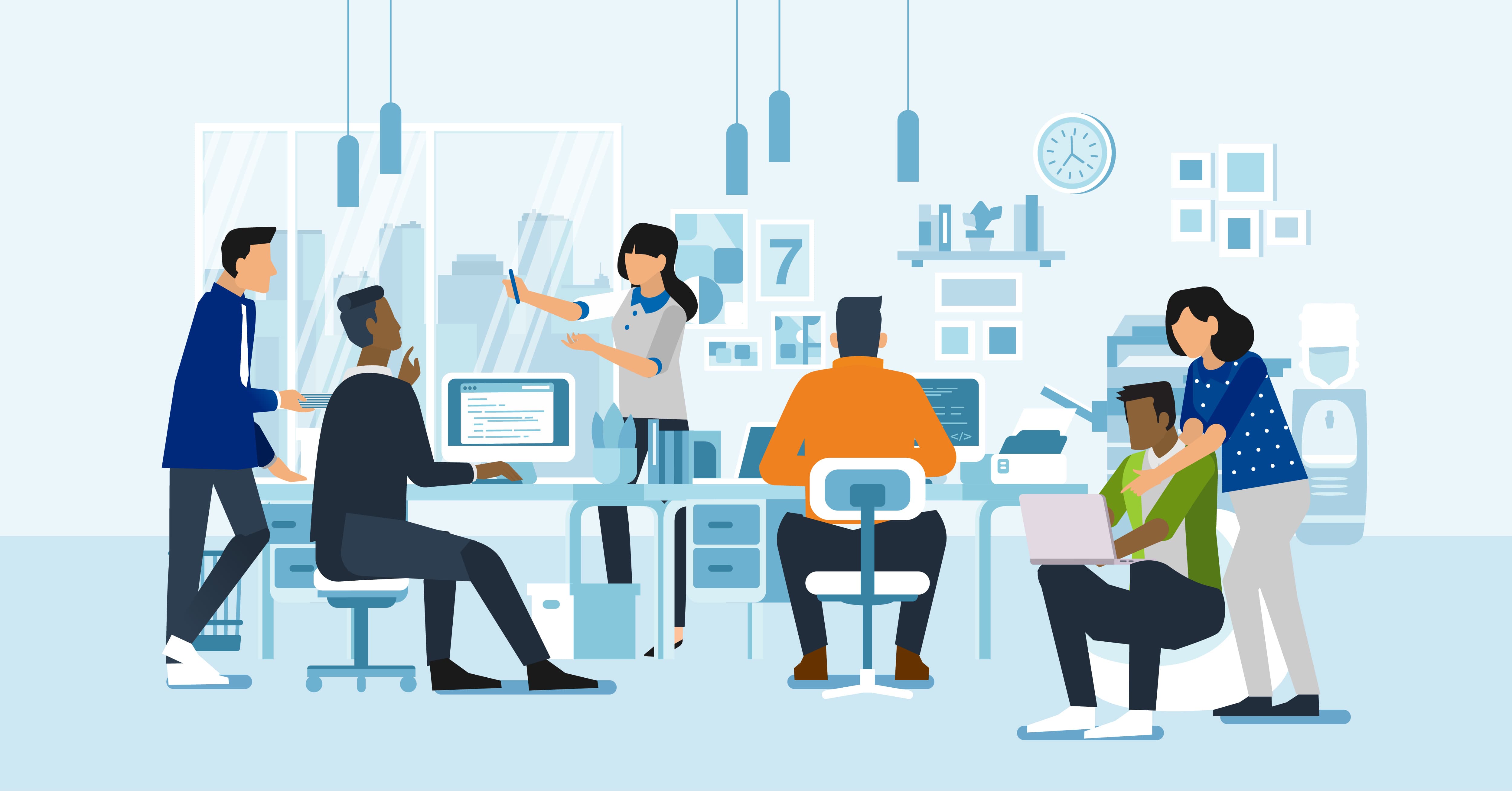 What Is A Culture Of Health?
Every organization has its own culture, which are the values, beliefs, behaviors, work processes, and practices that are shared by employees. The same goes for a culture of health. A culture of health is a workplace environment that supports and encourages healthy behaviors and is aligned and committed to improving health. That means a company's policies, practices, and norms support employee health.
In some companies, the stated culture does not match the practices and norms. Imagine Company A, which says it is family friendly. It has a remote working policy, but employees rarely take advantage because they fear missing out on an in-office meeting. There may be a maternity or paternity benefit after the birth or adoption of a child, but employees don't take the entire allotment because it might be seen as a lack of dedication to the job. The team leader often texts employees on the weekend and expects a response. Company A may even have a formal wellness program in place, but it does not have a culture of health.
Contrast this with Company B. It also says it is family friendly and has a wellness program. The majority of employees choose to work from home several days during the month. Employees with young children especially like the ability to work remotely when they have a sick child at home. The organization uses technology so meetings can be conducted online. The team leader encourages vacationing employees to turn off work emails, and the CEO has a policy to leave the office every day by six o'clock. The actions of Company B clearly reflect the culture's focus on well-being.
Although a culture of health incorporates a wellness program, it is broader than any individual wellness program component. It is not the same as providing office perks or paying employees to participate in wellness programs.  A culture of health includes the systems of support (i.e., the technology to work remotely, vacation policies, and leadership by example) to develop a foundation that emphasizes well-being.
A company that does not have a culture of health can still pivot in that direction. Culture is fluid and can constantly be improved. It is never too late to start building on it if there is clear intention from the top of the organization.
Why Does A Culture Of Health Matter?
In addition to leaders wanting a culture of health because they care about employees and want them to be well, a culture of health provides significant financial benefits to an organization.
Unwell employees cost U.S. employers $530 billion in productivity each year. That lack of productivity translates to decreased innovation, creativity, and engagement. Research indicates  that well-being closely relates to key health outcomes such as lower rates of healthcare utilization, workplace absenteeism and workplace performance, reduction in obesity status, and the occurrence of chronic diseases. Employee well-being at an organization is also a predictor of numerous business outcomes such as employee engagement, customer engagement, turnover, and workplace safety, which can affect a company's ability to reach its economic potential.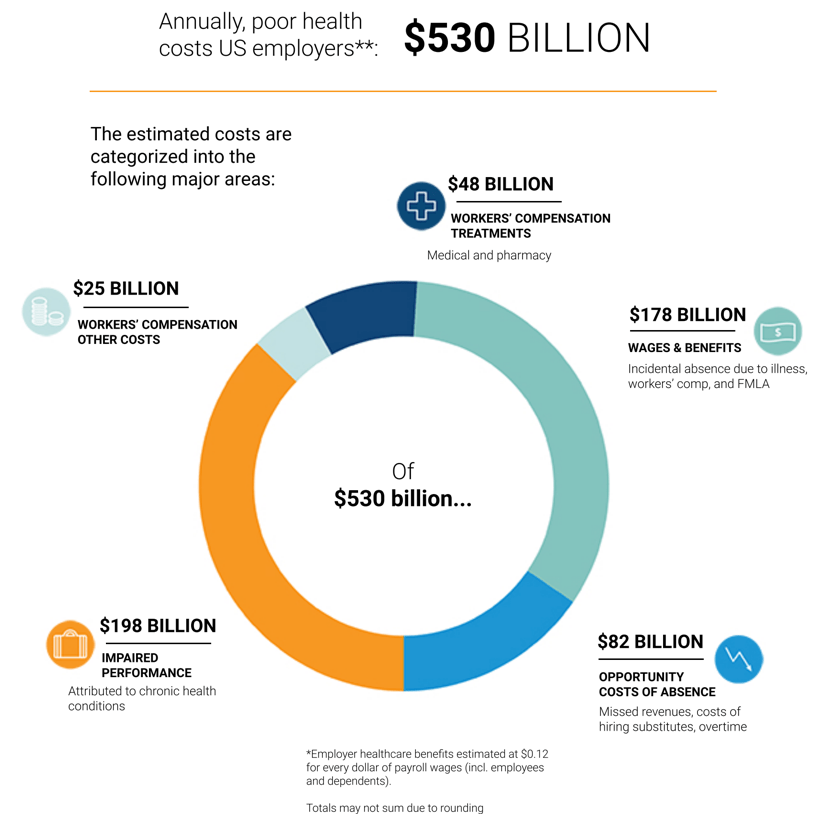 Integrated Benefits Institute Research
A culture of health also matters because potential and current employees (particularly millennials) look for companies that care about employee well-being. Building a culture of health shows that the company genuinely cares about their employees, and the meaningful benefits associated with this culture are a useful retention tool.
Just as a negative culture in one area of a company can seep into other departments, a positive culture can do the same. Social network theory looks at how an environment can affect personal health behaviors, such as following a healthy diet, exercising, and using tobacco. One pivotal study found that obesity can spread through social ties—the chances of becoming obese increased when study participants had family or friends who became obese. Researchers suggest that when those in a social network are obese, it may feel natural, not concerning, for others to gain weight. This theory extends beyond physical health.  Another study shows that happiness can also spread in social networks, up to three degrees of separation (i.e., a friend of one's friend's friends can affect their level of happiness).
It makes sense that the influence of social networks can help build a culture of health and encourage employees to lead healthier lives. Companies where a culture of health is the norm need less financial incentive to encourage participation and save money on incentives. These companies also reported higher participation rate in wellness programs. They also enjoyed higher levels of employee satisfaction and well-being. Most impressively, employees from those companies have a sense of responsibility to take care of their own health, which is a prerequisite to making any sustainable change.
For companies already investing in wellness initiatives, building a culture of health is the best way to make the most out of their investment.
6 Ways To Build A Culture Of Health
Building a culture of health requires a multi-pronged approach that involves an entire organization. Below are six steps necessary for building a culture of health. 
#1 Leadership Involvement
If leaders do not act as role models, the culture cannot be reinforced.  Leaders must "walk the talk" — in other words, they must participate in developing the culture of health. That may mean leaving the office by 6:00 to emphasize work/life balance or establishing a work from home policy for employees. Leaders should also "talk the talk"— intentionally communicate about their actions, why those actions create a culture of wellness, and why that is important for the well-being of employees.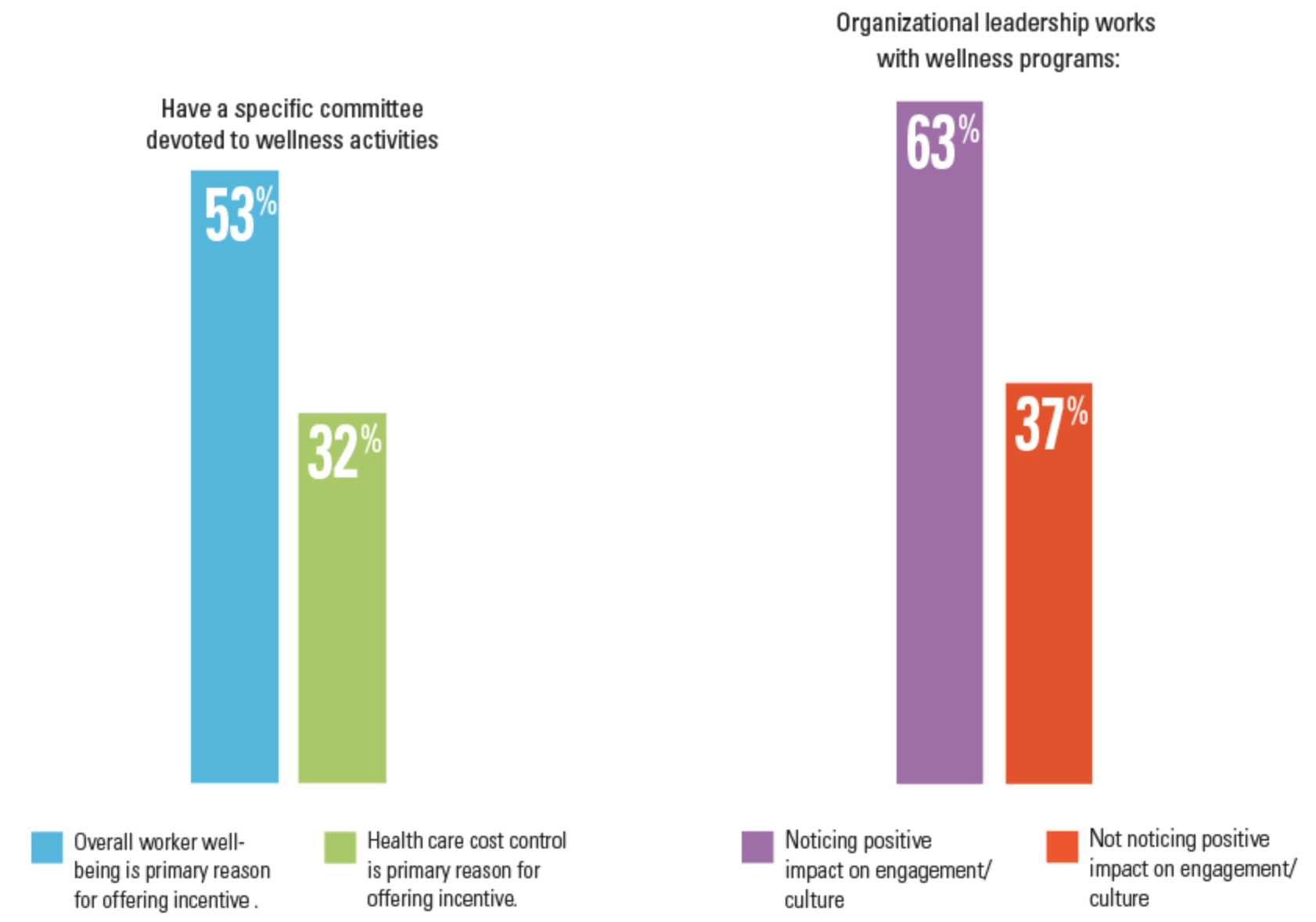 A Closer Look: 2018 Workplace Wellness Trends Report
The influence of leaders can't be overstated. When leaders of organizations with top scoring wellness programs publicly recognized employees for healthy actions and outcomes, employees had more health improvements (91% vs. 83%) and medical improvements (87% vs. 81%) than organizations where there was no public leadership recognition. 
Leaders are not just the ones in the C-suite. They can be mid-level or front-line managers or anyone who supervises employees and can make decisions that impact an employee's job, flexibility, and health. In many cases, the mid-level and front-line leaders may have more interaction with employees than the senior leaders, so leaders at every level need to support and model wellness for it to become part of the company culture.
Leaders can influence employees' commitment to wellness by recognizing those who exhibit healthy behaviors. An email blast to the company highlighting the employee's success, inviting program participants to a healthy lunch, and giving monetary and non-monetary awards helps spur participation.
#2 Tailored Wellness Program
A culture of health should include a tailored wellness program designed for the employees it is meant to serve.  Too often, employees do not participate in wellness programs because those offerings are not a match for their specific needs. These needs can be different for employees depending on their geographic locations, job functions, and demographics.  Find out what employees want by asking them what is working and what isn't. Use surveys to get feedback and build upon what is already effective.
The journey to well-being is personal and each employee has different needs. That's why a wellness initiative should provide a holistic array of options to make the most impact.
#3 Effective Communications
A wellness program is ineffective if employees don't know it exists. Yet in a recent study, only 16% of employees strongly agreed that they knew where to find the health and well-being resources offered to them. Employers must employ multiple channels to reach a broad audience, using emails, text messages, physical and online flyers, internal messaging applications, and word of mouth. With the increasing popularity of flex and remote workers, it is particularly important to communicate broadly to make sure the information reaches the entire workforce.
#4 Business Practices Embedded With Well-being
A culture of health cannot be a side note. It has to be integrated in the day-to-day operations of an organization. Policies and practices must support it. This means embedding well-being through benefits like family leave or flexible work hours, practices like standup or walking meetings, or policies like not sending emails after work hours (or, at the very least, establishing the expectation that email responses can wait until business hours). Business meetings, for example, are an ideal situation where leaders can emphasize a culture of health by providing healthy and tasty food and snacks, emphasizing water over coffee, and adding stretch and movement breaks in the schedule.
#5 Wellness Champions
While leaders are instrumental in setting the tone for wellness, they are not the only ones who can help develop this culture. Anyone can influence culture. Recruit employees throughout the organization who are passionate about the wellness vision to help plan and execute the program.
#6 Commitment
Establishing a culture of wellness shouldn't be a temporary endeavor. Instead, it should be seen as an essential part of the company's operations. When a wellness program is initiated, it should be the first step in an ongoing process of better health.  Offerings like a six-week step challenge may help create interest and jumpstart participation, but in general, programs like challenges should run very regularly, with the end of one challenge dovetailing into the beginning of a new program. Programs can also be run concurrently, as every program will not appeal to all employees.  This gives employees time to establish healthy habits. A wellness program should be continuous because the commitment to well-being is ongoing.
Conclusion
Even though companies are increasingly focused on wellness, creating a culture of health is not a trend or a way to stay competitive in the job market. A culture of health stems from employers genuinely caring about employees and understanding the necessity of a culture of health for the mutual success of the employees and the business.
Then, with a commitment to the well-being of employees and the decision to demonstrate that commitment throughout the company, through everyday actions, a culture of health can begin to develop.