A recent report by Fidelity revealed that US employees are struggling to save for unexpected short-term needs due to a lack of emergency savings. Half of the survey respondents say they do not have three to six months' worth of expenses available in an emergency savings account and one-quarter say they do not have one month's worth.
The economic environment continues to take a toll as inflation outpaces wages, interest rates rise, and the cost of living is increasingly unmanageable. These factors cause stress on individuals who are unable to consistently make ends meet and lack a financial cushion to fall back on during challenging times. In fact, 80% of workers report their salary is not keeping up with inflation, and 92% say that a looming recession has affected their career and financial choices.
Americans are dipping into their workplace retirement plans at unprecedented rates as emergency expenses surface. Early withdrawals from retirement accounts can produce negative impacts on immediate and long-term financial security, as well as overall well-being. Helping employees address short-term savings should be a priority for companies, as it empowers workers to be financially well, while also improving their ability to be productive at work.
How Employers Can Help
Employers have a unique opportunity to provide employees with much-needed assistance and education during this time of economic uncertainty. Employers should offer financial literacy education and emergency savings options to help employees build short-term savings. Doing so will not only help workers weather a financial storm, but also strengthen employee loyalty and morale in the workplace.
Educate Employees On Financial Literacy And Money Management
Historically, most employees have chosen retirement planning as their most desirable work benefit. However, a one-size-fits-all approach is not realistic because needs differ between generations and can change depending on current events. Thirty-six percent of millennials, for example, select financial coaching and advising as their most sought-after benefit, while only 24% of baby boomers find this important.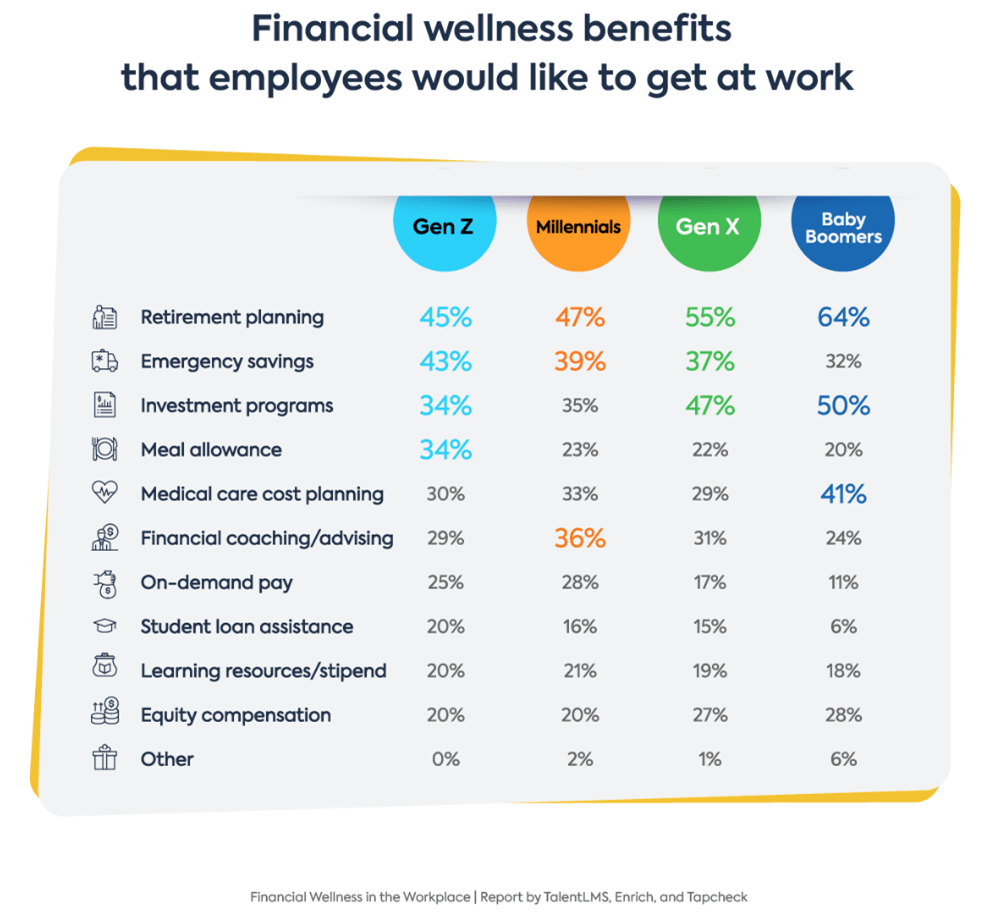 While professional financial coaching is preferred by younger employees, older workers may also benefit from personalized guidance during times of financial uncertainty. Over two-thirds of employees receiving financial training at work feel safer, illustrating that integrating a financial wellness program with resources and initiatives like courses, coaching, and apps can make a difference on employees' sense of stability within the workplace and beyond. In addition, 61% of employees report that they would stay at their company longer if they received financial education.
Integrating An Emergency Savings Plan
Companies have many options in offering inflation-related security to their employees that help them build emergency funds, such as savings programs and dedicated accounts. Emergency savings are within the top three financial wellness benefits employees would like to receive from work. This interest increases by 23% when the company offers an incentive, such as employer matching contributions.

Additionally, employees say that payroll integration is the most enticing feature of a workplace emergency savings account. An emergency savings option should be readily available and user-friendly, provide employees with access to liquid funds, consider potential tax implications, and be transferable between companies.
Benefits For Employers
Employers who provide professional money management education and emergency savings plans will prosper just as much as their employees. Research shows that financially well employees are 10 times more likely to be focused at work, and two-thirds of workers believe it helps their overall productivity. When the burden of financial struggle is lifted, employees can focus more of their energy on performance in the workplace.
Even as life gradually returns to a more normal post-pandemic state, turnover rates remain at an all-time high. It is more important than ever for employers to recognize why people are quitting and offer solutions to increase company loyalty. The intentional effort to support employees' financial well-being improves retention by instilling confidence in their career choices and security in their financial situations.