COVID-19 continues to accelerate existing trends in the workplace. First, it was digitization and remote work, and now, with open enrollment upon us, it is the importance of benefits. Benefits and perks are becoming increasingly important considerations for employees, and a recent survey from Prudential clearly shows that workers see more value in employee benefits as pandemic-era annual enrollment nears.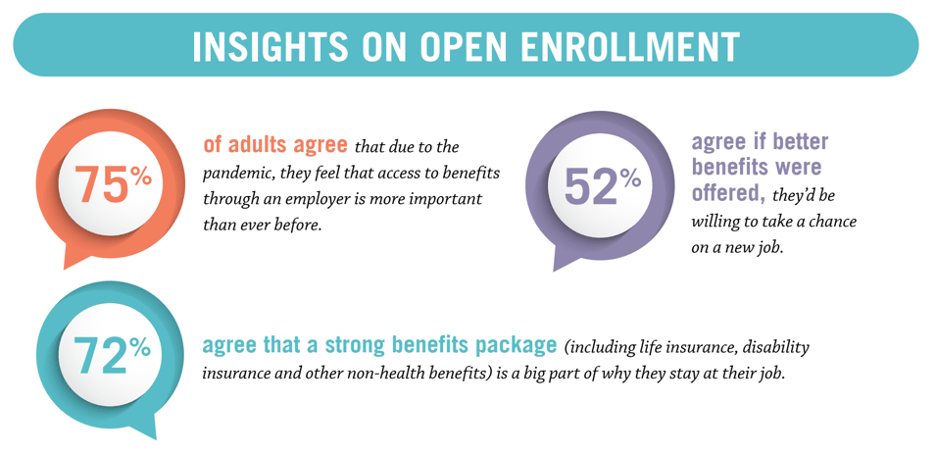 The most telling statistics from the survey were about change. In addition to nearly three-fourths of adults agreeing that benefits are more important than ever, 52% were willing to change jobs in a volatile employment market if better benefits would be offered. Employed respondents overwhelmingly said their benefits programs make up a key part of their compensation (77%, up from 67% from a year ago) and are a big reason they would stay at a job (73% vs 59%).
With this information, employers would be wise to think beyond compensation alone when trying to attract and retain talent. The survey also identified the benefits most valued by employees: comprehensive health care / prescription care coverage (44%), paid sick leave (43%), access to a retirement savings plan (38%), and flexibility on where and when work gets done (25%). These benefits are becoming staples to building the best workforce.
For highly competitive industries that already offer common benefits like health and retirement plans, other benefits are needed to differentiate themselves from other employers. The benefits that will likely get the best response from prospective employees are ones that address specific challenges in the current environment, such as wellness benefits that address remaining healthy at home, caregiving benefits for parents who have to juggle being educators and work professionals in the middle of the day, and stipends to create ergonomically friendly and productive work environments away from the office.
It is important to note that employers should think both short- and long-term with the benefits they plan for 2021 and beyond. Although work will eventually not be limited by the pandemic, it does not mean that it will return back to normal. Like with benefits, the prevalence of remote work increased dramatically and permanently in response to COVID-19. This means that benefits geared towards employees at home will be important now and in the future.
Employers should also recognize that office-based benefits, such as free snacks, are no longer available to employees, so although benefits were not explicitly cut, they may feel that way. As such, employers should consider reallocating the savings from office-based expenses toward new benefits. For example, employers who offered on-site fitness classes should consider transitioning to on-demand fitness classes, especially as many gyms are closed or operating under limited capacity.
Methodology
This survey was conducted between August 3 and August 4, 2020 among a national sample of 2,000 adults who are currently employed or are seeking employment, excluding those who do not consider themselves to be in the labor force or job market. The interviews were conducted online and the data was weighted to approximate a target sample based on age, gender, educational attainment, race/ethnicity, and region.