After all of the challenges and anxieties that came along in 2020, it's no doubt that many people are thrilled to see the year coming to a close. Between the COVID-19 pandemic and economic shutdowns, individuals of all backgrounds experienced deteriorating mental and emotional health. For those hoping to improve their happiness and mental well-being in the New Year, Netflix will be making that task a little bit easier. In a joint venture with Headspace, a company devoted to improving health through meditation and mindfulness, the streaming service will be launching three new shows in 2021. The first series, Headspace Guide to Meditation, premiers globally on January 1. Later in the year, a second series, Headspace Guide to Sleep, and a yet-to-be-named interactive experience will also be released.
Headspace founder and Buddhist monk, Andy Puddicombe, narrates the first series on the foundation of meditation, which explores how to be more present and less distracted over the course of eight 20-minute episodes. Each episode will focus on a different benefit of meditation, such as managing stress or embracing gratitude, and the techniques that can be used to achieve them. The episodes will include soothing music and playful animations and conclude with a guided meditation.
Mindfulness Is Becoming Mainstream
Aside from being an accessible and simple solution to improve mindfulness and meditation, the shows are also a sign that these areas of wellness are increasing in popularity. Mental health benefits have been on the rise for years, but the anxiety and stress from COVID-19 made them even more important to employees everywhere.
Most recently, Wellable's 2021 Employee Wellness Industry Trends report found that mental health-related benefits were some of the most popular and rapidly growing benefits. Specifically, 69% of employers plan to invest more in mindfulness and meditation benefits in the coming year. Additionally, 88% plan to invest more in mental health benefits and 81% plan to invest more in stress management resources. Not only has the stigma around mental health conditions decreased in recent years, but there is a growing demand from employees (especially from younger generations) that seek out opportunities to support and care for their mental and emotional well-being.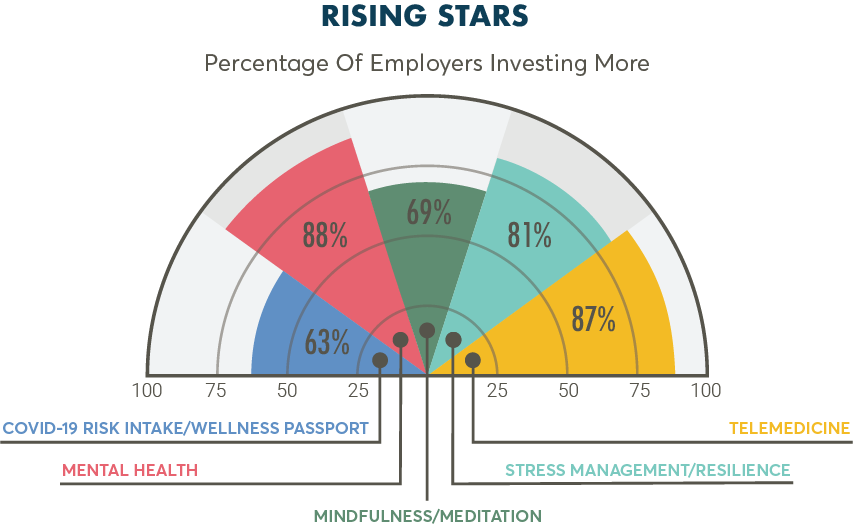 Top Wellness Solutions Employers For 2021 - Wellable's 2021 Employee Wellness Industry Trends Report
Mental Health Benefits Add Value to Wellness Programs
While the 2021 Employee Wellness Industry Trends report found that larger employers are more likely to be investing in mindfulness and meditation, it is important to note that many of these resources are easy to implement without spending a lot on upfront costs or extra resources. There are a growing number of apps and digital solutions, just like Netflix's upcoming series, aimed towards promoting mindfulness and practicing meditation techniques that are scalable and affordable for companies of all sizes.
Employers that meet the growing demand for these benefits will be rewarded with the top talent their wellness programs attract. These benefits also help retain talent, making them even more valuable for companies. Even though the pandemic has impacted the labor market and made it less competitive, employers that offer benefits that are highly sought after by employees will have a competitive advantage as the labor market normalizes.
Mental benefits also allow employees to reset and deal more effectively with added stress and anxiety. Even if COVID-19 becomes less of a problem in the near future, many people will continue to deal with changes in their work environments (by working remotely or with updated safety measures) or with additional family responsibilities (by keeping children out of traditional school systems or caregiving for other family members). Mental health wellness will be vital to maintaining and improving employee work performance, focus, and productivity.
Get our latest articles delivered straight to your inbox!