In an era when companies are looking to expand their benefits to attract and retain employees, one organization says that it is reducing its generous paid parental leave. Since 2015, the Bill and Melinda Gates Foundation has offered mothers and fathers 52 weeks of paid time off (PTO) in the first year of a child's birth or adoption.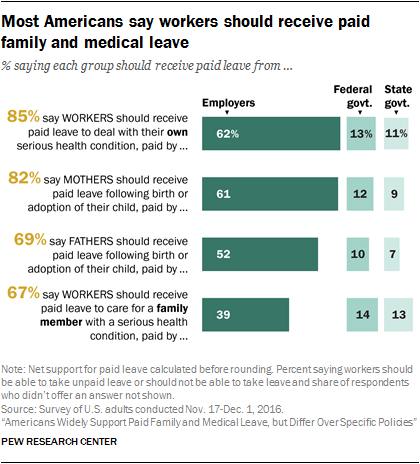 The theory made sense: in addition to allowing time for family bonding, paid leave is associated with higher birth weights and lower infant mortality. Despite the benefits, the Gates Foundation was one of few companies that offer this length of leave. Although paid leave is supported by the majority of Americans, the United States is the only industrialized country not to offer it to new parents. (Although the U.S. offers leave, it is only for 12 weeks and it is unpaid.)
The problem with the one-year timeframe, the foundation explained, is that it was hard for employees to miss work for a year – or to cover for a coworker who was out for that length of time. With rapid organizational changes, it wasn't always easy to plug a returning employee back into an appropriate job after missing 12 months.In January 2019, the Gates Foundation announced it was reducing paid parental leave to six months and offering a $20,000 stipend to new parents to spend on child care costs and family needs when the employee returned to work.
Finding The Parental Leave Sweet Spot
Companies are searching for the right amount of time off to offer new parents. Three months may not be enough time for a mother to physically recover from birth. A newborn may not be sleeping through the night yet, making it difficult for parents to be at their best during the workday. In addition, child care is most expensive the younger the child is.
As the Gates Foundation found, a long leave can be too long. Economists from Cornell found that long leaves could encourage women to take even more time before returning to work and to take part-time positions upon returning, ultimately affecting their career advancement opportunities.
The Gates Foundation and some of the larger tech companies (Microsoft, Twitter, Amazon, and Apple) think the parental leave sweet spot rests between four and six months. Netflix, which offers new parents a year of paid leave, says that its employees typically take between four and eight months of leave. Google found its ideal PTO in 2007 when it increased maternity leave from 12 weeks to 18 weeks, and saw quit rates among new mothers decrease 50%.
Stipend Provides Return-To-Work Support
Although the Gates Foundation reduced the amount of paid leave, the commitment to supporting new parents is still evident. The $20,000 stipend recognizes that financial needs, like child care, that can impede a parent's smooth return to work.
As companies look at enhancing employee wellness, it is important to consider what benefits truly support employees physically, mentally, emotionally and financially. Also, as evident in paid parental leave, more is not always better. The Gates Foundation is one of the companies on the forefront, testing how best to decrease distraction and stress, making it easier for new parents to bring their focus and energy to the job.
Get our latest articles delivered straight to your inbox!