Last week, the U.S. Surgeon General addressed something office workers have known all along: working in a toxic environment is harmful to employee mental health.
The U.S. Surgeon General office, traditionally focusing its recommendations on public health concerns like smoking, COVID-19, and addiction, concentrated last Thursday's guidance on the workplace. Specifically, it stated that long hours, lack of autonomy, and inadequate wages negatively affect employees' health and, in turn, an organization's performance.
The framework was released in response to increasingly stressful work environments from the pandemic, as illustrated by trends like the Great Resignation and quiet quitting. These worrisome patterns continue to grow despite an increased investment in mental health solutions by companies over the last several years.
"A healthy workforce is the foundation for thriving organizations and healthier communities. As we recover from the worst of the pandemic, we have an opportunity and the power to make workplaces engines for mental health and well-being, and this Surgeon General's Framework shows us how we can start. It will require organizations to rethink how they protect workers from harm, foster a sense of connection among workers, show workers that they matter, make space for their lives outside work, and support their growth. It will be worth it, because the benefits will accrue for workers and organizations alike."

- Dr. Vivek Murthy, U.S. Surgeon General
The Surgeon General's Framework for Mental Health and Well-Being in the Workplace is a five-step plan of action that "helps organizations develop, institutionalize, and update policies, processes, and practices that best support the mental health and well-being of all workers."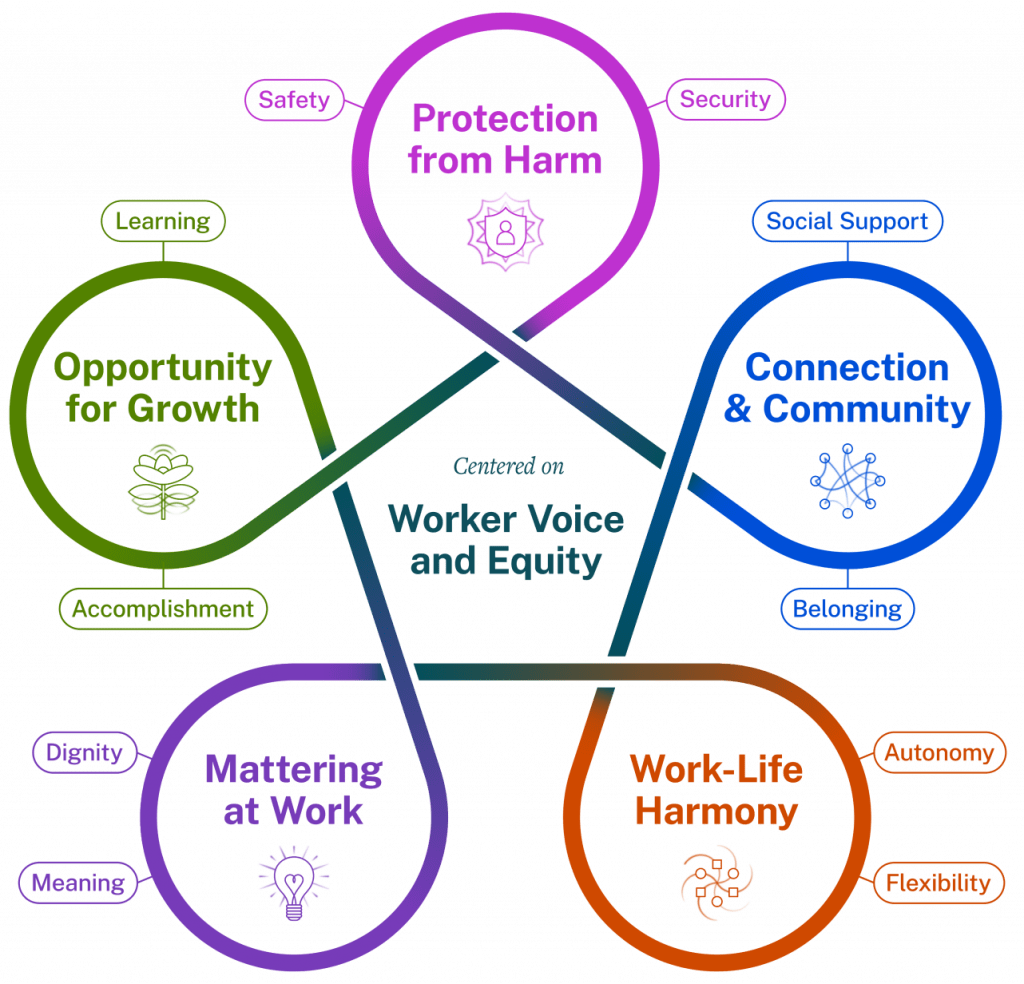 1. Protection From Harm
Creating the conditions for physical and psychological safety is a critical foundation for ensuring workplace mental health and well-being. This rests on two human needs: safety and security.
Safety: Protection from physical and non-physical harm, including injury, illness, discrimination, bullying, and harassment.
Security: Feeling secure financially and in the job's future.
Organizations are encouraged to:
Prioritize workplace physical and psychological safety: Review existing conditions to ensure compliance with occupational health and safety standards. Examine and eliminate physical and psychological hazards, then design, implement, and regularly evaluate programs for workplace safety. Keep in mind that racial and ethnic minority workers are at higher risk for workplace injuries and therefore require special consideration when designing the safety program.
Enable adequate rest: Long work hours can lead to insufficient rest, which can lead to a decline in physical, emotional, and mental health of the worker, as well as an increased risk of workplace injury.
Normalize and support mental health: On top of providing comprehensive health care coverage that includes mental health benefits, organizations need to destigmatize mental health issues. This can be achieved through modeling, communicating, and regularly promoting mental health support services.
Operationalize DEIA norms, policies, and programs: Put relevant diversity, equity, inclusion, and accessibility policies and programs in place to support a work environment where all team members feel valued and represented.
2. Connection & Community
Fostering positive social interactions and relationships in the workplace supports employee well-being. This rests on two human needs: social support and belonging.
Social support: Having networks and relationships that can offer physical and psychological help and mitigate feelings of loneliness and isolation.
Belonging: Feeling of being an accepted member of a group.
Organizations are encouraged to:
Create cultures of inclusion and belonging: Build social connections and community at work by encouraging "prosocial" behaviors, which are behaviors that promote positive social relationships through welcoming, helping, and reassuring others. Organizations should create environments where connection is encouraged and workers of all backgrounds feel included.
Cultivate trusted relationships: Having clear and consistent communication between workers and leaders is foundational in building trust and can be further strengthened through small, everyday interactions. For example, modeling and inviting others to share small moments of their lives is a small interaction that promotes open communication and trust.
Foster collaboration and teamwork: Communicate the importance of teamwork, encourage frequent conversation, model authenticity, provide teams with effective collaboration tools, and include time for non-work connection and possible community service.
3. Work-Life Harmony
Professional and personal roles can together create work and non-work conflicts. The ability to integrate work and non-work demands rests on everyone's needs for autonomy and flexibility.
Autonomy: How much control a person has over when, where, and how they do their work.
Flexibility: Ability to work when and where is best for them.
Organizations are encouraged to:
Provide more autonomy over how work is done: Increase employee control over scope of work, process for accomplishing projects, and scheduling and location—including condensed hours or work weeks and remote or hybrid work arrangements.
Make schedules as flexible and predictable as possible: Implement policies such as flexible start and end times to workdays and avoid penalizing workers with lost wages when personal, family needs, or emergencies arise.
Increase access to paid leave: Unequal and limited access to paid leave, particularly sick and medical leave, can contribute to the spread of infection at work, decreased productivity, workplace burnout, and labor shortages. Increasing access to paid leave can improve retention, reduce the likelihood of lost wages by 30%, and positively affect workers' and their children's physical and mental health.
Respect boundaries between work and non-work time: By not penalizing workers for this needed flexibility, leaders can alleviate anxiety or fears of missing work demands. This helps workers have the time needed for rest to optimize their health, productivity, and creativity.
4. Mattering At Work
People want to know that they matter to those around them and that their work matters. Knowing you matter has been shown to lower stress while feeling like you do not can raise the risk for depression. This rests on the human needs for dignity and meaning.
Dignity: Sense of being respected and valued.
Meaning: Perception of a broader purpose and significance of one's work.
Organizations are encouraged to:
Provide a living wage: Ensure that all workers are paid an equitable, stable, and predictable living wage before overtime, tips, and commission and that these wages increase as worker skills increase. When possible, workers should also have access to benefits to protect their health, such as mental health support, retirement plans, workers' compensation, financial and legal services, and caregiving support (like childcare).
Engage workers in workplace decisions: Equitably incorporate opportunities for engaging and empowering all workers to improve workplaces. Use surveys and other validated tools to measure well-being.
Build a culture of gratitude and recognition: Regardless of their position, when people feel appreciated, recognized, and engaged by their supervisors and co-workers, their sense of value and meaning increases, as well as their ability to manage stress.
Connect individual work with organizational mission: Help employees see the connection between their day-to-day work and the organizational purpose and mission. Reinforce these connections by acknowledging the different roles of individuals, teams, and departments in achieving organizational goals.
5. Opportunity For Growth
When organizations create more opportunities for workers to accomplish goals based on their skills and growth, employees become more optimistic about their abilities and contributions to the organization. This rests on the human needs for learning and a sense of accomplishment.
Learning: Process of acquiring new skills and knowledge in the workplace.
Accomplishment: Outcome of meeting goals and having an impact.
Organizations are encouraged to:
Offer quality training, education, and mentoring: Provide training to increase skills and opportunities for education to build knowledge in their work or other areas of interest. Promote growth opportunities by showing genuine interest in people through personal encouragement, professional coaching, and mentorship.
Foster clear, equitable pathways for career advancement: Organizations that provide transparent career pathways and advancement opportunities for all workers help foster inclusion and diversity in the workplace. This should include resources and tools that can better support workers over time and address systematic barriers in the workplace.
Ensure relevant, reciprocal feedback: Provide guidance by considering people's strengths and growth opportunities. Create more opportunities for genuinely engaging with employees, especially in positive, collaborative, and outcome-oriented ways. This should include equipping leaders at all levels with the training, tools, and resources they need to engage and lead others.
Takeaway
Stressful, toxic workplaces are bad for the psychological well-being of workers, who can find themselves succumbing to anxiety, depression, and increased stress. These negative mental health effects on employees will likely negatively impact the output of an organization.
It is important for companies to implement policies that support their employees' mental health and well-being; it's a solution where everyone benefits. The U.S. Surgeon General's five-step framework above serves as a great tool to help employers create or improve their employee wellness programs and initiatives.