With public and legal pressure rising, organizations are increasingly implementing diversity, equity, inclusion, and belonging (DEIB) initiatives. Often these initiatives involve adjustments to the companies' hiring practices. For example, businesses may enact strategies to ensure they interview a more diverse group of candidates with the hope that a diverse applicant pool will result in diverse hiring.
While these practices are often well-intentioned, they are often undermined by lack of enforcement and hiring managers sidestepping the intention of the policies. Two shocking examples from the past year highlight the problem of this approach to DEIB and shed light on steps companies need to take to ensure their initiatives are impactful.
"Sham" Interviews
In June 2020, Charles W. Scharf, who later became the chief executive officer at Wells Fargo, pledged to consider a broader range of candidates for future roles. In response, Wells Fargo enacted a formal policy of interviewing a diverse group of candidates for jobs that paid $100,000 or more per year.
In an interview with the New York Times, Joe Bruno, a former executive in the wealth management division at Wells Fargo, accused the company of conducting fake interviews with "diverse" candidates for jobs that had already been given to other applicants.
According to Bruno, he and seven other former employees reported that the interviews were more about recording the company's efforts on paper than hiring a more diverse group of candidates.
The National Football League (NFL) enacted a similar strategy with equally ineffective and harmful results. After researchers determined that black coaches were not given the same job opportunities, the NFL adopted what has become known as the Rooney Rule, which required the league to interview at least one non-white candidate for senior positions.
Though good in theory, the Rooney Rule proved problematic in practice. Like Wells Fargo, the NFL was accused of conducting fake interviews.
Brian Flores, former coach of the Miami Dolphins, stated that he received text messages from New England Patriots Coach Bill Belichick, congratulating him for being hired for a head coaching position he had not yet interviewed for. After asking if Belichick intended that message to go to Brian Daboll, a white candidate who had already been interviewed, Belichick said, "I think they are naming Daboll. I'm sorry about that. BB."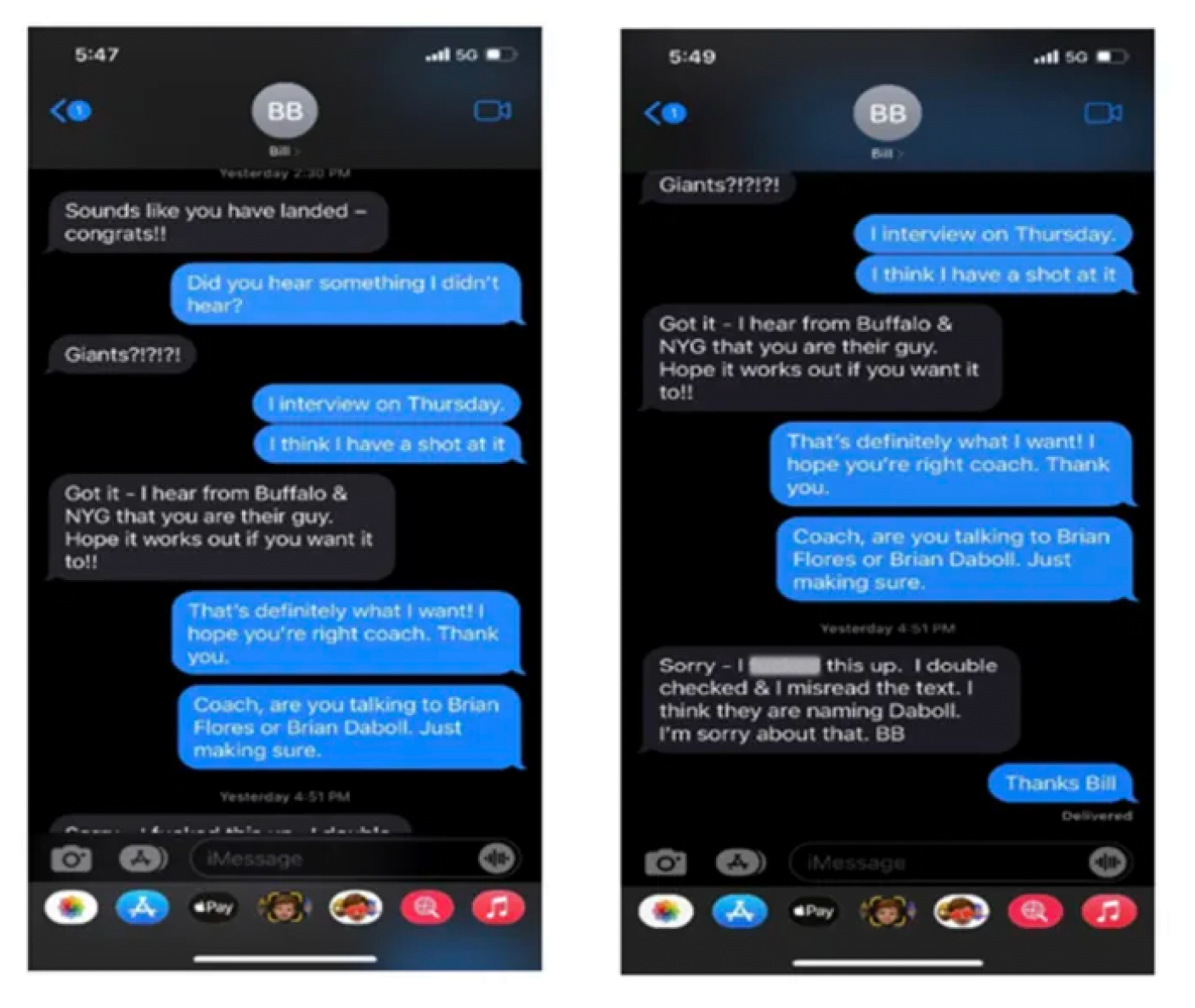 Images taken from lawsuit filed by the former Miami Dolphins Coach Brian Flores against the NFL
Flores subsequently filed a lawsuit against the NFL. The case is still pending.
Takeaway
These cases make it undeniably clear that having a policy that sounds good on paper isn't enough. Even a practice as seemingly harmless as interviewing a more diverse group of candidates can go wrong if not properly supported. As Linda Friedman , lawyer for the Black financial advisers involved in a 2017 Wells Fargo settlement, told the New York Times:
Well-intentioned people created these initiatives, but when they hit the ground, the energy was devoted not to implementing them but finding a way to get around them.
This tendency to find "a way to get around" the policies suggests that many members of these organizations are not sincerely interested in advancing DEIB, or at least that they feel there are other more pressing concerns. The problem is that a genuine concern for DEIB is essential for enacting successful policies. If anyone who is supposed to carry out something like the Rooney Rule doesn't understand why it's important, it is likely to be misapplied.
Training and education are a great way to help employees eliminate unconscious bias and understand the importance of providing more opportunities to members of underrepresented groups. While managers might not immediately appreciate what makes them crucial, they may come around after being given some historical context and data points that support the need for the kinds of policies put in place by Wells Fargo and the NFL.
Companies may also want to focus on developing better ways of enforcing the spirit of their policies. They should create ways of monitoring how the initiatives are being deployed and utilize incentives to discourage managers from implementing them in a superficial manner.
Another option is to write more detailed policies that rule out counterproductive behaviors from the start. The initiatives that the NFL and Wells Fargo developed had loopholes that could be exploited. Better written strategies could avoid that without the need for additional policy enforcement. For example, organizations should clarify the purpose of their DEIB policies and specify that any efforts to implement the policies undertaken without the sincere intention of serving that purpose are in violation of them.