The pandemic gave a lot of people an opportunity to rethink their relationship with work. Most realize that their job can no longer be their main priority in life. Instead, they need to also make time for other important aspects, which require balancing work with self-care, family, friends, and hobbies.
This balancing act is especially difficult for women. A recent study suggests that working mothers are more likely than working fathers to assume additional responsibilities at home. This inequality is hardly news, but the implication is that women continue to be expected to perform multiple roles outside of their jobs while maintaining the same performance as their male colleagues.
As the younger generation of women re-evaluates their careers, many desire to advance professionally, but not at the cost of their work-life balance. According to the recent "Women in the Workplace 2022" study by McKinsey & Co. and LeanIn, "women leaders are as likely as men at their level to want to be promoted and aspire to senior-level roles." Yet, two-thirds of women under 30 said they would be more inclined to advance if they witnessed senior leaders with the work-life balance they desired.
In reality, most workplaces leave much to be desired in this aspect. The study shows that approximately 43% of female leaders are burned out, compared to 31% of male leaders. Many of them are ready to leave. The main reasons women leaders switched their jobs in the past two years, according to the "Women in the Workplace 2022" study, are displayed in the graph below.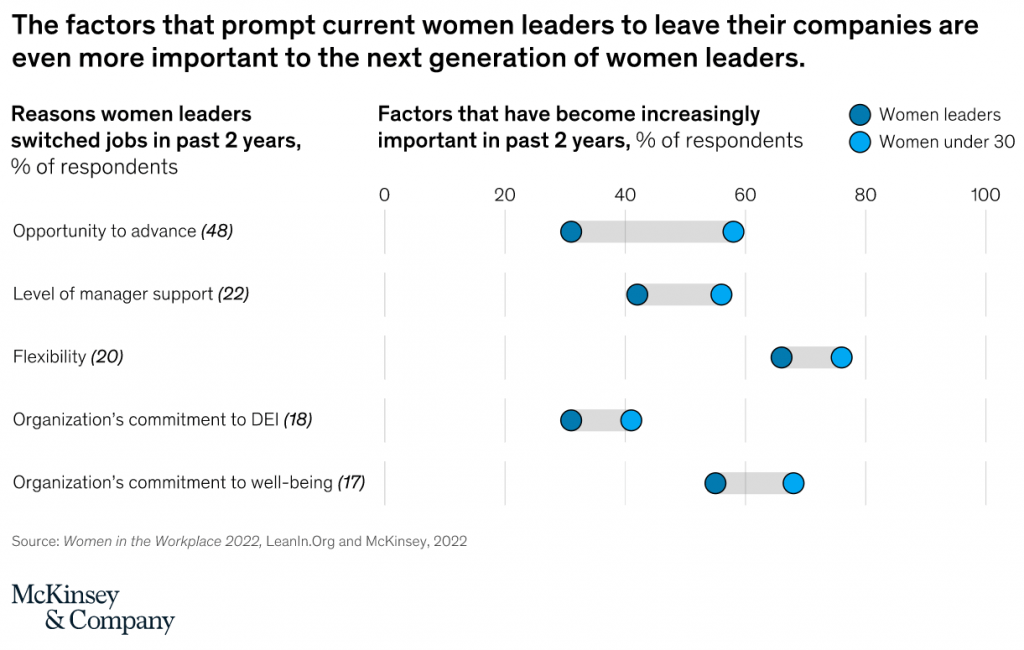 3 Ways Companies Can Support Work-Life Balance For Advancing Women Workers
Organizations can help women achieve a healthy balance between their professional and personal lives by implementing a flexible working environment, offering personalized benefits, and providing management support.
1. Implement A Flexible Work Environment
A flexible work environment is one in which employees can work remotely or at alternative times to adapt to their lifestyles outside of the office. Policies that support flex work can include offering flextime schedules, telecommuting options, or other programs that allow employees to work when they are most productive and energized. Additionally, organizations can:
Place no-meetings blocks during school drop-off and pick-up times.
Provide support for employees who choose to work remotely, ensuring they still feel connected with their team and get equal opportunities for recognition and advancement.
2. Offer Personalized Benefits
Each employee has their individual wants or needs—whether they are related to family responsibilities or health issues. Instead of relying on traditional one-size-fits-all benefits packages, organizations should offer personalized benefits that empower employees to make life choices that matter to them. Some examples of customized benefits include:
Parental leave for both births and adoptions, as well as miscarriage support.
Partial or full reimbursement for surrogacy costs, adoption services, and other reproductive health services.
Childcare services to help free up employee time for work or personal care.
3. Invest In Manager Training
As illustrated by findings from the "Women in the Workplace 2022" study, supportive managers are critical in shaping women's work experiences. Yet, "only about half of the women in the study say their manager regularly encourages respectful behavior on their team, and less than half say their manager shows interest in their career and helps them manage their workload." Organizations can improve manager support for working women by:
Providing more manager training to address specific roadblocks to women's advancement.
Holding managers accountable and recognizing and rewarding those who perform well, which can be done through employee reviews, tracking attrition rates, promotion rates, and other career outcomes.