In recent years, enthusiasm for environmental preservation has spread around the world. As awareness of the impact of human actions on the environment has increased, sustainable living has become an increasingly popular practice.
However, sustainability is more than just preserving the environment for future generations. It also has a profound effect on the eight dimensions of an individual's well-being, including:
Physical: Choosing "clean" methods of transportation, such as walking or biking, instead of driving or taking public transit, can have a significant impact on an employee's carbon footprint. These eco-friendly options also promote greater physical activity.
Emotional: Spending time in nature is a proven way to relieve stress and anxiety. By preserving our planet, employees can ensure that future generations have access to the restorative power of nature.
Financial: Sustainable habits, such as thrift shopping or drinking from a reusable water bottle, can save money and promote financial stability. Small actions like these can make a big impact on savings and the environment.
Social: Saving the planet requires a collective effort. Building a community around sustainable values can create meaningful relationships with a shared mission.
Intellectual: Sustainable living involves staying informed to make impactful decisions, cultivating continuous learning and knowledge expansion.
Purpose: Living in harmony with oneself, others, and the environment can produce a sense of purpose. Making value-based choices, such as sustainable habits, creates this harmony.
Environmental: The quality of the environment has serious health implications for individuals. Caring for the space they inhabit is crucial for their physical and mental well-being.
Wellness programs are often associated with fitness classes and gym memberships, limiting the scope of wellness to physical well-being. However, an optimized holistic wellness program provides support for all dimensions of well-being, including the environmental element.
Uniting Sustainability And Financial Well-Being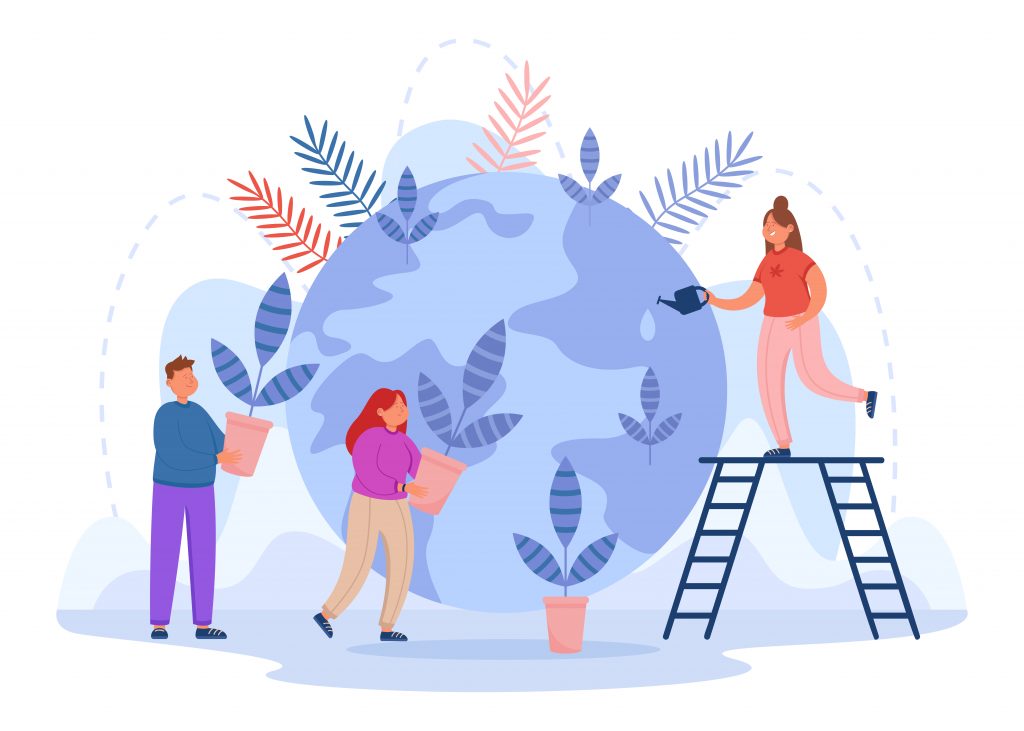 At the intersection between employee benefits and corporate sustainability strategy lies a new savings account option: The carbon savings account (CSA). With CSAs, employers can help their team members save money while transitioning to a towards sustainable lifestyle by contributing funds towards energy-efficient homes and vehicle upgrades. The innovative savings account was developed by Scope Zero, a software company partnering with eco-friendly vendors to offer discounted upgrades to employees.
Residential energy consumption accounts for 20% of the total carbon footprint, but many households struggle to afford their energy bills, let alone invest in energy-efficient upgrades. However, with employer contributions and discounted upgrades, the average US household could reduce their energy consumption by a staggering 40% and see a 20% increase in ROI over time. Not only will this help employees reduce their carbon footprint, but it will also help save money in the long run.
What Are Carbon Savings Accounts?
CSAs reduce employee cost of living while simultaneously engaging them in an organization's corporate sustainability program. A CSA works similarly to a health savings account in the following ways:
Contribute: Employees contribute funds to their CSA, which can be matched by the employer.
Consume: Employees use CSA funds to upgrade their home technologies and transportation to energy-efficient alternatives at a discount.
Reduce: Employees reduce their utility bills, fuel spend, and ultimately, their carbon footprint.
By implementing CSAs, employers can attract environmentally-conscious employees and increase employee retention rates by offering a unique, mission-driven benefit. CSAs can also boost employee engagement by connecting their team members to a greater company purpose. Employees reap the benefits of employer contributions, receive discounted offers, and achieve competitive ROI on utility bills.
Other Ways Employers Can Practice Modern Sustainability
In addition to offering CSAs, employers can implement the following practices to promote sustainability in the workplace:
Become A B Corporation: Achieving a B corporation certification means that a company meets high social and environmental standards while balancing profit and purpose. It signals a company's dedication to ethical and eco-friendly business practices.
Reduce Company Carbon Footprint: This can be accomplished by switching to renewables, including green internet and energy providers, and offsetting carbon emissions by donating towards green energy projects or rainforest preservation.
Eliminate Or Reduce Commutes: Not only is remote and hybrid work an appealing flexible work arrangement for employees, but it also reduces carbon emissions by limiting transportation.
Implement Sustainability Challenges: With the overlap of individuals' health and the health of the planet, sustainability challenges can be a fun and engaging component of a holistic wellness program.
Create An Environmentally Conscious Workplace Culture: Organizations can promote a sustainable workplace culture by raising awareness for climate change, offering PTO for volunteer work, and planting trees or growing gardens as a team.