As the coronavirus makes its way through communities across the world, another health problem has been spreading along with it: stress. Mental health provider Ginger recently reported that 69% of employees believe the current COVID-19 pandemic is the most stressful time of their professional careers. An even larger amount, 88%, admitted that they have experienced moderate to extreme stress within the last four to six weeks.
This has a ripple effect on the economy, as stressed workers do not perform as well, struggle with focusing, and get sick more often, leading to increased time off. Under this pandemic, nearly two-thirds (62%) of workers are losing at least an hour of productivity every day due to stress, and almost a third (32%) are losing over two hours daily. For the average eight-hour workday, that's a quarter of time on the job that is no longer productive. Therefore, even companies that are still operating at near-normal capacities during this time can suffer if stress levels among workers cannot be managed.
Anxiety Goes Beyond Economic Concerns
Financial and job-related issues are the biggest sources of stress for American workers. Employees without an emergency savings account and those managing debt are likely facing more stress due to a reduction in household income due to job losses and business closures. Even those with savings or no debt may face tighter budgets; some may be falling further behind on planning for retirement or are watching investments take a downwards turn.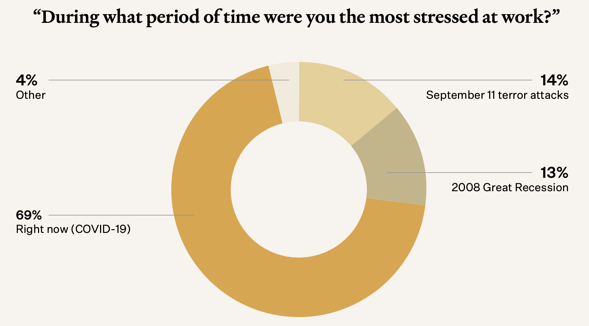 However, the scope of today's anxieties isn't merely limited to just economic, or even political,  problems. Across every age group, the current crisis outranks all other events—including national tragedies like the September 11th attacks and the 2008 Great Recession—as the most stressful time in their career. Unlike some of these previous events, this present period has people facing a variety of lifestyle changes that include restricted socialization, increased family responsibilities, and alternative approaches to physical and mental wellness.
Additionally, there is a huge amount of uncertainty involved. Data on COVID-19 changes daily, and cities and regions are affected differently. Politicians across local, state, and national levels do not share the same recommendations on how to proceed. Therefore, people are unable to plan or have had plans change multiple times over the course of several weeks. It is difficult to tackle stressful situations when it feels like no progress (or little) is being made.
Expand Mental Health Resources
Those that struggled with anxiety prior to COVID-19 are likely feeling overwhelmed with even more stress. On the other hand, those that never dealt with significant stress before may be feeling unprepared to handle a new mental health challenge. Employers need to take this opportunity to provide mental health support that can be utilized during this time of social distancing, such as apps and digital tools, online content, and telemedicine.
While all demographic groups report increased stress during this time, companies can still tailor their resources to best fit what their workforce is facing. Businesses with working parents or caretakers can provide counselling and tools that specifically address family-related anxiety. Younger staff with student loans as well as those interested in retiring soon may need more personalized financial planning support to face their particular worries. Employees with underlying physical or mental health issues may be struggling to adapt to changes in treatment; telemedicine can help but learning how to cope with these unexpected changes can fill in the gaps.
Healthy alternatives to habits like smoking, drinking, or gambling—which can all be started under large amounts of stress—should be encouraged. This can include meditation, at-home fitness routines, mindfulness exercises, and relaxing activities like drawing or daily walks.
By increasing mental health support now, businesses can prevent further economic losses endured during this time by keeping employee productivity up. Workers will also be better equipped to deal with the health, financial, and personal concerns they are all likely to encounter for as long as the consequences of the coronavirus persist.