Mental health is an essential part of overall well-being, and leading companies continue to recognize the importance of providing mental health benefits for their employees. Mental health has been at the forefront of employee benefits since the pandemic. Although organizations are reassessing how to provide a wide range of practical benefits during an economic downturn, ensuring that employees have adequate access to mental health resources remains a top priority.
In a recent survey by Sequoia Benefits, 94% of employers cite work-life balance/burnout as their top concern for employees in 2022.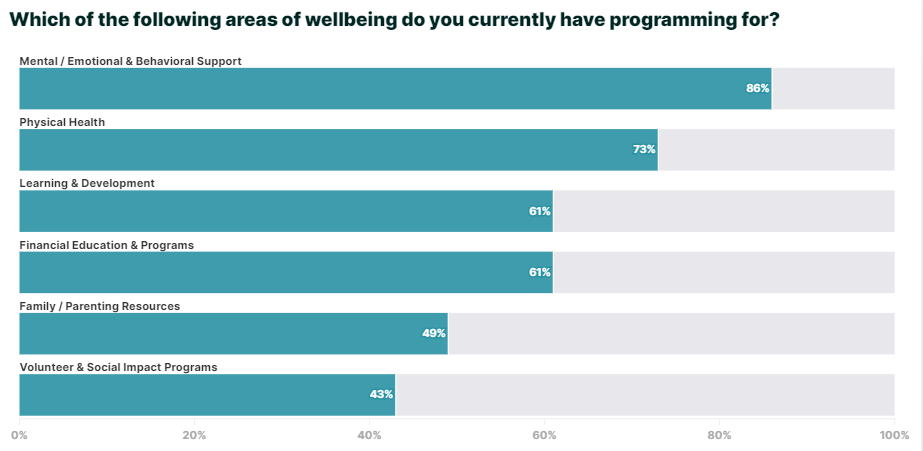 Benefits For Employees
Providing mental health benefits for employees can help create a safe and supportive environment in which they feel comfortable discussing any issues or concerns they may have. Benefits can range from virtual sessions about parenting skills and how to manage personal budgeting to tips for different meditation techniques and how to make healthy affordable meals. These benefits can also help reduce the stigma associated with mental illness and encourage employees to seek out professional help if they need it. Additionally, having access to quality mental healthcare can help improve employee well-being and increase job satisfaction, leading to improved morale and productivity in the workplace.
Benefits For Employers
Offering comprehensive mental health benefits can also benefit employers in many ways. For instance, it can lead to reduced absenteeism and higher levels of employee engagement. It can also provide employers with an edge when it comes to recruiting and retaining top talent, as many job seekers consider a company's commitment to its workers' well-being before making their decision about where to work. Finally, providing mental health coverage is becoming increasingly important from a legal perspective, as businesses are now being held accountable for ensuring that their workers have access to quality care.
How Toxic Workplace Behaviors Can Degrade Mental Health
A recent article from Buzzfeed highlights specific behaviors that can detract from workplace culture and negatively impact mental health. The anecdotes range from misguided attempts to foster company culture to restrictive policies that inhibit flexibility and choice. Below are a few relevant perspectives to consider for your organization:
"Forced team-bonding events" – Team-building activities can be fun and successful when they are optional and accessible. Virtual events with a trusted vendor removes the hassle of planning and makes it easy for employees to participate from anywhere.
"Mental health–related seminars instead of giving us a day off" – Educational seminars are an important complementary piece of a holistic wellness program. However, they are not a replacement for PTO, mental health days, or other policies that give employees time to relax and recharge.
"This is a family. No, it's not…it's a business" – In an attempt to attract talent and create strong bonds between employees, companies often brand themselves as a "family." However, a substantial majority of working professionals feel that the family brand is not likely to help an organization run better. Workplace "teams" or "crews" offer suitable alternative frameworks.
Takeaway
Building a culture that is centered around mental health requires both well-structured benefits offerings and workplace policies. Companies that get this right will not only see positive results for employees—they will also reap gains for the organization in terms of recruitment, retention, productivity, and legal compliance. By proactively taking steps to ensure that your workers have access to quality care and a supportive workplace, you will be showing your commitment to their overall well-being and creating a safer working environment where everyone feels supported and respected. This kind of positive change is worth investing in!