As companies across the globe grapple if and how to entice employees to return to the office, the Netherlands is one step closer to giving employees the right to choose where they work. The Dutch parliament approved legislation to establish working from home as a legal right, setting the Netherlands up to be one of the first countries to enshrine such flexibility in law. The legislation passed in the lower house of parliament, but it will need to pass in the senate before it can be enacted into law. If enacted, employers will be required to consider requests to work from home if an employee's profession does not require them to be on-site.
The new law is not expected to have ardent opposition. This is likely due to cultural reasons, as the Dutch are very familiar with remote work. According to Eurostat, 14% of the workforce in the Netherlands was already remote two years before the pandemic began. Although that number of remote workers increased significantly in March 2020, most companies are not trying to force employees back in the office.
This is not the case in other countries. For example, employers and employees in the United States feel differently about remote work. According to a PwC survey, less than one out of five employees prefer a fully remote job. Approximately the same number prefer being on-site full-time. Hybrid work seems to be the preferred arrangement for U.S. employees.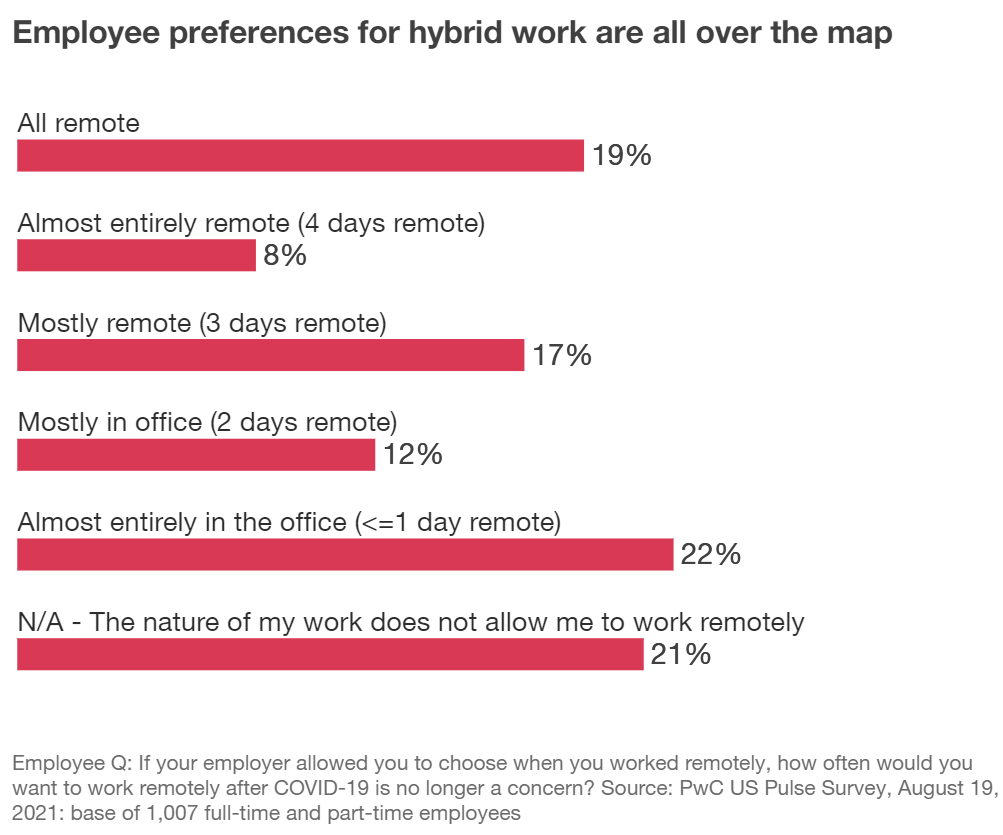 For employers, most are gravitating toward making hybrid work the new normal. Major tech companies, including Apple, Google, and Microsoft, announced that they want employees in the office at least three days a week. Although there are notable exceptions (Tesla and Goldman Sachs want employees on-site five days a week), companies are realizing that balance is key to the future. A hybrid environment allows employees to get the benefits of remote work on some days while allowing companies to seek the innovation often associated with impromptu interactions on other days.
Note: At Wellable, employees are asked to come into the office at least twice a week. One day (Wednesday) is mandatory, allowing all colleagues to meet and interact with each other, and the other day is flexible. Wednesdays are focused on collaborative work (team meetings, etc.).
No Perfect Policy
Although data shows that hybrid work is a healthy middle ground, there is no perfect policy for all companies. What works well for one company, may be a poor choice for another. It all depends on a number of factors unique to each organization, including company culture and nature of the work. While countries like the Netherlands will take this decision out of the hands of employers, that will not be the case everywhere. Companies need to determine what work arrangements will foster the community and environment they need to succeed.
No matter the decision, employers should expect some churn. Like corporate cultures, individual employees are unique. While fully remote, hybrid, and full on-site may work for most of your workforce, there will be some individuals who prefer a different arrangement. As a result, these employees will likely find employers that meet their preference. This is understandable and should be expected. Once employers get through the transition period, they can focus their recruitment and retention efforts on individuals who align with their ideal work arrangement.