It's safe to say that this year has been unusually difficult for the average employee, given the complications created by COVID-19. According to the Cigna Resilience Index, these struggles are taking a measurable toll on Americans, as roughly 60% are currently struggling to maintain resilience.
Resilience is the ability to handle adversity, frustration, and misfortune, as well as positive experiences like progress or increased responsibility. Developing this quality can have major implications for an employee's overall well-being: it can improve one's sense of fulfillment, resourcefulness, mental clarity, social engagement, emotional health, and dedication to both career goals and family life. When individuals are able to tackle personal and job-related challenges effectively, companies are rewarded with more productive, focused, and engaged workers. Additionally, these resilient employees can function as a positive influence on their fellow coworkers. Businesses that want to maximize employee wellness and productivity should be mindful of how their workers are able to persevere through and grow from the situations they face.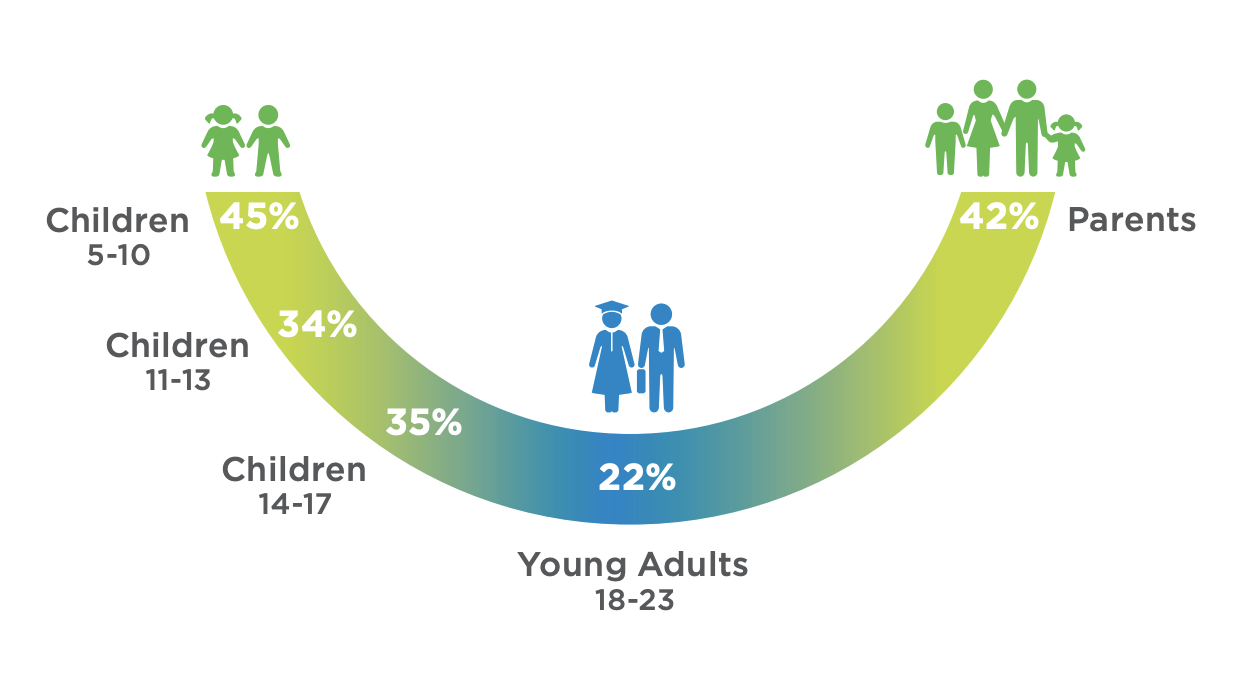 In Cigna's study, the largest of its kind so far, researchers collected data from 10,000 Americans, including 5,000 workers over the age of 18. Of the adult workers surveyed, only 37% of those employed full-time are considered "highly resilient." Unfortunately, as employment status drops to part-time or unemployed, that number falls substantially to 28% and 18%, respectively.
These differences between more and less resilient groups are astoundingly stark. Only 5% of those employees with "lower resilience" described feeling "a sense of belonging," or that other people enjoyed spending time with them. However, for those with a "higher resilience," this number was 16 times greater, at 96%. Without a sense of belonging, employees' mental and emotional well-being can suffer. This can also have profound implications for productivity, particularly if a worker does not feel they are valued by their colleagues or that they "belong" within a certain job position or company.
Building A More Resilient Workforce
In the age of COVID-19, resilience is even more valuable as people face changes in work environments, income loss, health problems and concerns, anxiety, increased family and caregiving responsibilities, uncertain schedules, and social deprivation. Those employers that invest in creating a more resilient workforce will be able to keep productivity high through this difficult time.
One of the best ways to accomplish this is by offering mental health benefits. Nearly half (48%) of employees with mental health support were highly resilient, compared to just over a third (35%) of those that did not receive any of these benefits from their employers. Of course, increasing mental health benefits has been on the rise in recent years, but even programs that include some mental or emotional wellness components will benefit from adding to these resources as the pandemic continues. Make sure that employees have a variety of ways to seek help through digitally-delivered content, telemedicine services, and counseling referrals and resources. Companies can also better tailor their offerings for their workforce by providing services and content specifically for working parents and caregivers.
Cigna's study also found that diversity and inclusion had a significantly positive effect on workers' resilience. Forty percent of companies with a diverse workforce had highly resilient employees, compared to only 28% at other, less-inclusive workplaces. Companies where workers engaged in conversations about systemic racism were also more likely to be highly resilient (48%) than those that did not (36%).

Possibly, this is because an inclusive workforce leads people to feel a stronger sense of support and belonging, thereby benefiting their mental and emotional health when it comes to facing difficulty. Of course, diversity can be encouraged in the hiring process by looking for candidates that will bring new experiences and perspectives to the table. It can also be fostered through open communication between workers. Encourage managers to listen and foster positive discourse, and give space for non-work discussions and socializing to take place before or after meetings or through team-bonding events.
Finally, employers can approach the matter directly by adding specific content on how resilience can benefit them personally and professionally. With Wellable's Resilience Challenge, participants can build resilience through exercises that focus on determination, appreciation, and mindfulness. By being intentional in working towards greater resilience, employees can face future problems with increased confidence.
Get our latest articles delivered straight to your inbox!