A phenomenon that has led to some of the most profound changes in workplace history is known by many names – The Great Resignation, Reshuffle and Attrition, to list a few. Yet, the effect organizations are feeling is the same. Competition for talent is fierce, and retention is even harder. A study by McKinsey showed that 40% of employees are thinking about leaving their job in the next three to six months, consistent with the data from a Pew Research Center survey earlier this year.
The United States alone saw 11.3 million open jobs at the end of May, compared to 9.3 million open jobs in April 2021.
Many of those openings are not getting filled, or filled for very long. While there is no single reason for the widespread turnover, research is starting to illuminate the crux of the matter: traditional approaches to attracting and retaining talent are no longer sufficient. To add a new wrinkle, the top reasons why employees are quitting jobs don't necessarily match up with strategies to attract people back into the workforce.
Why People Quit
McKinsey's survey showed that the top reason for quitting a previous job is a lack of career development and advancement. Having bad managers also drives people away, with 34% of more than 13,000 respondents stating that having uncaring and uninspiring leaders was why they left.
People can no longer be paid enough to stay in a role with no clear path for advancement and toxic managers.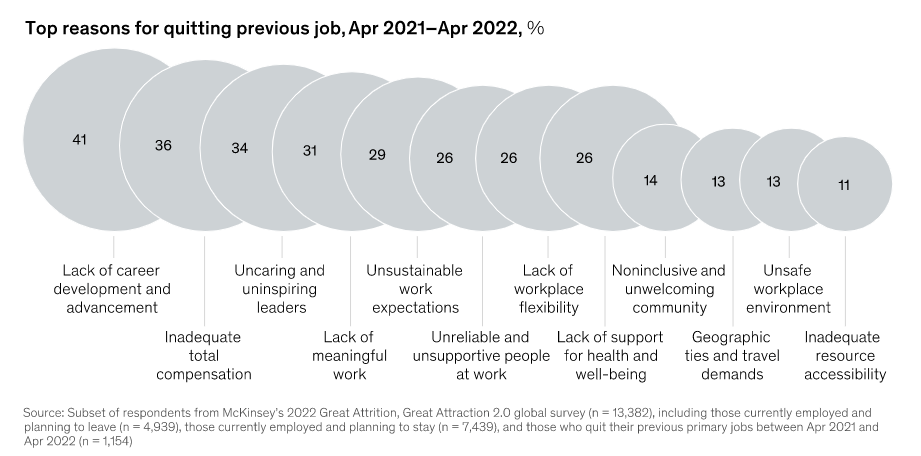 The data also shows that no single aspect overwhelmingly drives employees away. To retain talent, organizations need to build a great workplace by compensating people fairly, creating clear and attractive career tracks, promoting inspiring people into leadership positions, fostering meaningful work and sustainable work expectations, and so much more.
Why People Stay
If the pandemic taught us anything, it's that flexibility triumphs over almost everything else. For most people who have left the workforce in the last few years, offering a flexible work arrangement is the best way to coax them back to work.
Worker Personas
While a small percentage of workers can be considered "Traditionalists" who are attracted by traditional levers employers use to recruit talents, McKinsey also proposed four other job searcher personas:
Do-it-yourselfers: Comprising the largest share of respondents, these employees value workplace flexibility, meaningful work, and compensation as the top motivators for potentially returning to the traditional workforce.
Caregivers and others: Motivated by compensation but have many other priorities for returning to their jobs: workplace flexibility, support for employee health and well-being, and career development.
Idealists: Unencumbered by dependents, mortgages, and other responsibilities, this group emphasizes flexibility, career development and advancement potential, meaningful work, and a community of reliable and supportive people, with compensation far lower on the list.
Relaxers: Includes retirees and others who have exited the workforce. Focus mostly on meaningful work and flexibility.
Stay Interviews
Since each group of employees requires a different retention strategy, incorporating stay interviews can help organizations learn what matters to their team members and how they can create the best work environment for their specific needs.
Wellable conducts stay interviews periodically and uses the information to build the best workplace possible for our team members. Ashley Hopkins, Wellable Chief Operating Officer, finds stay interviews to be an integral part of our toolkit to attract and retain employees:
"As the name suggests, the ultimate goal of a stay interview is to learn more about what makes our employees happy and, ultimately, what they need to stay on as a part of the Wellable team. Unlike more formal hiring interviews, these conversations are guided by just a few straightforward questions intended to generate openness, honesty, and an opportunity for the company to learn what can be done better. Periodic stay interviews are a great way to help ensure employees feel supported, equipped to do their job well, and have a say in their experience at the company."
Takeaway
While the quitting trend won't seem to quit, the impending economic downturn might affect workers' outlook on what they can expect "on the other side."
Regardless, organizations can focus on building a flexible work environment and healthy work culture. To retain great talent, leading companies must foster intellectual well-being and personal development, as well as create clear career paths for employees.
Most importantly, managers should just ask. At Wellable, we ask (and act on) these important questions:
What do you look forward to each day when you commute to work?
What are you learning here, and what do you want to learn?
Why do you stay here?
When is the last time you thought about leaving us, and what prompted it?
What can I do to make your job better for you?