Aon Hewitt partnered with the National Business Group on Health and The Futures Company to conduct The Consumer Health Mindset study. The study explores perspectives, attitudes, and behaviors that employees hold toward health and healthcare as they interact with their employer-sponsored health plans and wellness programs. A few interesting statistics about communication channels:
50% of consumers prefer to receive non-personal health information through external websites
56% of consumers find general health and wellness information the most helpful tool for wellness; this number increases to 63% for consumers under the age of 30
40% of consumers use mobile apps at least monthly for health and wellness activities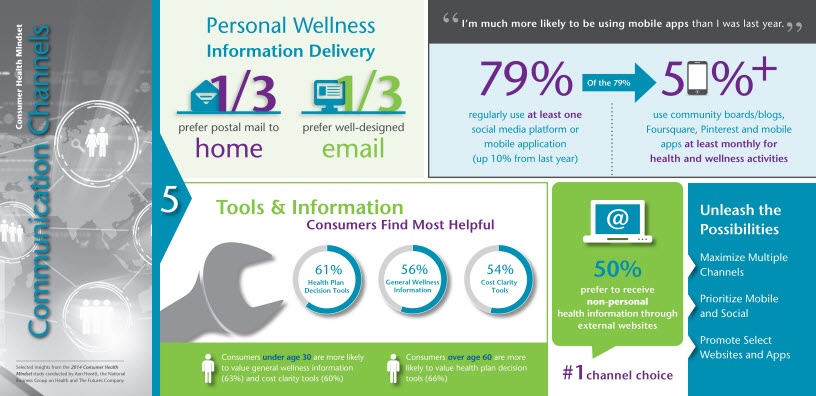 From these statistics and other parts of the study, Aon Hewitt recommends employers do three things to optimize their wellness program efficacy.
Maximize Multiple Communication Channels – To reach employees, companies should use a multi-faceted communication strategy that includes email and text messaging. Since general health and wellness information is highly sought by consumers and there is a preference for external websites, employees should embrace free consumer resources when delivering health content. At Wellable, we use, among other channels, text messages to deliver consumer health content to employees. The short messages include links to external websites for users to read more on topics of particular interest to them.
Prioritize Mobile and Social – Employees are gravitating toward mobile and social platforms. Wellness programs need to embrace consumer preferences to deliver optimal results. Wellable integrates these platforms into its health and wellness experience.
Promote Select Websites and Apps – According to Google, there are now 100,000 apps dedicated to mobile health. Employers must help employees navigate this overbearing ecosystem of technologies by promoting best-of-breed apps and quality external websites. Wellable's technology platform only integrates with the highest quality apps, and its text messaging program delivers clinically reviewed content from reputable websites.
Get our latest articles delivered straight to your inbox!