Shortlister recently released their Well-being Industry Prospectus 2017, a report on employee wellness trends. They surveyed well-being subject-matter experts at the nation's top employee benefits consultants to get their take on the state of the wellness industry.  The entire report is certainly worth downloading and reviewing in its entirety, but if you are short on time, below are some of the key highlights.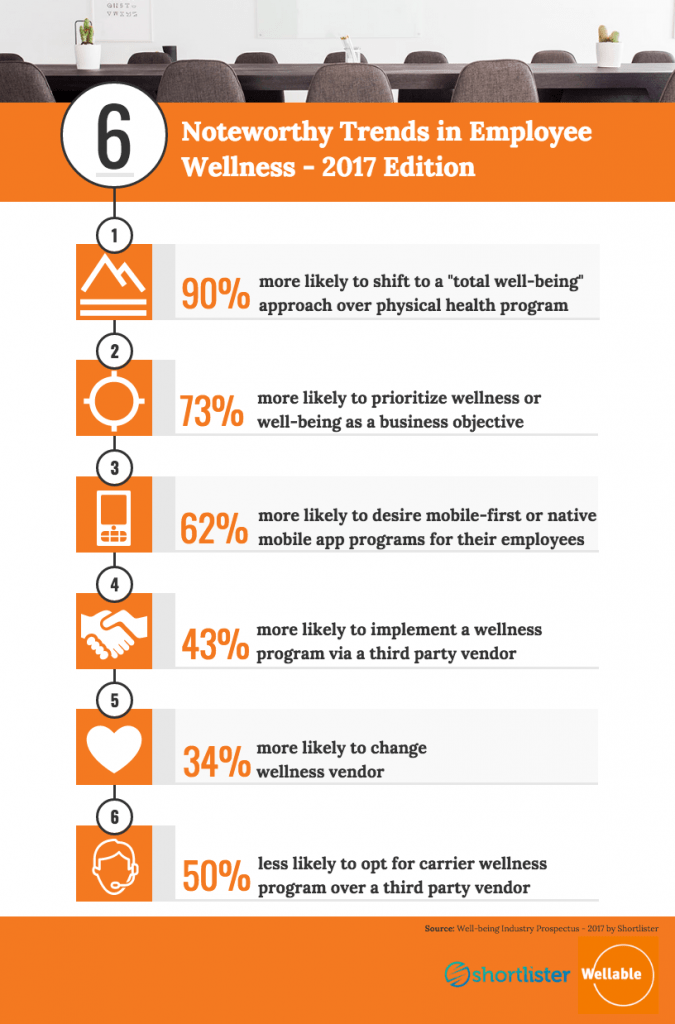 The biggest trend is the shift toward total well-being initiatives from the heavy focus on just physical health; mental and financial wellness are also important factors in well-being.  The survey found that financial wellness is experiencing the greatest demand relative to other wellness offerings.  This shift in focus aligns with the change in perspective that finds employers increasingly viewing employee health as critical to business success.  Companies are also moving away from antiquated carrier solutions or ones with limited mobile capabilities to feature-rich platforms with mobile apps and device integrations.
Per the survey, biometric screenings and health assessments are still two must-haves for employers despite the overwhelming research that suggests that these too should fall by the wayside.
Regardless, the report clearly shows that employee wellness is important, and it is here to stay.  The more employers take care of their staff, the more they grow the business.  Investing in employee health is no longer a "nice to have", it is a "must have" for success.
*Shortlister is a software solution that provides employers and their advisors with the information they need to make sustainable human capital vendor selections.