The new year marks the release of Wellable's 2023 Employee Wellness Trends Industry Report. This annual report delves into wellness strategies companies will be implementing in the upcoming year, giving organizations valuable insights to prepare for and adapt to the constantly changing business landscape.
In today's uncertain economy, it is more important than ever to create a happy, healthy, and productive workforce. Organizations can use this report as a guide to make the best benefits decisions and build competitive wellness programs while navigating an unstable market.
As part of the research, the annual survey explored three key areas:
Stay Ahead Of The Game: Discover the top 23 wellness solutions and strategies that employers are planning to invest in during 2023.
Make Informed Decisions: Learn which criteria have the greatest impact on employee benefits decisions, as reported by insurance brokers.
Choose The Right Partner: Find out the top criteria employers use to evaluate third-party vendors who can help them meet their employee wellness needs.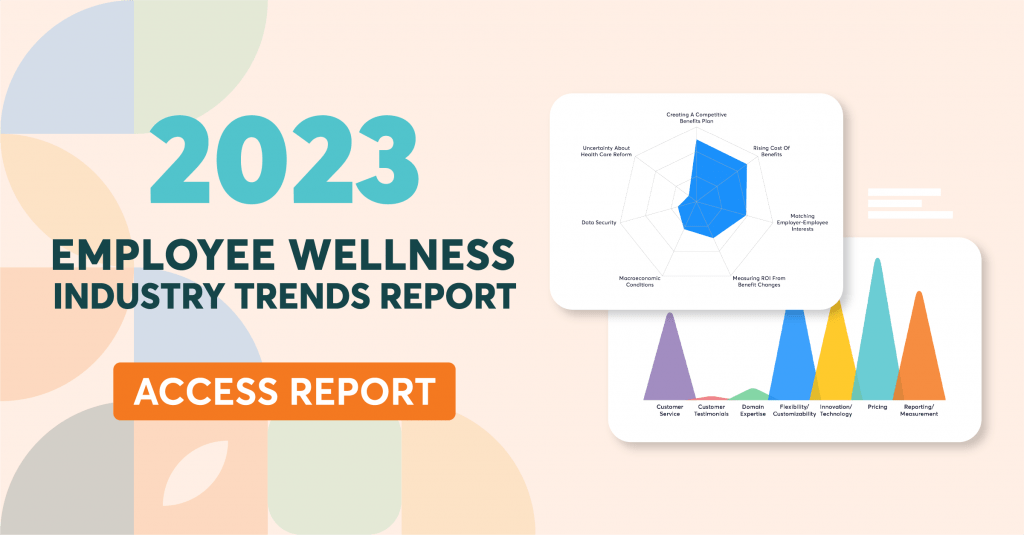 Enjoy these highlights for a sneak peek of the full report. 
---
As employers navigate post-crisis trends and financial instability, it is becoming increasingly clear that addressing all aspects of employee well-being is crucial. Wellable's survey found that the majority of employers are focusing on mental health (91%), stress management and resilience (77%), and mindfulness and meditation (74%) by increasing their investments in these areas.
Prioritizing Mental Health In Employee Wellness
The pandemic has taken a toll on everyone's mental well-being, causing increased stress, burnout, and disengagement among employees. To combat this trend, many employers are putting a greater emphasis on promoting mental health in the workplace. With 91% of employers investing more resources in this area, it is time to make mental wellness a non-negotiable employee benefit. Employers need to lead the charge and prioritize mental health for their teams. 
Digital Benefits On The Rise
As companies move away from in-person interactions, there is a growing trend in implementing digital benefits to support employee wellness. These digital solutions are not only cost-effective but also a perfect fit for the new hybrid work models. Employers are embracing the future of employee benefits and making digital experiences a standard in the workplace.  
Financial Wellness Is Making A Comeback
The economic downturn and prolonged period of high inflation have highlighted the importance of financial wellness for employees. Employers are now recognizing this trend and creating plans to support employees in stabilizing and managing their finances. With 65% of employers investing more in this area, financial wellness will be front and center for employee benefits in 2023.  
Retention Over Recruitment: The Future Of Employee Wellness
With the inflated cost of replacing employees, which can be as much as $2.9 million per day, companies are focusing on retention rather than recruitment. To do this, they are offering more competitive wellness benefits to their existing employees to increase engagement and satisfaction in the workplace. Companies spent $51 billion on employee wellness in 2020, and that number is expected to increase to $100 billion by 2030. 
---
Unlock the full potential of Wellable's research by accessing the report. Explore all the information and insights gathered from this year's research and stay ahead of the game. Don't miss out on this valuable resource!