The Conference Board's Job Satisfaction 2023 Survey reveals the factors influencing employee satisfaction and retention. From exploring the impact of work-life balance and flexible work arrangements to unveiling persistent gender disparities, this survey provides insights to answer a crucial question for HR professionals: what compels employees to stay in a job and experience true satisfaction?
This article covers key findings and takeaways that employers can leverage to attract, engage, and retain top talent in today's competitive business landscape.
Pressed for time? Here's a quick summary…
Overall job satisfaction of US workers has reached its highest point in over three decades.
Job satisfaction is consistently lower for women than men across all components surveyed, indicating a need to address gender disparities in the workplace.
Employees with hybrid work arrangements report the greatest job satisfaction compared to fully remote or in-person workers.
Other than competitive pay, work experience and culture play the most influential roles in employee satisfaction and retention.
Job Satisfaction Reaches Record Highs
The survey unveils a remarkable surge in job satisfaction among US workers, reaching its highest level in over three decades. Over 62% of survey respondents indicate overall satisfaction with their jobs, reflecting a 2.1% increase from the prior year's survey and a significant 5% jump compared to 2020.
This unprecedented rise stems from a combination of factors, including a tight labor market empowering employees to secure better pay, benefits, and working conditions, along with increasing flexible work arrangements that promote work-life balance.
Across the 26 survey factors, employees who recently switched jobs report the greatest job contentment. Job-switchers cited their new company's training initiatives, bonus plan, mental health benefits, and promotion policy as the main contributors to their satisfaction.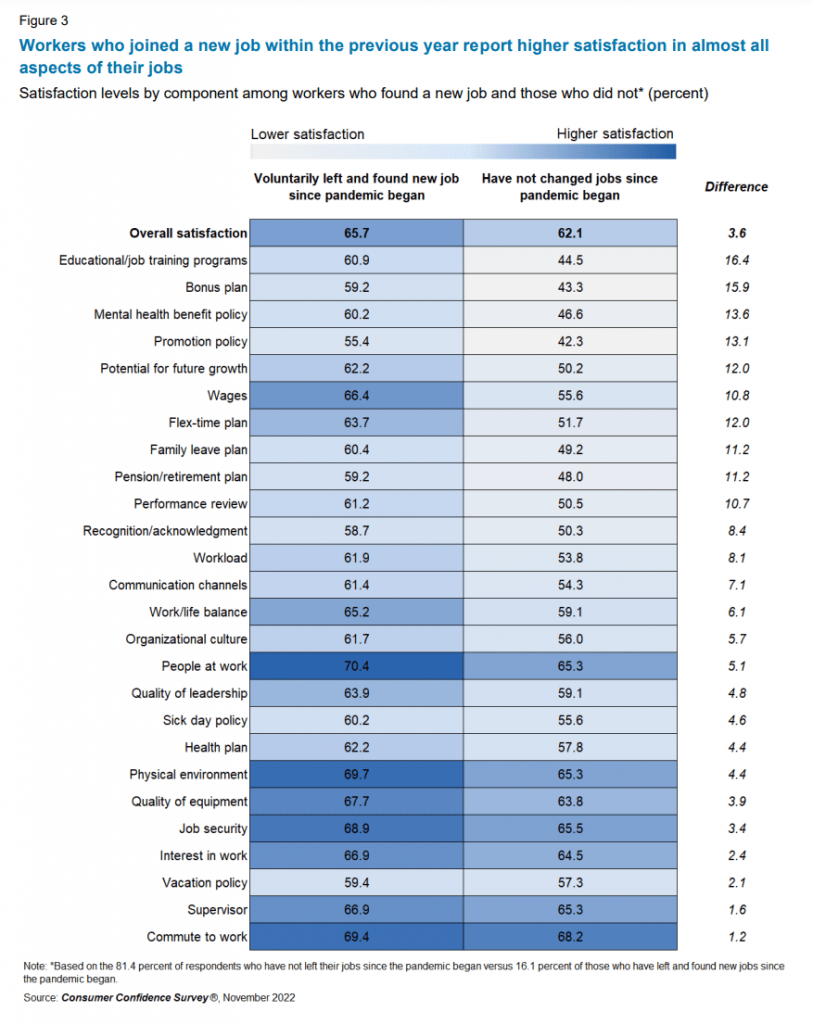 Takeaway #1: In a tight job market, offering competitive compensation and benefits, enriching training programs, mental health support, and clear bonus and promotion guidelines is essential to attracting and retaining talent.
Gender Disparities In Job Satisfaction 
Despite overall improvements, job satisfaction among women falls behind their male counterparts.
Disparities are pronounced across critical areas, including job security, promotion policies, and bonus plans, as well as compensation and benefits such as pay, sick-day policy, vacation policy, and health plans. Women also express lower satisfaction levels in other key aspects, including recognition, performance reviews, growth potential, and communication channels.
These gender divides in job satisfaction aren't merely subjective experiences.
Data indicates that the gender pay gap remains prominent despite recent progress, with women earning 77.9 cents for every dollar earned by men and facing a median salary 22% lower than their male counterparts. The unbreakable glass ceiling is also grounded in stark realities; only 85 women are promoted for every 100 men.
These statistics underscore the urgency for organizations to dismantle barriers that hinder women's progress.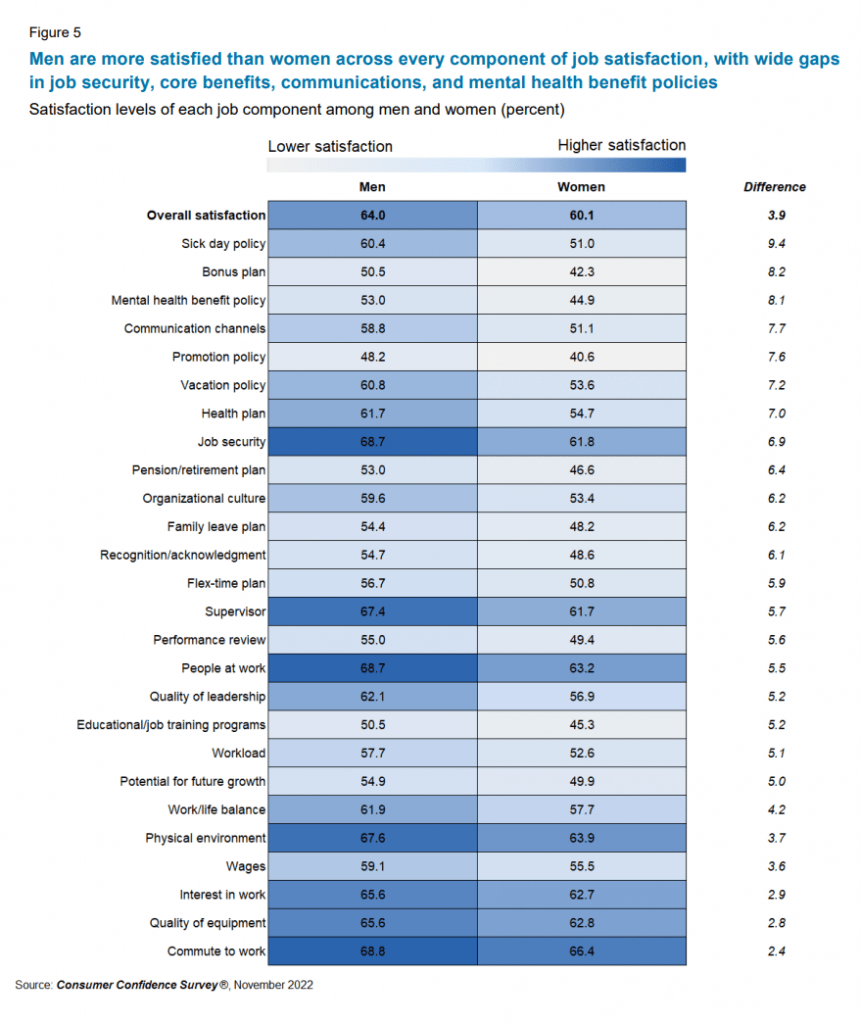 Takeaway #2: Address and rectify gender disparities to create an equitable and fulfilling work environment for all, particularly in compensation, growth and promotion opportunities, recognition, and communication channels. 
The Best Of Both Worlds: Hybrid Work Arrangements 
Hybrid work appears to be the ideal work arrangement, with hybrid employees reporting the greatest satisfaction ratings across most survey areas compared to those working fully remotely or in person. The allure of hybrid arrangements lies in flexibility, work-life balance, and fulfillment by leveraging the advantages of both worlds of work.
While there may be a slight dip in satisfaction concerning job security compared to their in-office counterparts, hybrid workers excel in pay, benefits, and access to training opportunities.
Both fully remote and hybrid workers exhibit significantly higher satisfaction levels than those working fully in person when it comes to crucial factors that drive happiness and retention, including the quality of leadership, organizational culture, potential for future growth, and interest in work.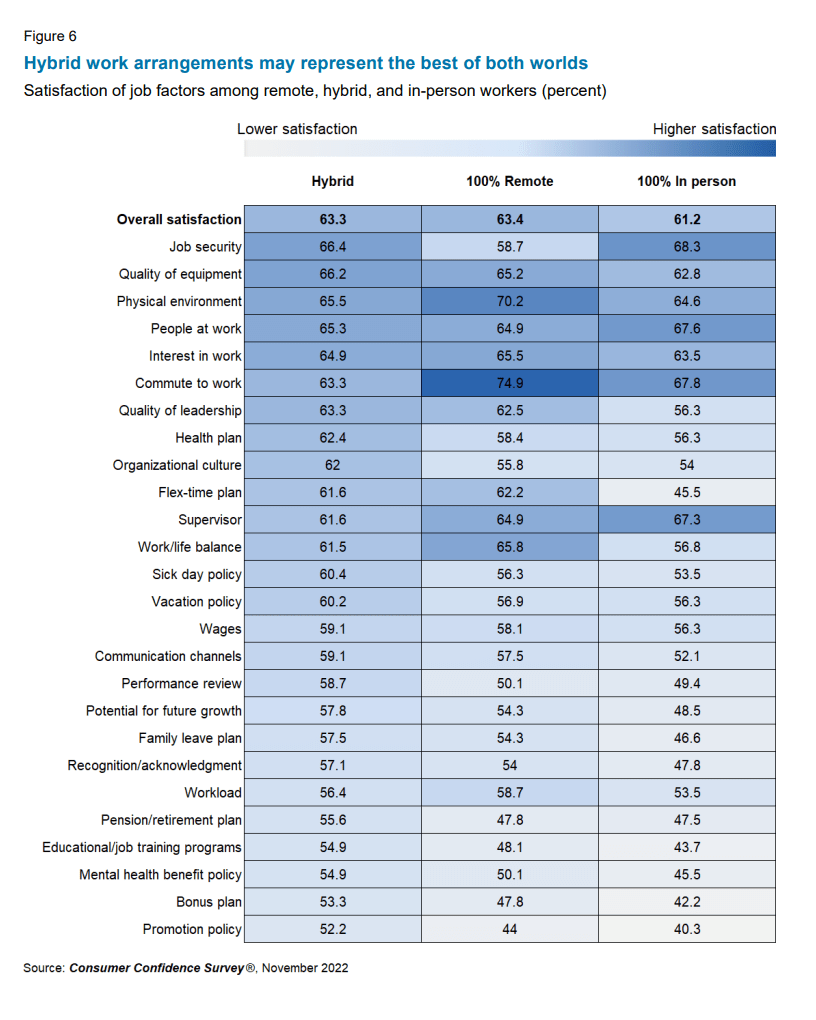 Takeaway #3: If possible, embrace hybrid work arrangements to enhance job satisfaction.
Key Factors Influencing Employee Retention 
Competitive pay is a leading factor in job satisfaction and employee retention, but once a compensation threshold is met, the focus shifts toward organizational culture.
Work-life balance and on-the-job experience, such as quality of leadership, potential for future growth, and interest in work, play pivotal roles in both job satisfaction and employee retention.
While important, benefits like family leave, retirement plans, health insurance, and paid leave have the least impact overall, accounting for only 7.1% of the variance in job satisfaction. Workers express comparatively lower satisfaction levels regarding their opportunities for future growth, highlighting an area ripe for improvement.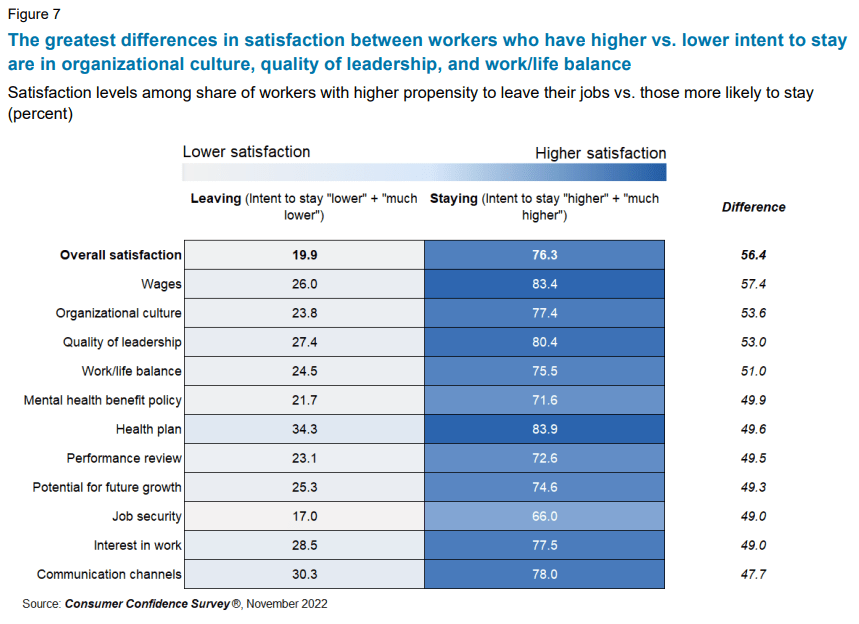 Takeaway #4: In addition to competitive compensation, work experience, and culture play critical roles in employee retention and job satisfaction.