Companies are beginning to understand the real value that employee paid time off can have for productivity and talent retention. So much so, they are going beyond what is required by law when it comes to providing paid leave benefits. According to the Business Group on Health's 2020 Large Employers' Leave Strategy and Transformation Survey, more employers are expanding their paid leave benefits beyond what is legally necessary.
Thirty-nine percent expanded paid leave benefits in 2019, including 30% that added new types of leave. While parenting and caregiving leave benefits are common, as well as time off for bereavement, military duty, and disability, many employers are now adding volunteer leave, mental health days, and summer Fridays off.
Additionally, another 24% of companies expanded the duration of leave and 12% expanded eligibility. This year, a similar amount of companies plan to increase on the duration (23%) of and eligibility (8%) for leave benefits, with another 15% planning eligibility expansion in next few years.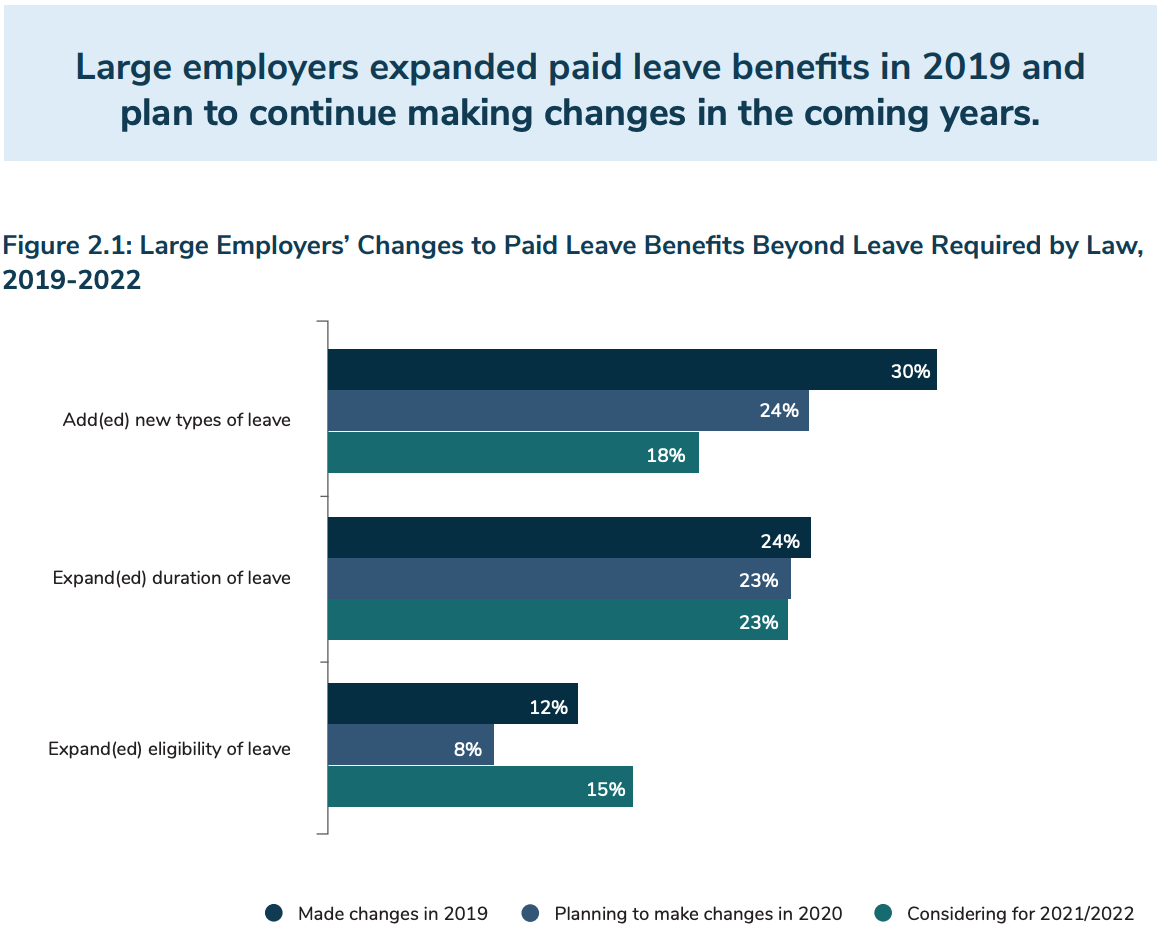 While most companies still followed a traditional structure in 2019 that included a set amount of vacation and sick leave, new programs with unlimited leave or different types of paid time off are growing in popularity. Eighteen percent of companies are planning to change the structure of their leave benefits this year.
The group collected data from 113 large employers, including companies that operated on a national and international scale. Thus, many of those surveyed were affected by differing laws on paid leave requirements across office locations. However, compliance with the law in every location wasn't the only important factor when designing their leave benefits.
Two-thirds of employers reported that company values and brand as well as market research and competition were important factors when it came to designing leave benefits. Over half also reported that employee feedback as a significant influence. Above all, though, employers are more interested in prioritizing employee health and wellness, with 82% of respondents reporting this as a top concern.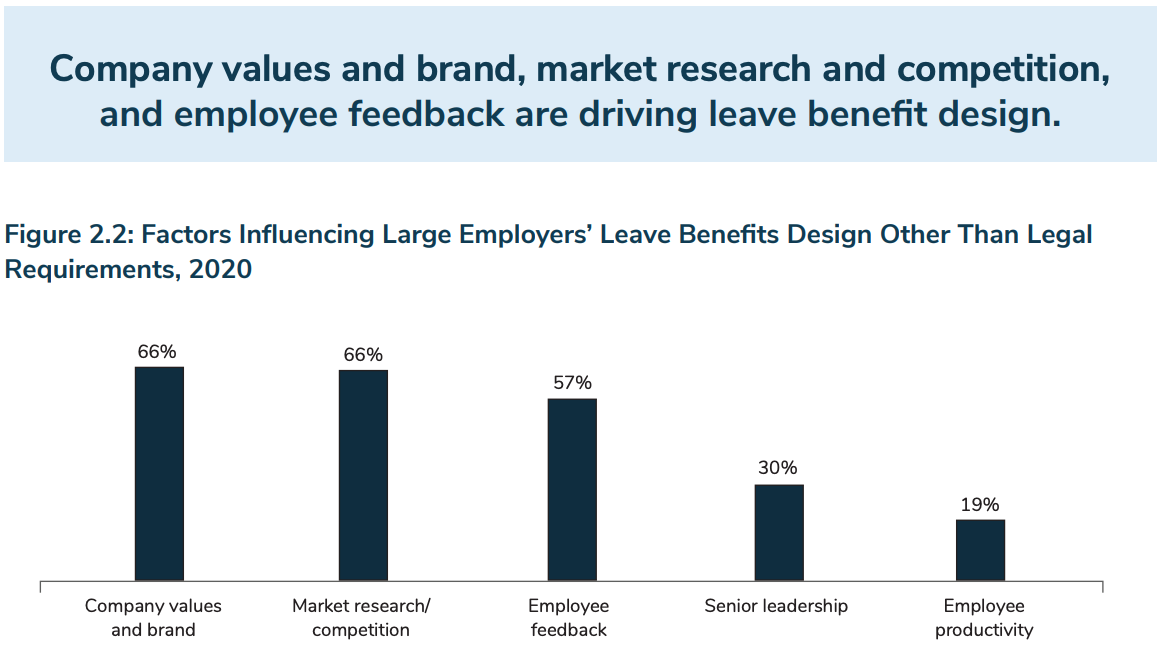 Employees Highly Value Time Off
Employers are taking note that an attractive wellness program must account for employees' desire for time off. Paid family leave, sabbatical leave, and remote and flexible work options are some of the top priorities reported by workers. Large companies typically lead the way when it comes to new benefits, so this may be a sign that mid-size and smaller companies will begin to follow their lead in order to remain competitive.
This trend is one that seems to be here to stay. In the coming years, paid leave for caregiving will become increasingly important. Already, there are many more working parents in the workforce than years before. As the baby boomer generation ages, these employees (and their resources) will be under additional pressure while caring for elderly relatives.
Paid Leave Supports Employee Wellness
Worker productivity and employee wellness are closely related—and wellness is greatly supported by time off. One of the most stunning examples of this was Microsoft Japan's recent experiment with a four-day work week. Prioritizing paid leave for workers can have a huge impact on many areas of employee well-being, including:
Stress relief

– When family and other responsibilities are taken care of, workers are less likely to be distracted by worries or experience anxiety. Having enough personal time to manage life's demands as well as time to relax greatly affects the mental health and emotional wellness of workers.

Financial wellness

– Taking care of children or older relatives costs a significant amount of money. Being able to take paid time off to take care of these other responsibilities lessens the financial burden that many full-time workers carry.

Opportunities for solitude

– When employees have time to spend on their own, their creativity, confidence, and relationships have been shown to improve.

Mindfulness

– Workers are more encouraged to focus on one task at a time when there is sufficient space for what they want to accomplish in their schedule.

Improved physical health

– Instead of declining or delaying treatment for a medical concern, employees have the time to make appointments. Physical health can worsen if symptoms and issues are ignored and being proactive can make a big difference in saving time and money in the future.
The leave benefits ultimately equate to measurable results through employees' improved performance, less sick days, and more engaged mindset.
Get our latest articles delivered straight to your inbox!