Workplace benefits have come a long way in recent years to support employees in ways that, previously, may have seen inconsequential to their productivity, well-being, and job performance. Many employers have met rising demands to support mental and emotional health, provide caregiving resources, offer flexible work environments and scheduling, and prioritize a healthy work-life balance. As a result, data suggests that employee satisfaction with benefits is on the rise.
Overall, how satisfied are you with your current health insurance plan?

According to the Workplace Wellness Survey, conducted by the Employee Benefits Research Institute (EBRI) and Greenwald Research, the majority of employees (63%) are satisfied with their health and wellness benefits. Since 2018, the number of employees that were "extremely" or "very" satisfied with health insurance plans has also gone up from 49% to 55%. While encouraging, this data still shows that over a third of employees are interested in more comprehensive benefits; when it comes to health insurance coverage in particular, there is also quite a way to go to achieve greater overall satisfaction. The survey, which looked at data from 900 part- and full-time workers ranging in age from 21 to 64, was conducted in the midst of the pandemic during the summer of 2020. This timing may have influenced employee responses due to less people using healthcare services and more employers expanding telemedicine coverage during the year.
Interestingly, the results also showed that a significant number of employees would be willing to take a pay reduction in exchange for better health and wellness offerings. This is especially true for employees at the smallest companies, who were over twice as likely to want expanded benefits in lieu of pay than those working at the largest-sized employers (27% versus 12%). This is likely due to smaller organizations having fewer resources available, as well as the cost-per-person of certain benefits being much higher when employee numbers are smaller.
While employees find their health benefits easier to understand than other offerings, employers still have a long way to go when it comes to reducing confusion. About a quarter of workers remain unclear on their health benefits, and four out of ten don't fully understand any of their other benefits. Only around half feel that communication about health benefits, mental wellness and work-life balance, and COVID-19 policies has been strong.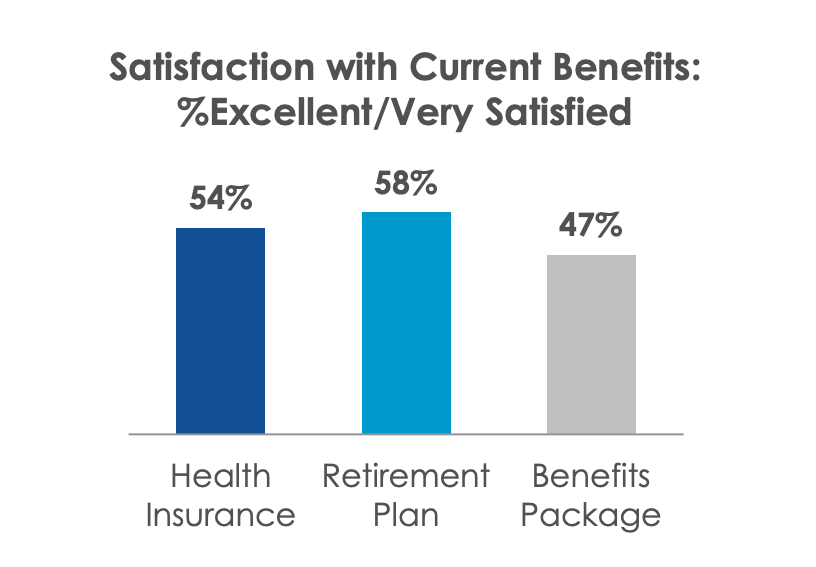 Survey findings also show that a little over half (58%) of employees report satisfaction with their retirement savings plan. According to the 2020 Wells Fargo Retirement Study, younger workers and women are especially worried about not being able to retire—even if they started saving early. Wells Fargo's data suggests that COVID-19 significantly decreased employees' confidence in their retirement funds, with about 70% of employees that were impacted by the pandemic now worried they won't be able to save enough money. Nearly all workers reported they are looking to Social Security and Medicare to play a significant role in their retirement plans.
Fill Communication Gaps
The survey illuminated some communication gaps when it comes to employees understanding their benefits. Filling these gaps would likely boost overall satisfaction, since workers would be better able to utilize what is offered to them. Almost half of survey respondents would welcome advice from third-party advisors or online programs in order to make better decisions during open enrollment. At smaller companies, a third of employees prefer an advisor over an online tool. While it can be less time-consuming and more affordable to offer digital assistance and communication, these results show that a significant number of people would benefit from interacting with a live person to better understand benefits. Employers should not underestimate the value of a real person who can create clear, personalized communication and respond more precisely to individual questions.
Consider Different Approaches To Compensation
While many employees are happy with their wellness benefits, employers have room to grow. Encouragingly, this may not mean more spending is needed, just that a change can be made in the way employee compensation is currently distributed. Investing more in wellness programs instead of traditional bonuses or pay increases may be more effective when rewarding employee performance. Employers may also attract more talent with comprehensive benefits, even if the salary on its own is less competitive. This can be an especially good strategy for small companies that have limited resources.
Caregiving, in particular, may be one benefit area that has the most potential. Often, sufficient caregiving support and resources are what determines whether or not an employee can continue working or take a job in the first place. Employees are highly appreciative of an employer than can meet this need. This is an area that employees are particularly struggling with right now, due to the lifestyle changes brought on by pandemic policies and complications during the past year.