A recent study of 200,000 adults across Southern California revealed that exercise, in almost any amount, reduces people's risk for fatal coronavirus infection. Those who exercised at least 30 minutes a day were four times more likely to survive COVID-19 than inactive people and even as little as 11 minutes of physical activity per week was shown to decrease the chances of hospitalization or fatality from infection.
Researchers drew records for approximately 194,000 Kaiser Permanente Southern California patients with frequent mentions of exercise habits and diagnoses of COVID-19 between January 1, 2020 and May 31, 2021. The pool was divided into five groups based on level of physical activity, with the least active group exercising fewer than 10 minutes per week and the most active group exercising at least 150 minutes per week.
The correlations between physical activity and COVID-19 fatality proved to be "very strong." The most significant difference revealed was seen between those who almost never exercised (391% more likely to die from COVID-19) and those who worked out upwards of 150 minutes weekly. However, even the in-between group who managed to incorporate as little as 10-15 minutes of exercise a week reduced their chances of developing a serious COVID-19 diagnosis.
There is an abundance of pre-existing research encouraging exercise for overall health and protection from sickness. Regular physical activity strengthens the immune system, improves mental health, and reduces the risks of respiratory infections, colds, and chronic diseases.
In other words, exercise saves lives. Yet millions of people fail to make the change of incorporating regular, moderate physical activity into their daily routines.
The Cost of Physical Inactivity
COVID-19 aside, the world faces an epidemic of chronic diseases like cancer, diabetes, high blood pressure, and dementia. Physical health and fitness confer partial protection against most of these diseases, yet 500 million new cases of preventable diseases are expected to occur by 2030. This will cost an estimated $300 billion, adding $27 billion annually to global healthcare costs.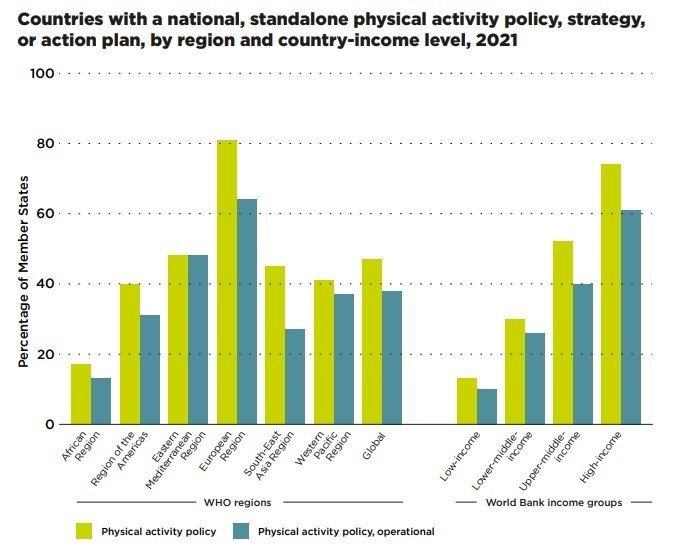 The World Health Organization's (WHO) Global Action Plan on Physical Activity (GAPPA) was set in 2018, aiming to decrease levels of physical inactivity globally by 15% by 2030. However, only two of the 20 actions set in GAPPA have been implemented by most countries. This slow and uneven implementation has resulted in little progress and could cost millions of lives and billions of dollars if nothing is done. 
Takeaway
Employers can reduce healthcare costs while protecting the well-being of their workforce by motivating employees to take part in regular, moderate exercise. Here are some ways organizations can encourage physical activity:
Organizations might not be able to protect 500 million people, but they do have powerful influences over their employees. By providing education about the importance of exercise and encouraging movement within the workplace, organizations can help chip away at some of the deadly and costly outcomes of physical inactivity.