This article was last updated on May 18, 2023
Employee wellness programs continue to move from being a nice perk to a must-have for companies looking to recruit the best talent. A healthy workplace attracts healthy employees! It is not a surprise that more companies are investing in wellness initiatives to encourage employees to stay healthy.
While some companies' wellness programs just provide one type of service, others provide a wide variety of options to help employees improve several dimensions of their well-being. Knowing what the different employee wellness companies provide and which features are ideal for your business can be a challenging endeavor.
In the constant battle with turnover and employee disengagement, employee health and loyalty are valuable resources. Luckily, this asset can be earned and improved through wellness initiatives. Employees who felt their employer-provided benefits positively affected their lives were 40% more likely to say they were loyal to their company.
However, well-being is a broad subject, including everything from physical fitness and financial wellness to mental health. How should employers design wellness programs to navigate these options?
Wellable compiled a list of fundamental and beneficial wellness challenge ideas companies can run to encourage healthy lifestyle choices, reduce health risks, meet participants where they are on their wellness journey, and foster some friendly competition along the way. Consider these challenges as a foundation that employers can build upon with fun themes that fit with an organization's culture.
What Are Employee Wellness Challenges?
Employee wellness challenges are workplace engagement events held to promote the adoption of healthy behaviors among employees through friendly competition. Challenges usually last several weeks and can happen just once or on a regular basis.
Challenge activities can be anything from walking challenges to financial well-being challenges. Employees participate individually or on teams, earning points for completing challenge activities. Those who earn a top spot on the leaderboard or achieve a particular goal (e.g., take 5,000 steps a day) earn rewards.
Most challenges focus on a single or a few dimensions of wellness (e.g., physical activity, mental health, etc.). This means that a single corporate wellness challenge cannot be fully holistic. Organizations aiming to embrace all dimensions of health may run multiple challenges a year or consider a more comprehensive wellness program.
Still, workplace wellness challenges are a great way to infuse health and well-being into company culture. They're fun, engaging, and beneficial to employers and employees alike.
CHECK OUT WELLABLE'S WELLNESS PLATFORM
Wellness Challenge Ideas
Below are 13 employee wellness program ideas to get any organization started.
Looking for additional resources for your wellness program? Subscribe to Wellable DIY – a free monthly program that can help organizations of all sizes empower their employees with science-backed, beautifully designed, and engaging wellness resources.
1. Walking Challenges
Walking challenges are the most popular, straightforward, and well-known type of company fitness challenge that many human resources departments turn to when it comes to encouraging physical activity. There's a reason why it is such a popular component of an employee wellness program and highly recommended: it works. Countless research has revealed the benefits of walking for employee wellbeing. People just don't do enough of it.
It is also great because both in-office as well as remote employees can participate, creating more opportunities for employees to mingle and socialize.
Walking challenges are a great first wellness initiative to kick off a health and wellness program at any organization. Soon, you might start seeing employees hold walking meetings to get more steps in for their challenge!
Walking Challenge Ideas
Walk Somewhere
Instead of a pure step challenge, employees may be more inclined to engage with a walking challenge that has a destination.
For instance, if an organization has multiple offices, run an "Office Hop" program. Challenge employees to walk the distance between different office locations to earn a price. This is also a great office fitness challenge that can connect employees who are physically separated across geography by giving them fun facts about other locations!
Distance References
Track participant movement and convert their steps or miles into something more conceivable. Maybe Sarah from HR walked five and a half miles today; that's the height of Mount Everest!
This method of acknowledging distance may seem like more of an accomplishment than numbers alone. Posting these feats on a company bulletin board is an excellent way to motivate participants.
Potential Downsides
Downsides to a walking challenge are few and lie mainly in the means an employer chooses to track and incentivize participation. For example, it is tough to get strong engagement when employees are forced to track and enter steps manually. Many individuals won't participate if they don't have a device that connects to the platform to automatically sync their steps.
Choosing a platform that connects to a broad range of technology. This way, employees can participate without resorting to manual entry. It removes many barriers to participation and engagement.
Another major downside is that walking challenges can become dry over time. To resolve this, gamify the experience using various themes and fun graphics, such as "Climb Mt. Everest" or "Swim Across The Hudson River!" Check out and borrow some winning ideas from Wellable's sample challenge themes!
2. Habit-Building Challenges
Healthy habits include drinking enough water throughout the day, taking the stairs, or getting appropriate amounts of sleep. Together, many small healthy habits like these make a big difference in individual health. A healthy lifestyle, after all, just consists of many small healthy behaviors.
Individually, these habits are not difficult to adopt. The challenge comes from doing them consistently over time and making them a natural part of an everyday routine. To avoid overwhelming participants, resist the urge to introduce too many new habits at once. Instead, slowly add and introduce new habits one by one.
For example, the first week of the challenge might be dedicated to drinking more water. Once employees are used to this, start introducing something new, such as eating a handful of nuts every day.
Remember that some habits are harder to build than others and might take participants longer to adopt. Habits such as "go for a 1-mile run every day" or taking advantage of one's gym membership regularly might take up to 30 days to become natural. While these health behaviors take longer to build, they also significantly contribute to long-term health. You just need to be patient and work with participants using a reasonable pace.
To track daily habits, you could use a Google Sheet or designate accountability partners. If you have the budget, you can use a platform that lets you digitally track these activities every day. These platforms are more affordable than you think!
3. New Hire Challenges
Workplace wellness challenges for new hires are not necessarily a challenge theme. However, it is a very effective strategy for employee retention and, therefore, worth considering. New hire challenges help communicate to new employees that their health and wellness are important parts of the organization's culture. This will hopefully increase engagement during their first few weeks with the company, as well as boost employee morale. Check out this post for specific ideas on new hire challenges.
Even better, make it a team challenge to build a sense of camaraderie among new team members. Some of the challenges in the post are similar to the ones mentioned here. However, they are designed with the goal of integrating new hires into the company's culture of health quickly and smoothly.
4. Nutrition Challenges
Proper eating is an essential part of overall wellness. However, it is often the most difficult to address. Many workplace wellness challenges, for this reason, miss out on the opportunity to help their employees develop healthy eating habits.
A worksite wellness challenge around nutrition can be approached in many ways. For example, employers can organize catered healthy lunch groups with free meals and reward participation as well as provide healthy options for snacks (who doesn't want free healthy food!?).
Employees can also be paired up with "accountability partners" that work to hold each other accountable. Partners encourage each other to choose a healthy meal and participate in other health promotion activities.
Alternatively, a nutritionist or health coach can be brought in to deliver a series of nutrition webinars/seminars. Employees can earn points for participating in educational events or talking to a nutritionist to improve their current eating habits, and healthy snacks can be served at the event! Bonus point if participants can get a healthy recipe or two as a takeaway from the presentation.
Similar to other challenges, there is a "tech angle" for employers who'd like to push digital wellness. Nutrition-tracking apps like MyFitnessPal can be helpful in this case. Employees can get rewarded for consistently tracking their nutritional intake through apps.
Word Of Caution
Nutrition challenges should not be about punishing employees for eating certain foods. Similarly, it should not be a weight loss challenge. Instead, it should focus on encouraging consistent tracking of food intake. Wellable has reported extensively on the efficacy (or lack thereof) of Biggest Loser-type programs. They just don't work.
Employees should be guided to focus more on how nutrition can enable them to live better lives.
Also, employers do not need to pour through everyone's nutrition log to make a difference. Many studies have shown that merely tracking food improves one's eating quality. There's no need to associate negative emotions of food avoidance and being forced to lose weight with the challenge. In other words, just encouraging employees to write down what they eat will nudge them to reach for healthier foods on the shelf.
5. Mindfulness Challenges
Mental health has become an essential topic for overall health for employers in recent months. Employers should be hyper-aware of how their employees manage stress and burnout. Wellness services, such as meditation seminars, can be turned into wellness challenges by rewarding consistent participation.
However, there are limitations to these in-person sessions. Not everyone in your organization has the flexibility to attend consistently. Additionally, seminars can become costly over time. Utilizing technology is an alternative to address this.
Employees can use many apps, such as Headspace (paid) or Insight Timer (free), on their own time. Employees can report their usage of these apps for the challenge through surveys or Google Sheets. Incentives can be provided based either on duration (meditation minutes) or day streaks. can be based either on duration (meditation minutes) or day streaks.
Some wellness challenge platforms integrate with these meditation apps. Similar to the nutrition challenge above, users can get rewarded for the consistent use of these mental wellness apps!
6. Financial Wellness Challenges
It should come as no surprise that employees struggle with financial well-being. Research shows that they may bring their struggles to work, affecting their productivity and health. Employers, as a result, are also negatively impacted by these financial worries.
For this reason, financial well-being programs are rising in popularity. They appeal to a broad range of audiences. From college grads with student debt to older millennials with mortgages, most people can benefit from better financial wellness.
However, it is hard to build the "challenge" component into financial wellness. Financial information is sensitive, and most people don't want to share it with their colleagues. Therefore, the best means to incorporate financial wellness into a challenge is through education.
Employers can hold webinars or provide employees with self-paced educational tools, and reward based on participation. For example, employees can earn points for attending a financial planning webinar or meeting with a company-sponsored financial adviser.
Admittedly, it is not easy to build a challenge solely around financial wellness. This type of challenge will work better complementing a comprehensive employee wellness challenge or other kinds of challenges mentioned above.
7. Sustainability Challenges
Often, employee health and wellness programs or challenges focus on improving personal or organizational health. While this goal is undoubtedly worth pursuing, paying attention to each individual's impact on the environment is also essential and should not be overlooked.
The simple wellness goals of sustainability are to create and maintain an environment where humans and nature can exist in productive harmony. In an effort to support individual health and long-term ecological balance, sustainability challenges provide participants with an opportunity to focus on their personal well-being by engaging in activity as well as the well-being of the planet by learning how to easily incorporate sustainable practices into their everyday lives.
The two overlap more than one would think, and in many cases (e.g., biking to work), the benefits even include other aspects of well-being, such as financial wellness from the money saved from engaging in the practice.
As the description above suggests, a sustainability challenge should focus on personal health and environmental health. The personal health component can be addressed through exercise, nutrition, or other types of health-related challenges.
On the other hand, the environmental health component can be delivered through education on and engagement in sustainable activities. For example, employees can earn points for learning about sustainability or working on the company's garden/urban farm.
While unique from many of the other challenges introduced earlier, a sustainability challenge is equally important in that it provides an opportunity for an employer to demonstrate corporate values and culture to employees.
As employees "get their hands dirty" in sustainability, they truly recognize the footprint they leave on the environment and acquire sustainable habits for life.
8. Charity Challenge
A Harvard Business School study found that empowering employees to support causes of their choice is more satisfying than receiving a bonus. Charitable giving has been scientifically proven to make people feel good.
So here's a wellness idea: using charitable giving as an incentive for employees to improve their own well-being! Staying healthy while giving to others – it's a win-win!
Charity challenges can be designed to promote any aspect of wellness, such as physical, mental, or financial, using charitable giving as reward. For example, employees can work to earn points by participating in the challenge, and the points are then translated into wellness incentives in dollar amounts that can they can donate to a charity of their choice.
There are existing platforms that can make the administration process of contributing to multiple charities of employees' choice easy. GlobalGiving, for example, is a gift card service that employees can use to fund more than 3,000 charities/projects across the world. Alternatively, organizations can choose one or more charities that align well with their visions and donate on behalf of the challenge winners.
9. Sleep Challenge
Many corporate wellness challenges focus on physical health by promoting fitness challenges but neglect a critical component that fuels physical performance: sleep. Additionally, sleep plays a vital role in mental and emotional health, which makes it one of the most important wellness activities of one's day.
Many chronic diseases have been linked to insufficient sleep, which leads to high health care costs for both the employee and the organization. Unfortunately, when work and life responsibilities mount, sleep quantity and quality are usually the first to take a hit, as evidenced by one in three U.S. adults not getting enough sleep.
This obstacle around sleep presents an opportunity for your worksite wellness program to support workers. Sleep challenges, as the name suggests, should focus on educating employees on the importance of a good night's rest and ways to practice healthy sleep habits.
The educational content can be delivered through webinars/seminars, videos, or articles, and the "challenge" piece can come from administering quizzes on the topic. These quizzes should act as a learning reinforcement rather than an evaluation tool; employees should be rewarded for participation – not based on their scores.
The end goal of the challenge should be ensuring that participants walk away with actionable items they can implement for better sleep, not feeling bad because they didn't do well on an assessment.
Additionally, since various activities during the day heavily influence sleep quality (exercise, nutrition, stress, etc.), sleep challenges can be multi-faceted and cover topics that are related to but also beyond just sleep. For example, a sleep challenge can include physical activity, pre-bedtime meditation, and nutrition (eating foods that are conducive to good sleep).
One word of caution here: even though it is tempting to add all the elements at once, it is better to introduce them one by one. Participants will retain the information better if they don't feel overwhelmed or, even worse, discouraged because they feel like they cannot follow all the recommendations.
10. Vacation Exploration Challenge
In an era where unlimited paid time off is becoming more popular, employees are taking less vacation time. More than half of Americans don't use all of their paid vacation days, citing worries about work as the most significant factor holding them back. A different survey found that 36% of Americans took their last vacation more than two years ago, and 51% haven't taken leave in more than a year. Even when they do take their time off, many find it difficult to unplug and disconnect from their job, continuing to check work emails or take calls.
At first glance, employees leaving paid time off on the table might seem to be good news for employers. Employers may think that more work hours should equal more productivity. However, a growing body of research has shown that unplugging from work actually increases productivity, cognitive function, creativity, and problem-solving.
Other studies show that vacation provides recovery time from workday stress, enabling an employee to live longer and healthier, improve reaction time, sleep better, gain a fresh perspective about work challenges, reduce anxiety and depression, and feel more productive.
One study even found that employees who use the most vacation days have better performance reviews and higher retention rates, reflecting high employee satisfaction.
One way a corporate wellness program can help their people take more vacation days is by discussing the importance and benefits of taking time off and different ways to spend a vacation (it doesn't always mean traveling – staycations can be equally restorative!).
Similar to a sleep challenge, the educational content can be delivered through engaging videos, webinars/seminars, videos, or articles, and the "challenge" piece can come from administering quizzes on the topic. These quizzes should act as a learning reinforcement rather than an evaluation tool; employees should be rewarded for participation – not based on their score.
The end goal of the challenge should be ensuring that participants walk away with actionable items they can implement, not feeling bad because they didn't do well on an assessment.
11. Social Challenge
In a post-COVID world, more people than ever before are working remotely. Since the workplace has traditionally been a common location for meeting and developing friendships that extend beyond job interactions, not having these interactions is why employees view loneliness as one of the biggest struggles of working remotely.
Extended periods of social isolation can lead to depression, anxiety, stress, and other mental health and behavioral challenges. In addition to the health detriments employees may experience, social isolation can also have a substantial impact on productivity.
Cigna's 2020 Loneliness Index found that lonely individuals were also less productive, more likely to miss work, and less able to submit quality work. This is why employers, especially those with remote workforces, need to proactively address the impacts that isolation and social disengagement may have on employee mental health and productivity.
This is where a workplace wellness program can shine. Team-based wellness challenges are a great way to create a sense of community and maintain employee engagement, even while adhering to social distance measures. For instance, Wellable's Teams Of Two Challenge uses the power of partnership to encourage social interaction and motivate participants as they compete with a partner—in teams of two! Participants can work with their teammates to stay physically active to get to the top of the leaderboard.
With team-based challenges like these, employees can feel a sense of community without having to be in the same building, state, or even country. You can let employees choose their teams, organize teams by functional group, or even randomly assign teams to promote interactions that would not otherwise happen.
12. Digital Detox Challenge
Anyone who's ever used the Screen Time feature on their iPhone has probably felt a certain sense of shock at just how much time they spend looking at their phone. By some estimates, the average adult spends half of their waking hours looking at screens, with around 150 glances at their phone from morning to night.
Much of our technology use is, of course, a result of our jobs. But most people would agree that they could afford to cut down on recreational screen time. Even in the professional space, there are ways to limit device usage while remaining appropriately engaged and available. The challenge is to find tangible strategies for limiting screen time without creating a sense of deprivation.
This is where a digital detox challenge comes in. With this challenge, it's important to provide perspective, research, and other teachings about the benefits of digital detox. People need to understand the "why." Participants are then encouraged to pursue a range of manageable goals related to screen time and device usage (e.g., not checking certain apps during certain times of day), earning points for completing each goal. A final reflection exercise presents an opportunity for insight—and extra points.
13. Happiness Challenge
Happiness is a fundamental part of life. Is your organization paying enough attention to it? When your employees are happy, they're more engaged, more productive, and more healthy. Believe it or not, you can place happiness at the center of your workplace wellness challenge.
The question is, how do you gamify happiness? That is, how do you pull the big, abstract idea of happiness into a challenge structure with clear, relevant tasks to complete for points? The answer lies partly in what we call Happy Habits.
Happy Habits are a set of seven habits shown to generate a persistent increase in positive emotions. Depending on the employee, some habits may be harder to get the hang of than others. That's why your reward structure should allow participants to gain points by practicing any of the seven Happy Habits, as often as they can. The seven proven Happy Habits are:
Nurture Relationships. Our connections to others define us.
Cultivate Kindness. It tends to come back around.
Let It Flow. Balance task difficulty with personal skills.
Schedule Sacred Moments. Don't let time slip by unappreciated.
Focus On Strength And Virtues. Engage your assets.
Look On The Bright Side. Positivity changes everything.
Move To Boost Mood. Exercise, meditation, diet, and more.
To add variety, you can award points for other activities also shown to increase positive emotions. Physical activities like walking, running, or cycling have all been shown to boost happiness. Meditation, artistic expression, and sociable activities may also fit into a happiness challenge. Get creative and choose challenge activities you know will bring your people the most joy.
How To Engage Employees In Wellness Challenges
Keep It Simple
Confusion can quickly put a wellness challenge on hold. If employees don't understand one element of the program, they will choose not to participate. It's critical to keep every aspect of the program simple, including how the challenge is scored, how winners are determined, and which rewards await. Simplicity helps you keep communication simple, which is a must.
Pro tip: Show your challenge structure to some employees before you launch. If they don't get it right away, it's time to simplify.
Ease of Use
While the challenges themselves should be reasonably difficult, it should be easy to engage with the challenge logistics. Having to log in every day to record your activity on a site that is not mobile-friendly will result in frustration and low adherence rates. Do everything in your power to make participation as easy as possible for employees.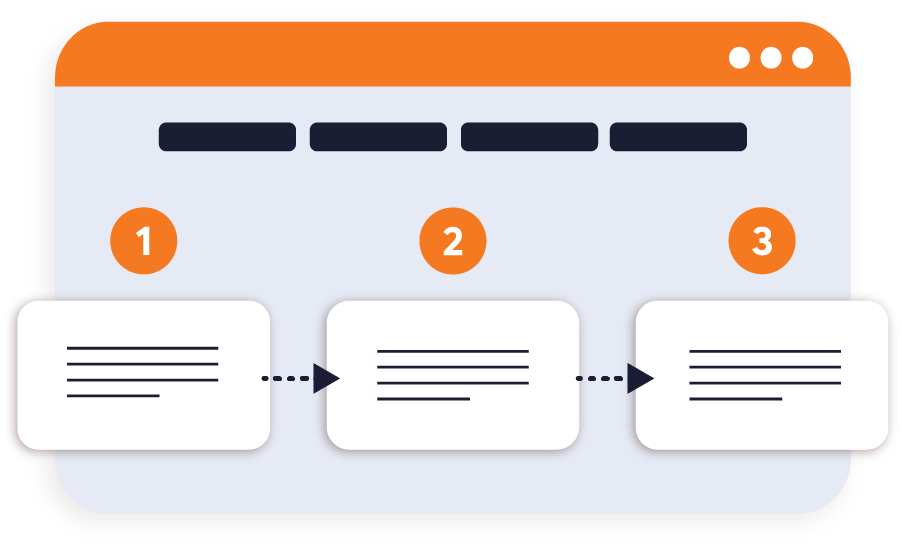 Pro tip: Try using a challenge platform that allows for third-party app and device integration. Allowing employees to sync their Fitbits and other popular wellness technologies to the program makes things easy and will actually save you money.
Real-Time Data
Imagine participating in a wellness challenge that allows participants to enter their points any time they want. You decide to enter your points as you go, and as you approach the end of the competition, you see that you're in the lead. On the last day, your coworker retroactively enters all of their points from the entire challenge and jumps straight into first place. Pretty frustrating, no?
This is why it's so important for workplace wellness challenges to keep leaderboards as fresh as possible, ideally updated no less than once a day. Competition without accurate information will turn participants off.
Pro tip: Third-party integrations ensure that data is collected accurately and updated in a timely fashion.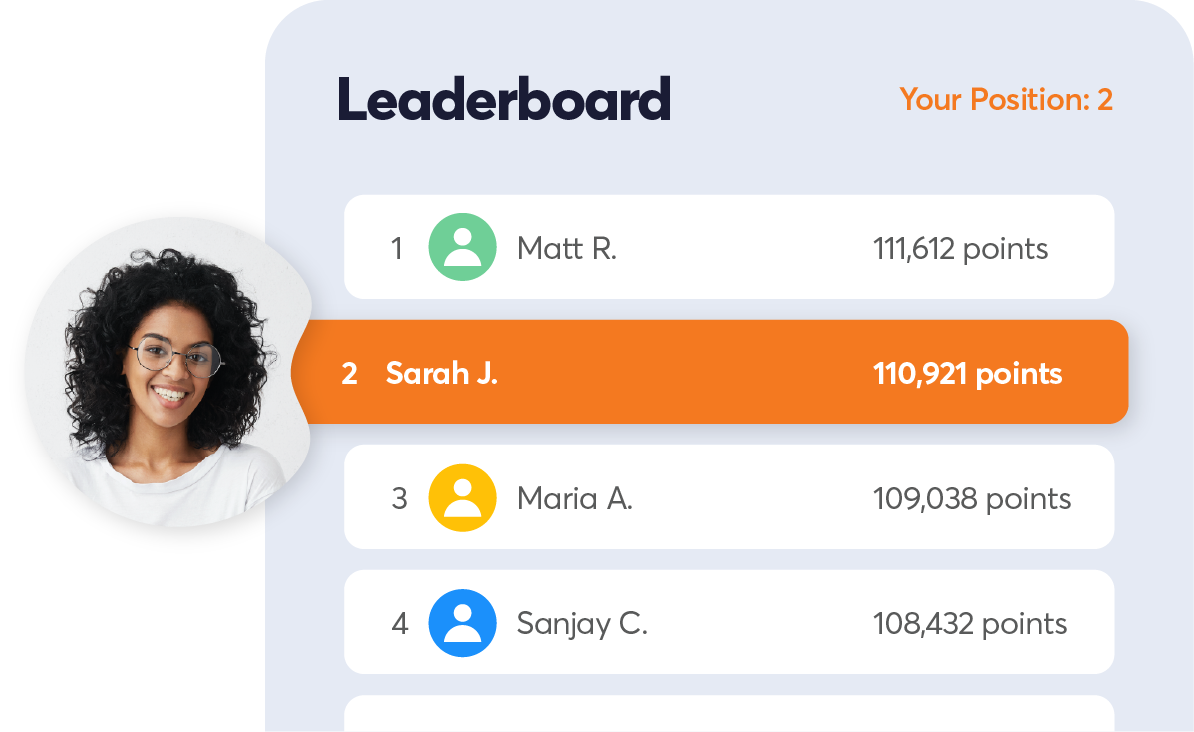 Limit Team Sizes
Some wellness challenges incorporate teams as part of the program. This is a great idea, but it's important to limit team sizes to 3-8 people (4-5 work best). Smaller teams are more reliable for motivating each other and are less likely to suffer from "social loafing," where some members feel they don't need to participate because others will pick up the slack.
Pro tip: Having a tight leaderboard promotes competition and engagement. Create team captains and randomly assign teams based on performance in previous challenges. Captains will help organize and motivate the team, and random assignments will help employees interact with colleagues they may not know.
Leadership Involvement
Like any workplace initiative, support from senior leadership shows that they consider the wellness challenge a priority and not just another check-the-box item. Studies show that when leaders publicly recognized their employees' healthy actions, the companies had greater employee health improvements and medical cost reductions. The same results were found in organizations where leaders were seen as role models for work-life balance.
Going beyond merely signing off on a wellness initiative, however, senior leader communication is even more crucial. It has been shown to be the missing ingredient in boosting employee awareness and engagement. According to a report by the International Foundation of Employee Benefit Plans (IFEBP), of those employers citing positive effects of wellness programming on health care costs, 54% have senior leadership speak directly with employees on wellness information.
"Whether a workplace wellness program is taking a more holistic approach or focusing on cost savings, this report distinctly revealed that it is not only leadership support but, more specifically, leadership's communication of the program to staff that is critical for program success."

Julie Stich, Associate Vice President at IFEBP
Pro tip: Check out this article on how to get executive buy-in for wellness initiatives!
Dedicated Wellness Champions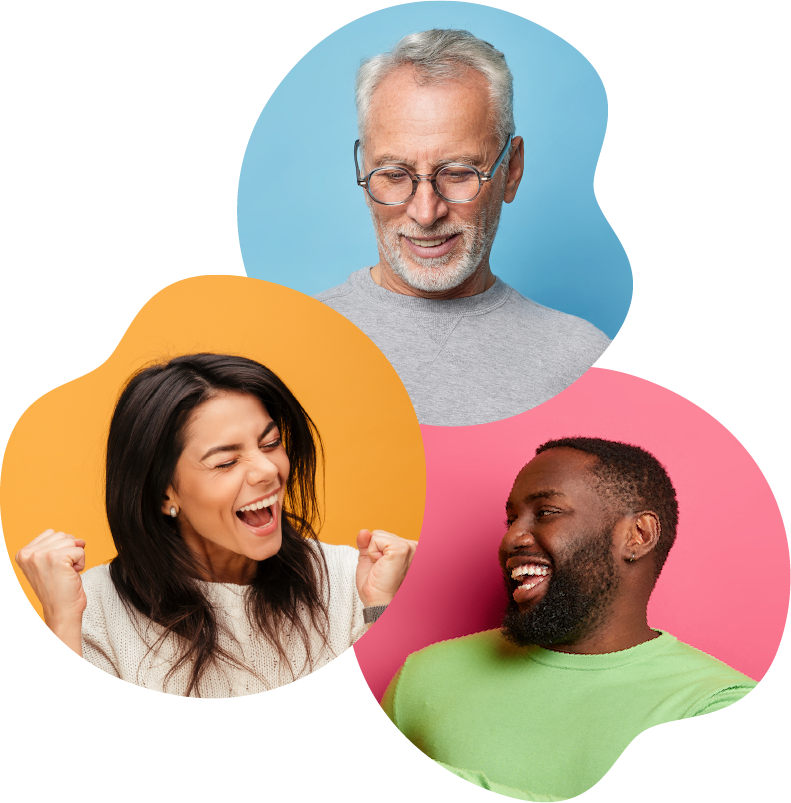 Wellness champions are employees who serve as ambassadors of your wellness program. Ideally, champions are passionate about wellness, and they possess a charisma that organically inspires others to participate. Their responsibilities may include introducing the challenge to the team, helping colleagues set up their accounts on the platform, and serving as captains in team-based competitions. Wellness champions can be from human resources (or whichever department runs the wellness program). However, it's much more effective when champions come from multiple departments.
addition to generating buy-in from the team, wellness champions also represent valuable sources of information and collaboration for you as the administrator. Hold regular meetings to gauge participant engagement, hear feedback, and provide updates for dissemination.
Pro tip: Your overall employee wellness program stands to benefit greatly from wellness champions even beyond the context of a challenge. Learn more here!
Rewards & Incentives
Wellness is its own reward, right? Well, sure… but a sweet gift certainly doesn't hurt. If you're running a challenge through a vendor, they'll probably plan and execute the rewards structure for you (and you should pay close attention to this when selecting a vendor).
If you're running your own challenge, don't just default to a gift card and call it a day. Think carefully about what your employees will actually use and enjoy. Consider launching a brief survey to gauge interest in a range of options. Research existing challenges for ideas. Here are some wellness challenge reward ideas to get you started:
Charity donations in the winner's name
Edible Arrangements or similar healthy snacks
Fitness goods (e.g., Fitbit, home weight set, jump rope)
Gift card for food delivery
Company-branded swag
A good ol' cash prize
Recognize Participants, Not Just Winners
Although it may be intuitive to recognize and reward only the top performers, it's a bit demoralizing when the triathlete in sales wins every challenge by default. Promote participation and build a culture of health by sharing success stories of those employees who don't consistently score the most points. For example, find participants who showed great progress from one week to the next or who are engaging meaningfully with the challenge after having mostly skipped the last one. Try to recognize these stories publicly and find a way to make these employees eligible for rewards.
Pro tip: Set aside prizes for the top finishers of challenges and those who put in a good effort. If you have a tight budget, allocate some of it to raffles for all participants, so everyone has an opportunity to win a prize. At Wellable, we like to raffle off prizes based on the number of points earned (each point represents a raffle ticket) so even if an employee is not a top finisher, he or she still has an incentive to end the challenge strong.
Friendly Competition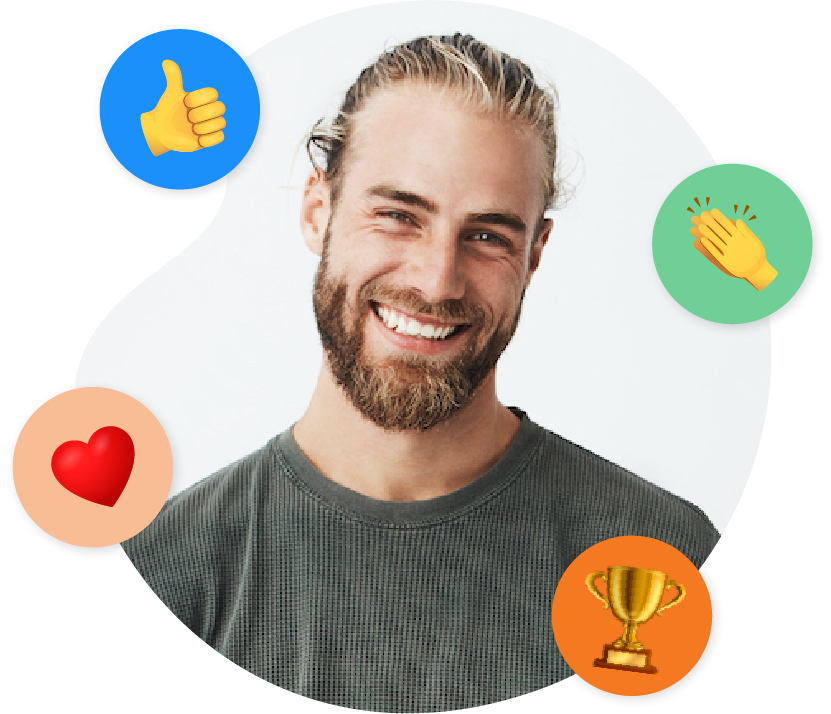 This will depend on your organization's culture, but you should find ways to promote competition among participants. Perhaps your employees are comfortable enough with each other for some trash talk via Slack ("Was Steve even alive yesterday?? I see zero points!"), or perhaps positive encouragement would be a better fit ("Luisa just hit 200 points in one day, everyone! Round of emoji-applause!"). Participants will engage more if they feel motivated to compete and know their colleagues are motivated too.
Clear & Constant Communication
Wellness challenges are not a "set it and forget it" type of program. After introducing and explaining the challenge with clear, exciting messaging, you need to follow up. Provide periodic leaderboard updates. Promote prizes with photos. Share videos of team members completing a particularly tough challenge component. Not only does this serve the previous goals of competition and recognition, it also performs the sometimes-overlooked but very important function of simply reminding employees that the challenge is still going on.
Gamification
At its most basic level, wellness gamification takes the form of rewards, such as points, levels, trophies, and badges. For example, most wellness challenges award participants points for doing the encouraged behaviors (e.g., 100 points for every mile walked, 50 points for every cup of water logged, etc.). At the end of the challenge, users with the highest points are awarded prizes. This method works well for competitive individuals but might miss the mark for ones that lack interest in extrinsic motivations.
Going beyond the basics, a well-gamified wellness challenge needs to be fun. Don't treat a challenge like any other program; project an atmosphere of enthusiasm. Share points updates in meetings with drum-rolls and fanfare for current leaders. Display leaderboards and progress bars in high-traffic areas. Find opportunities to engage employees in challenge activities together at the office (e.g., organize a group to take a 30-minute walk after lunch for extra steps). Life's too short not to have a little fun, and wellness challenges wither on the vine without it.
Evaluate and Repeat
Every organization is unique, and as such, its wellness challenges should reflect its culture and employee base. Also, despite the best practices listed above, every challenge will be a teaching moment for the wellness coordinators. Make sure to evaluate the program before, during, and after and make iterative changes to constantly improve your wellness challenges.
Pro tip: Don't be afraid to test things out. The worst-case scenario is that you will learn what does and doesn't work.
How Long Should A Wellness Challenge Be?
A limited one-time wellness challenge should last four to ten weeks. It's important to provide enough time for participants to find their footing, especially if there are multiple ways to earn points and they need to find their ideal strategy. It also usually takes a week or two of seeing movement on the leaderboard for a true sense of competition to coalesce. However, if it's too long, people are bound to lose interest, especially if they feel they're too far behind to catch up.
Pro tip: Looking to engage your employees year-round? Consider a continuous wellness program. Geared toward helping employees reach long-term wellness goals, continuous wellness programs reward greater motivation, diligence, and mental endurance than single challenges. Learn more here!
How To Choose The Right Wellness Challenge For Your Employees
The ideal challenge(s) for each organization will vary based on its specific goals and objectives. No two cultures are the same, and every employee has unique personal goals.
Don't cover all these areas at once in a single challenge, break out the various topics in our challenge library. This will prevent employees from becoming overwhelmed. Many will start out with steps, as this is the easiest one for employees to join. Then, advance to the other areas as the population becomes more accustomed to wellness at work.
Also, you're not limited to just challenges. While competition can bring the best out of people, it can be discouraging to non-competitive employees. There are other workplace wellness ideas you can try! Just focus on creating a healthy work environment for everybody. You can do this by putting together a break room or a nap room with pillows, light blankets, and yoga mats. Offer informational content on health and wellness in the employee newsletter. Whatever you choose to do, focus on creating a culture of health. Only then will your initiatives create lasting impacts.