One of the best parts about running a team-based wellness challenge is the opportunity to create a fun and motivating team name. Sometimes it is easier said than done though! Check out the list below for some amazing team names. Use one for your team name or have the list inspire the creation of your very own.
Pro-tip for employers: Randomly assigning teams is a great option for an employee wellness challenge. It creates opportunities for individuals within an organization that would not otherwise interact to connect, build relationships, and work toward a common goal. When assigning random teams, using fun team names, like the ones listed below, are a great way to add some flare to the program.

Walking Team Names
Some names are just so classic, they show up in every wellness challenge. Below are some classic and timeless wellness challenge team names.
Walkaholics

The Striders

Sole Trainers

Sole Sisters

JabberWalkies

FO Shoe

Walking Talkies

Pedominators
Music-Themed Team Names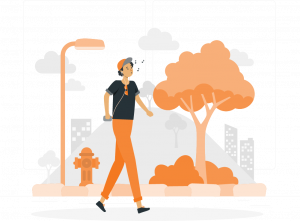 Feeling musical? Below are some music-inspired wellness challenge team names.
Drop It Like A Squat

Slow Down For What

All About That Pace

Moves Like Jaggers

Walkmen

Red Hot Chili Steppers

Just The Weigh (Or Whey) You Are
Movie-Themed Team Names
Movie buffs unite! Below are some cool movie-inspired wellness challenge team names.
Brave Heart

Fast N Furious (or Not Fast, Just Furious, Too Fast, Too Furious, etc.)

Happy Feet (for more honest descriptions, check out Sweaty Feet, Stinky Feet, etc.)

1 Forrest 1

Charlie's Ankles

Catch Me If You Can

Insteption

The Pant-ers

Game Of Strolls (similarly, Game Of Soles)

Night-Walkers

Lost In Pace

Legs Miserables
Food-Inspired Team Names
Sometimes walking is nonnegotiable unless food is involved – that's ok. Get your fill of food-inspired wellness challenge team names below.
Kale Blazers

The Holy Walkamolies

Will Run For Snacks

Champ Pain
Team Names For The Determined
We…are…the…champions…! Below are wellness challenge team names that perfectly embrace winning.
Goal Getters

Dream Team

A-Team

Team Dedication

Road Rage

Demolition Crew

The Unstoppables

Can't Stop, Won't Stop

Pace Makers

Gym Class Heroes

Going The Distance

Walkers Of Fame

Globe-Trotters

Pace Setters

Spark Plugs

Team Unstoppables

Overfit

FitNibble
Team Names For The Ones Just Trying Their Best
Get an A for effort with the wellness challenge team names below that are designed for those that don't expect to finish on top of the leaderboard.
Scrambled Legs And Achin'

Sweat, Whined, and Dined

Worst Pace Scenario

Young And Breathless

Cirque De Sore Legs

Legs Miserables

Sore But Sturdy

Agonized Feet

Movers And Shakers

Are We There Yet?

Agony Of De Feet

One Step At A Time

The Power Hour

Movers & Shakers
Other Great Names
Not all great wellness challenge team names fall into a nice, neat category. Check out the best of the rest below.
Squat Squad

Ladies Who Crunch

Ghost Riders

Run Track Mind

Rapid Thigh Movement

Quads Of Fury

What The Hill

No Ubers In Sight

Foot Fire

Pimp My Stride

Cltr+Alt+Elite

Running From The Law

Let's Get Fiscal
Don't hesitate to share some of your favorite wellness challenge team names in the comments section.
Get our latest articles delivered straight to your inbox!