Wellable's latest blog post explores the U.S. Preventive Services Task Force recommendation to screen patients under the age of 65 for signs of anxiety. The guidance underpins the global disparity between the overwhelming demand and lack of supply for traditional mental health services. The rising need for solutions to support mental health has coincided with the growing popularity of digitally enabled services.
Employees who are unable or unwilling to access talking therapies or other professional mental health resources often turn to one of 20,000+ mental health apps. Global spending on mobile mental health applications is forecasted to reach $500 million this year. Even those who have access to face-to-face or internet-based therapies may feel more comfortable with the anonymity or affordability of self-service tools.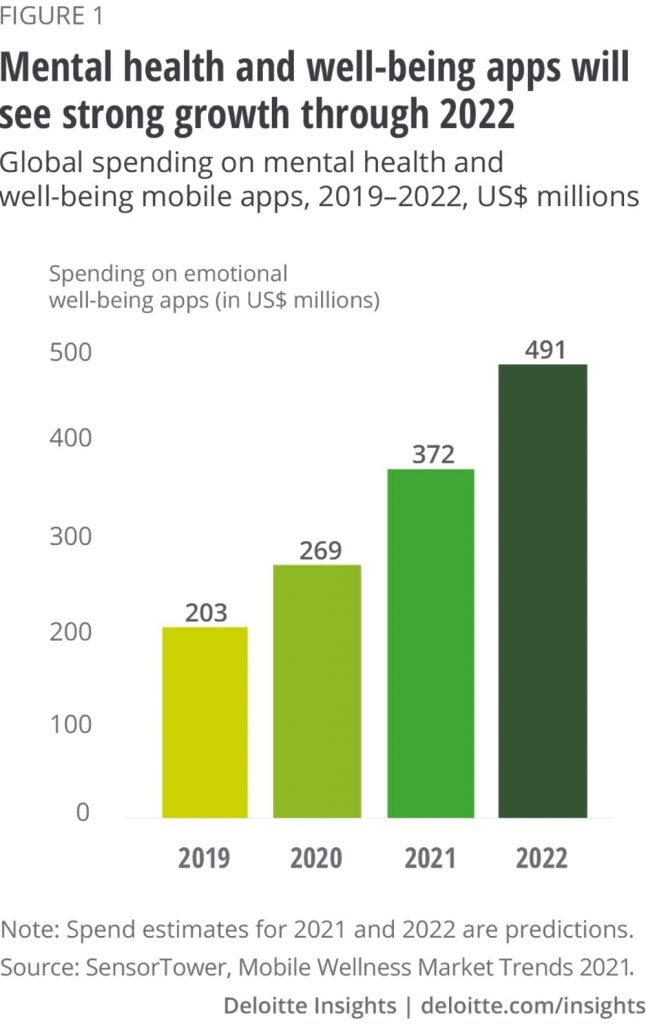 Although mental health apps are everywhere, the focus areas, methodologies, and quality of solutions vary widely. Apps can range from mood trackers to guided mindfulness exercises to robot therapists.
In an episode of the Marketplace Tech podcast earlier this year, host Meghan McCarty Carino talked with Stephen Schueller, Executive Director of One Mind PsyberGuide, about how to evaluate mental health apps.
One Mind PsyberGuide provides expert ratings for hundreds of mental health apps. The apps are evaluated on several factors, including clinical credibility, user experience, data privacy practices, and professional reviews. Schueller refers to his guide as the "Michelin Star" for mental health apps, since the ratings are provided by practicing psychologists, professors, and other industry experts. However, much like the Audience and Critic scores of popular movie review site Rotten Tomatoes, the fans and experts do not always agree.
Professional vs. Consumer Ratings
A study published in JMIR evaluated 11 mental health apps via surveys administered between December 2020 and April 2021. The apps included Breethe, Calm, Headspace, Insight Timer Meditation, MindDoc, MindShift, Reflectly, Remente, Sanvello, Self-Help for Anxiety, and Woebot.
The consumer reviewers downloaded three of the in-scope apps and used them for three days. Ratings from the 21 consumers were compared with ratings from industry experts, including clinicians and academics.
The study revealed a disagreement between consumers and professionals in more than half of the app ratings. Overall, professionals ranked the apps higher when compared with the consumer reviewers.
"[Consumers] placed a great deal of importance on app functionality, and most themes generated through the qualitative analysis were related to this aspect. They appreciated a variety of features, which were easy to use, interactive and with the capacity for personalization," the study's authors wrote.
"Aesthetics were also very important, as [consumer] participants emphasized the importance of a professional layout, with engaging colors and a simple structure. The highest number of participant negatives was for the domain 'difficulties of use,' suggesting that current professional ratings are overestimating the ease with which the apps can be used."
Takeaway
Although mental health apps can be helpful as a complementary solution, they are not a one-for-one substitute for professional mental care. Organizations can deploy apps strategically to reach employees that cannot get access to traditional talk therapies or would benefit from a tool that offers supplemental skills and coping strategies.
When vetting mental health apps, it is important for employers to be aware that professional reviews may not focus enough on issues that are important to employees as end users. Ease of use, personalization, and a clean layout are key requirements for any employee health application.