The findings of the largest-ever trial of a four-day work week are consistent with the global evidence that a performance-based work week with fewer hours can be beneficial for both workers and employers. The UK's pilot program of a four-day week, with no pay cut, is officially complete. The trial involved 61 companies and nearly 2,900 employees over a six-month period between June and December 2022.
The mission of 4 Day Week Global is to offer a platform for individuals who share a common interest in promoting the idea of a four-day work week as a fundamental aspect of the future of work. As a non-profit organization, its focus is on facilitating a community of like-minded people who are committed to advocating for the benefits of a shorter work week.
In light of this trial and over a century of adherence to the five-day work week, it is time for a modernized arrangement. This article highlights the key results of the trial, what is next for 4 Day Week Global, and provides guidance on how organizations can conduct their own pilot program of a compressed work week.
Pressed for time? Here is a quick summary:
The four-day work week trial showed that employees enjoyed better work-life balance and reduced stress, while companies realized high productivity and job performance.
Nearly all participating organizations plan to continue with the four-day work week after the trial period, with some employers even citing an increase in revenue during the program.
Organizations that want to try a four-day week should start with a short trial period (no less than two to three months), establish clear expectations and measurements of success, and remain open to alternatives (such as condensing 40 hours into a four-day work week).
Remarkable Results From The World's Largest Trial Of A Four-Day Work Week
The outcomes of the UK's four-day work week trial were overwhelmingly positive, as nearly all participating organizations intend to maintain the four-day work week after the trial period. Specifically, 91% of companies have confirmed their intention to continue or are in the planning stage, with an additional 4% leaning towards continuing. The remaining 5% of companies who have not yet committed to continuing with the four-day week are either extending their trial periods or pausing for the moment.
Revenues increased by 1.4% on average over the trial, which was calculated based on the relative size of each company across participating organizations. When compared to the same period from previous years, the results are even more impressive. On average, organizations reported a staggering 35% increase in revenue during the trial period when compared to similar periods from previous years. These results suggest that a four-day work week has the potential to not only improve employee well-being but also enhance overall organizational performance.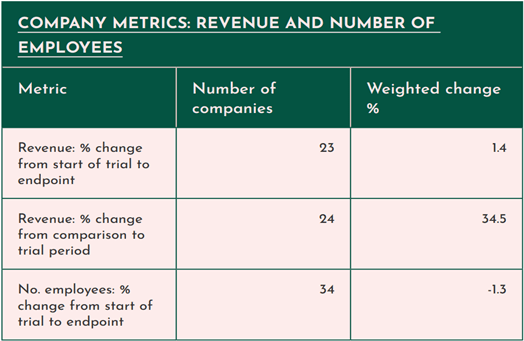 During the trial, the number of employees in the cohort only decreased by 1.3%. It is important to note the trial coincided with the Great Resignation, an economic trend where employees were leaving their jobs in record numbers. Despite the slight decline in the number of employees, the trial had a positive impact on employee retention and attendance. Compared to the pre-trial period, the number of employees who quit their job dropped by a substantial 57%, and there was a similar decline of 65% in the rate of absenteeism.
The results of the trial indicate that employees experienced numerous positive outcomes related to their well-being. In particular, 60% of employees reported having a better work-life balance, while 73% indicated higher levels of life satisfaction. Within the workplace, 71% of employees experienced less burnout, 39% reported less stress, and 48% had higher levels of job satisfaction. These findings highlight the potential of a condensed work week to benefit not only the personal lives of employees but also their productivity and overall job performance.
What's Next?
The 4 Day Week Campaign aims to encourage hundreds of other companies to adopt a condensed four-day, 32-hour work week. Despite the success of the trial, there is pushback from the UK government. Some companies are experimenting with alternative arrangements, such as squeezing 40 hours within a four-day work week, some are opting to take every other Friday off, while others are implementing a seasonal "Summer Friday" policy.
The trial showed that employees can produce the same level of output in less time, resulting in improved productivity and increased employee engagement. To get more employers on board with this modern work model, 4 Day Week Global encourages supporters to sign the petition and learn how to make the transition. By doing so, companies can reap the benefits of a condensed work week while improving the well-being of their employees.
How Employers Can Run A Four-Day Week Pilot Program
With recent trials receiving global recognition, companies can no longer afford to ignore the potential benefits of a condensed work week. Furthermore, in the wake of the Great Resignation, organizations should embrace this evolution to retain and attract top talent.
If your organization is considering a four-day work week pilot, here are some steps your HR team can follow:
Before The Trial
Secure executive support by presenting the positive results of the UK's four-day work week program.
Determine the trial's duration, which should be no less than two to three months, to generate sufficient data.
Establish clear boundaries, including expectations of what can and cannot be accomplished in a compressed work week and communication protocols after work hours.
During The Trial
Regularly evaluate progress, collect data from various angles, and consistently obtain employee feedback.
Reassess boundaries and metrics if necessary.
Encourage open communication among team members and management to address any challenges or concerns that arise during the trial.
After The Trial
Present a comprehensive report to the organization's leaders including learnings, benefits, employee feedback, and potential changes for a longer-term trial.
Be realistic about the results of the trial, as a modified work week can take on diverse forms.
Develop a clear communication plan to inform all employees of any changes made and the rationale behind them.