The corporate world is currently grappling with a new phenomenon known as the "Great Regret." A recent Paychex survey shows that 80% of employees who left their jobs during the Great Resignation period now regret their decision. Those who changed industries are 25% more likely to experience regret than those who stayed in the same field. Gen Z job-hoppers have felt the greatest impact, learning that the grass is not always greener on the other side.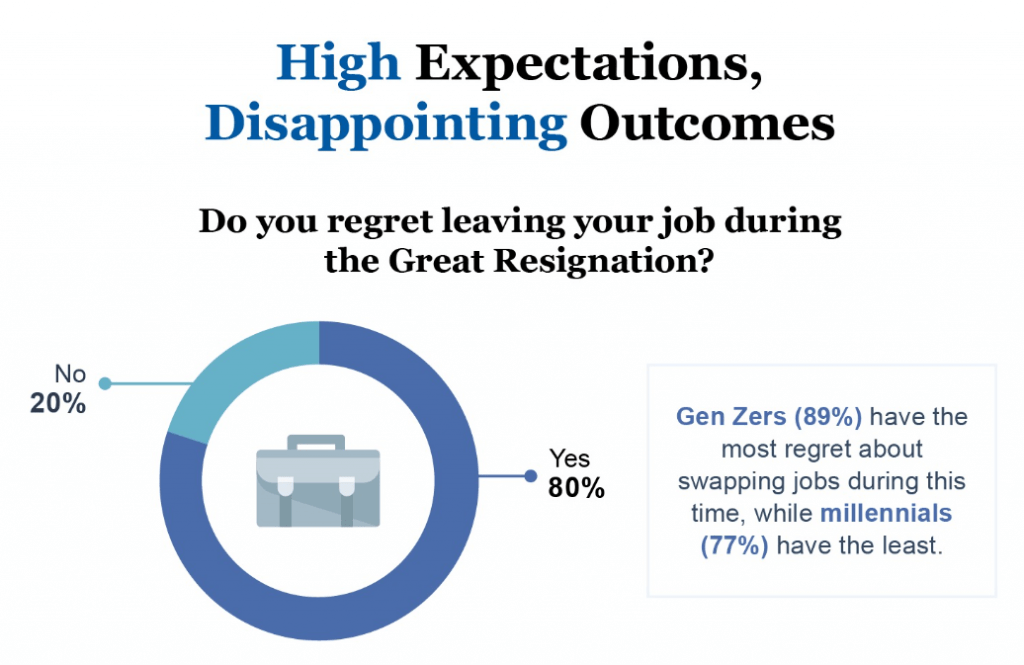 The results of the survey conducted among 825 employees showed that those who resigned during the Great Resignation period were only 11% more likely to be satisfied with their new salary. The job search process was challenging for many respondents, with half reporting that it took three to six months to secure a new position and 39% stating that it took seven months or more.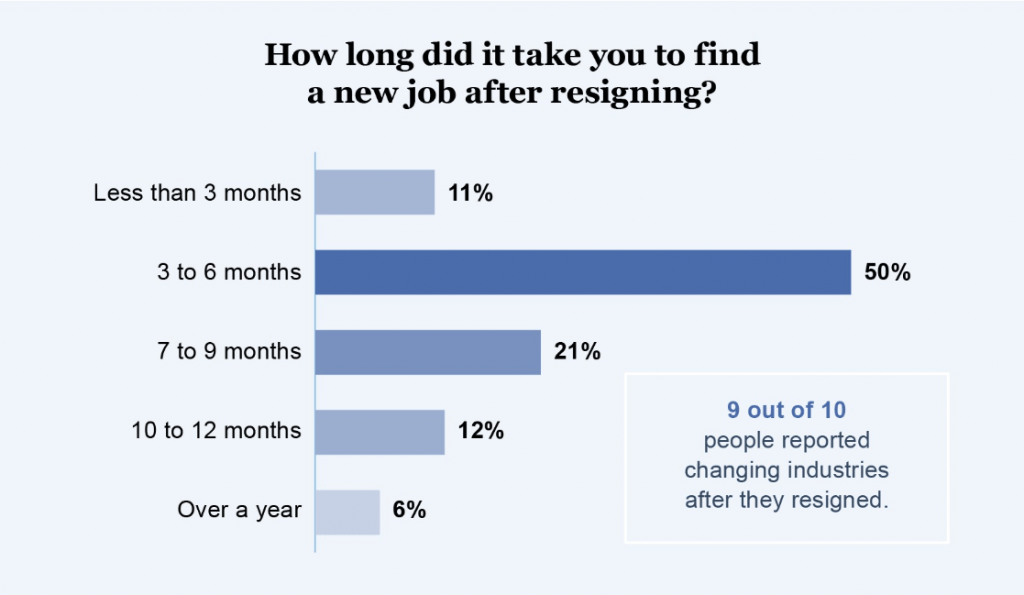 It is worth noting that the findings from this study conflict with the results of a report by the Pew Research Center. According to the Pew Research Center, 56% of workers who found a new job are now earning more money, and the majority of employees found it either somewhat easy (61%) or very easy (33%) to secure their new position.
The Great Resignation: Recap
In 2021, a record number of 47 million Americans decided to quit their jobs and search for new employment, a phenomenon known as the Great Resignation. This mass movement did not come to a halt there. In December of 2022, an additional 4.1 million Americans followed suit, bringing the total number of exits to over 50 million.
The Great Resignation was fueled by the desire for better opportunities and working conditions. According to Pew Research, low pay (63%), limited advancement opportunities (63%), and feeling disrespected at work (57%) were the main reasons that Americans left their jobs. Furthermore, the COVID-19 pandemic has created a demand for greater flexibility in work arrangements. Many respondents cited limitations in their previous work environment, including restrictions on choosing their hours, the inability to work from different locations, and inadequate time and support for caretaking responsibilities.
Second Thoughts: Regretting Resignation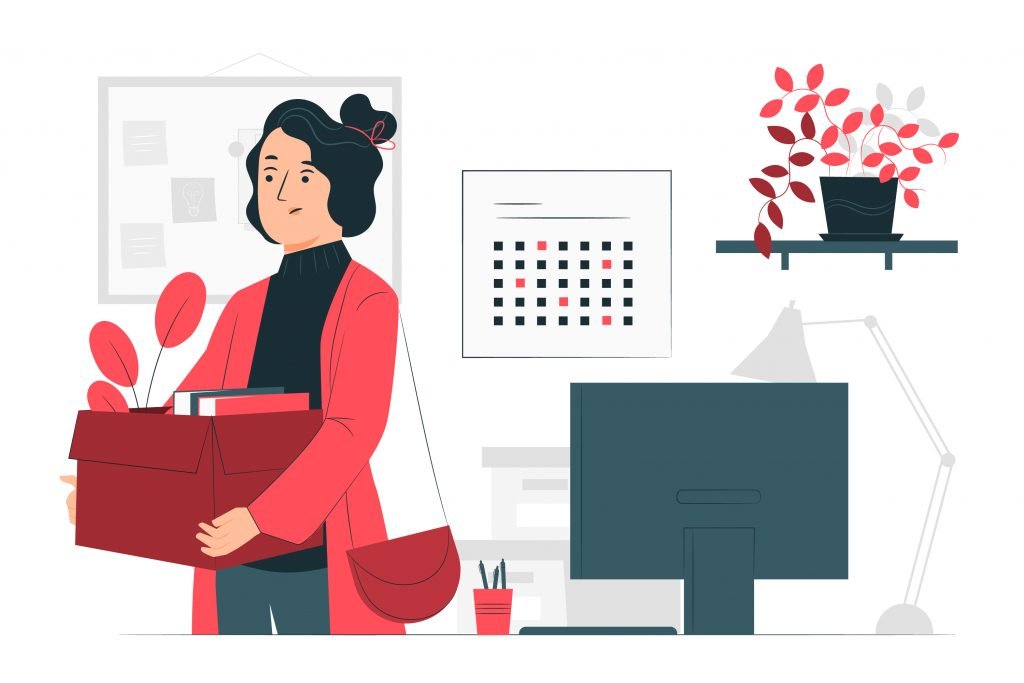 Although factors such as mental health and work-life balance were motivators for many resignations, only half of the respondents in the Paychex survey reported improvements in these areas in their new work environments. Interestingly, Gen Zers reported the lowest levels of mental well-being and satisfaction with work-life boundaries.
Relationships with co-workers topped the list of what former employees missed the most about their old jobs. Losing a co-worker evokes the same feelings of grief as losing a friend, and positive workplace relationships are a fundamental part of company culture, which was also missed by many respondents. Younger generations were more likely to miss working in-office, while older generations were 20% more likely to miss the work-life balance they previously enjoyed.
A New Dawn: Abundance Of Job Opportunities
There is hope on the horizon for those who regret resigning from their jobs. Job openings skyrocketed to 11 million in December 2022, outpacing the number of unemployed workers. Despite concerns of mass layoffs and a possible recession, hiring is not slowing down. In fact, 58% of companies are planning to add new permanent roles for the first half of 2023, an increase from the previous six months. Industries such as technology companies (64%), finance and accounting (62%), human resources (59%), and creative and marketing (59%) are implementing permanent positions during the first half of the year. Additionally, 72% of managers plan to hire more contracting professionals.
Learning From Loss: Employer Takeaways
Record turnover rates and pandemic-induced employee expectations highlighted the need for employers to shift their practices. Here are five things employers can learn from the Great Resignation that can be implemented for greater employee retention:
Relax Legacy Requirements: The traditional, 9-to-5, in-office week is no longer the norm. Job seekers have shown a desire for more flexibility in terms of work hours and location, as well as better work-life balance. Employers can adapt to this change by relaxing rigid work policies and embracing flexibility, which benefits everyone. By adopting a remote work culture, for instance, employees have more freedom and employers have access to a broader pool of talent.
Be Proactive About Compensation: It is important for employers to understand that low pay was one of the top reasons why workers left their jobs during the Great Resignation. To mitigate this risk, it's crucial to regularly assess salary ranges and implement pay transparency measures. This involves researching the market, providing competitive compensation, and adjusting salaries as needed. By doing so, companies can avoid the high costs associated with replacing employees who leave for better offers.
Express Appreciation: To maintain employee loyalty, it is important for companies to create a workplace culture that values and respects its workers. Research shows that 69% of employees would work harder if they felt more appreciated at work. Recognizing and showing appreciation for their efforts can significantly improve overall job satisfaction and engagement, leading to higher employee retention.
Reimagine Interviews: In the physical workplace, there were certain limitations on how many team members could participate in the interview process. With virtual arrangements, there are more opportunities to invite a larger and more diverse group of interviewers to participate in the process. This approach promotes better internal collaboration and cultivates a stronger connection with candidates.
Optimize The Onboarding Process: The onboarding process is critical in shaping a new employee's perceptions and expectations for their job and company. By optimizing the onboarding process, employers can increase new hire retention and lay the foundation for a long-term successful working relationship.