The formerly booming tech industry is experiencing a significant turndown, marked by mass layoffs at major firms like Amazon, Alphabet, Meta, and Microsoft. The most recent company to join them was IBM, which announced they would be laying off 3,900 employees. While Silicon Valley has faced contractions in the past, this current turndown is unprecedented for the tech industry, known for its resilience in the face of economic challenges due to its size and widespread presence.
In 2022, the tech sector dismissed almost 200,000 employees, a 694% increase compared to the previous year. In January of this year alone, an additional 40,000 employees were dismissed. Four of the biggest US tech companies accounted for 51,000 of the total tech layoffs announced in the last few months:
Alphabet: In January of this year, Alphabet, the parent company of Google, announced its plan to cut 12,000 jobs or 6% of its workforce.
Microsoft: By March 2023, Microsoft will have cut 10,000 jobs or about 5% of its workforce.
Meta: In November of 2022, Facebook-owner Meta Platforms reported cutting over 11,000 jobs or 13% of its workforce.
Amazon: In January of this year, Amazon announced that it would cut 18,000 jobs or 6% of its workforce.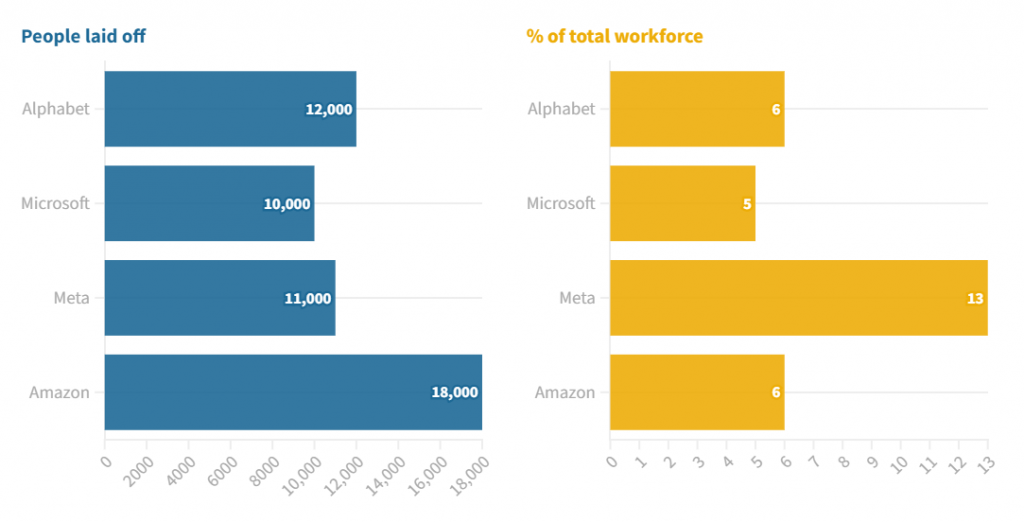 When considering hiring freezes, the cuts do not fully capture the sudden halt in the industry's fortunes.
Real Reasons Behind Layoffs
Global tech giants have attributed these mass layoffs to a need to reduce expenses as economic growth slows. However, the financial burden doesn't appear to be the real reason for the cuts.
Microsoft announced its plans to invest $10B in OpenAI, the creators of viral platform ChatGPT, and Alphabet claimed that its capital will be redirected to their "highest priorities"; both statements were made simultaneously with the layoff announcements. So, what are the real reasons behind the cuts?
Reversing Pandemic Hiring: Record-breaking demand and profits led tech firms to engage in large-scale recruitment efforts during the pandemic, offering aggressive salaries and benefits to snag top talent. The layoffs could reflect a move to reverse this trend, especially considering the significant number of long-term employees who were let go, indicating a desire to cut high-wage staff.
Replacing Human Workers With Artificial Intelligence: Human resources positions took the harshest hit, accounting for 28% of all layoffs. While this could be partially due to the reduced need for recruitment, HR functions are quickly being replaced by automation. Amazon, amongst other firms, reported using AI to identify low-performing employees and fire them. It's likely that firms are advancing towards replacing some jobs with machines given the developments and cost-effectiveness of AI technology.
Economic Impact
Big spenders drive recession-recovery, and the US economy depends heavily on the spending of the top 20%. Tech workers, who are typically well compensated, are within the elite of spenders—those who can drop money on expensive dinners, homes, event seating, and vacations without a second thought. They are critical to service sectors and businesses that rely on voluntary spending.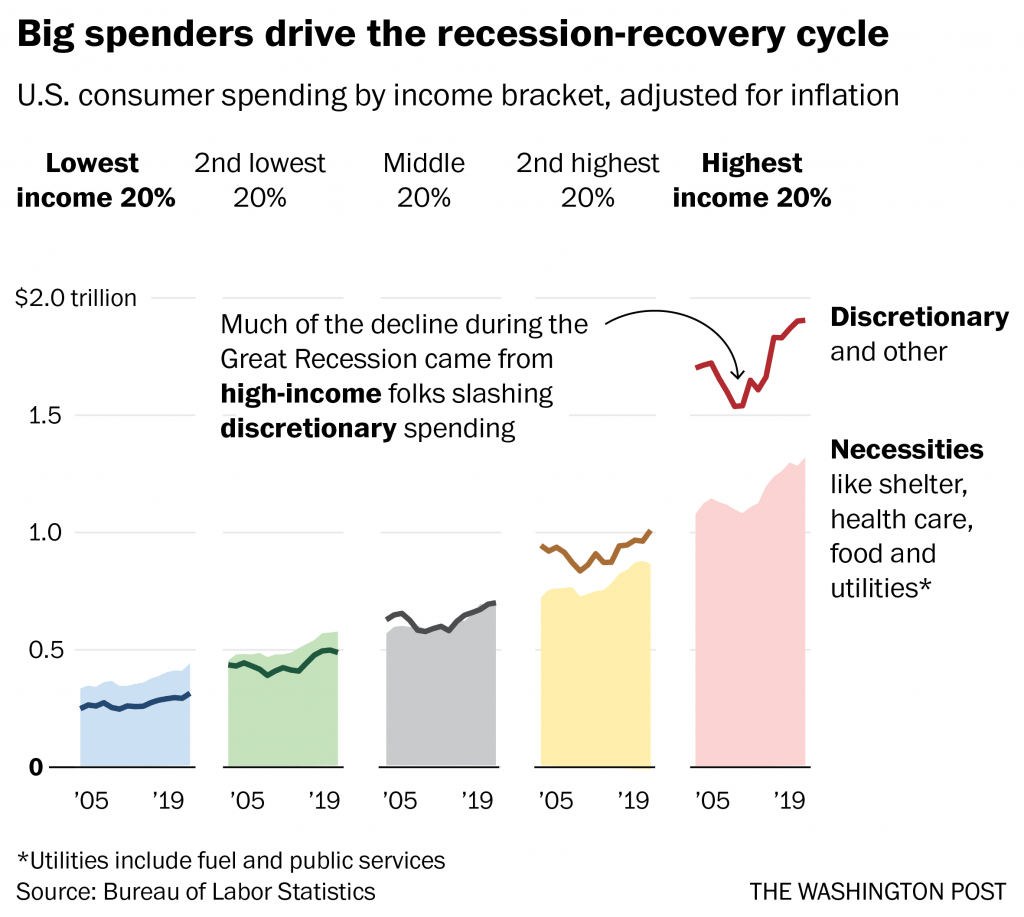 Tech layoffs are surging and those lucky enough to keep their jobs can expect smaller bonuses and fewer advancement opportunities. Meanwhile, other sources of income are plateauing. While there may not be a complete drop-off in consumer spending, a gradual decline in discretionary spending is expected as people become increasingly cautious.
Big Tech Layoff Takeaways
The Cuts Are Monumental: Meta, Amazon, Microsoft, and Google together have terminated over 51,000 jobs in the past few weeks, a record-breaking number for the historically resilient industry and an abrupt turnaround from the pandemic hiring surge.
Big Tech Is Not Struggling: While there have been minor profit decreases for Big Tech companies within the past year, the Silicon Valley Giants are still among the most profitable and valuable corporations worldwide.
Most Laid-Off Tech Employees Are Back On Their Feet: A survey revealed that eight out of 10 laid-off techies find a new gig within three months of their job search, with 40% of them finding one within a month.
Executives Cite A Need To Reduce Spending: Executives of Big Tech corporations attribute the layoffs to preparing for the uncertain economic landscape ahead, one fraught with high inflation, recession fears, and limited consumer spending.
Artificial Intelligence Is A Considerable Factor: While economic instability probably plays some part in the layoffs, it could also reflect the transition towards replacing workers with artificial intelligence to cut costs and maximize efficiency.
Tech Is A Major Economic Driver: The tech industry significantly impacts the US economy, employing nearly 9 million people and adding $1.8 trillion to the economy. The performance of Big Tech companies greatly affects local economies, people's investments, and other industries, which often make decisions based on the stability and growth of the tech industry.
Consumer Spending Is Expected To Decrease: As layoffs continue to impact tens of thousands of people, particularly those in the tech industry, consumers will be more frugal in their spending.
How to Support Remaining Employees After Layoff
Laying off employees can be a difficult decision for any employer, and it can have a significant impact on the remaining staff. To maintain morale and productivity, it's important for employers to provide support to their remaining staff during this transition. Check out the ways employers can create a positive and understanding work environment after a layoff.
Understand The Work-Life Connection: It is important to remember that employees can develop close friendships with each other, and losing a co-worker often evokes the same feelings of grief and anger as losing any other friend. Acknowledge the absence of co-workers and express empathy for how remaining employees might be feeling. Encourage them to reach out to their former colleagues while reassuring them that management is offering job-search support in the meantime.
Be Candid & Communicative: Layoffs can cause remaining employees to lose trust in management and the company. It is crucial to open lines of communication so that employee questions and concerns can be addressed. Be transparent about the reasons for downsizing rather than leaving employees in the dark. Once they understand how the decisions were made to ensure the stability and success of the company's future, employees can feel safe restoring their faith.
Emphasize Employee Engagement: Employees might become distracted by the loss of colleagues, or fear that they are "next," causing disengagement or even resignation. The transition after layoffs is a vital time to focus on employee engagement and retention strategies. One way to boost engagement is by connecting their roles to the company's purpose, reminding them of the bigger picture.