Apps are ubiquitous in everyday lives; they have become the primary tools for communicating, navigating, working, and entertaining. With the rise of fitness apps, smartphones are also helping individuals improve their health and wellness through a suite of tracking, coaching, and other lifestyle apps. The growth in this segment of the app stores has been explosive in recent years; according to the mobile analytics firm Flurry, health and fitness app usage in the U.S. has seen a sharp uptick over the past few years, growing by 330% between 2014 and 2017.
People are not only using health and fitness apps; they are using them regularly. Flurry's survey, conducted in August 2017, found that three-quarters of the health and fitness app users opened their apps at least twice per week. More than one-quarter of respondents were at the very high end of usage, opening their app ten times or more on a weekly basis.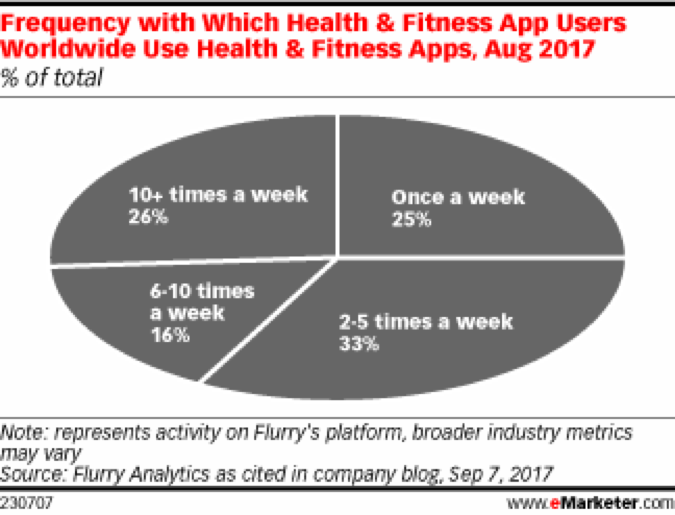 When these apps are broken down into several subcategories, the company's analysis revealed that apps focused on workouts and weight loss accounted for the majority of health and fitness app usage, making up 73% of sessions in July. General health apps were a distant second, accounting for a little more than one-fifth of sessions. Meanwhile, studio and fitness content apps and nutrition apps each accounted for a single-digit market share.
Health & Fitness Apps For Better Employee Wellness Programs
Most phones' default health apps (Apple Health, Google Fit, or S Health) automatically track steps and distance taken, which in itself can accommodate a walking or a step challenge at work. Workout apps will log the time spent in each session, heart rate (if paired with a capable activity tracker), and calories burned. Employers can then reward this effort either based on a binary system (get points for working out, no points for skipping the gym) or based on the length of time spent exercising. A new wave of meditation apps will also record a measurement called "mindfulness moments," which logs how many minutes users spent meditating. This is a rich new way for companies to expand their wellness programs beyond exercise and nutrition.
To Track Nutrition Or Not To Track Nutrition?
To date, there has not yet been a system that would automatically track nutrition, including macro nutrition (carbohydrates, protein, fat) or micronutrition (vitamins, minerals, etc.). Therefore, employers should consider carefully before deciding to track nutrition in their wellness program quantitatively. However, research has shown that the act of recording one's food intake in a diary (either with pen-and-paper or electronically) leads to better food choices and better weight control. With this knowledge, coordinators can choose to reward points for employees who consistently interact with the app without pulling actual data of food intake into the leaderboard.