Remote work, telecommuting, and freelance projects have become the new reality for more organizations as many employees now live far away from their office location. This shift to hybrid work presents a challenge to organizations wanting to keep employees engaged even when they are not commuting to work every day.
Entering virtual events. This article will outline ten virtual event ideas to boost employee engagement for online socials and how to make the most of employees' time.
What Is A Virtual Event?
A virtual event, or an online social, is a fun digital meeting typically held over video platforms like Google Meet, Zoom, and Webex. They can be webinars or audio sessions where participants converse in real time through live chat or audio. While some online gatherings last just one session, others feature several days' worth of programming and online interaction.
LEARN MORE ABOUT WELLABLE'S NEW 2023 QUARTERLY WELLNESS SERVICES SERIES
Virtual social event ideas are increasingly important because organizations can use them to keep employees motivated and engaged. These gatherings can also foster relationships and awareness among participants, enhancing collaboration and workplace dynamics.
Fun Virtual Event Ideas
1. Guess Who

A classic game like Guess Who can engage even the most introverted team members. This relatively low-production event is an excellent way for teammates to get to know one another better.
Step 1: Ask your team to send in a photo of their family members, pets, or favorite pastime before your meeting.
Step 2: Using a presentation software like PowerPoint or Prezi, create a slide deck containing the photographs and hints as to who each picture belongs to.
Step 3: On the day of the event, invite team members to identify the photo's owner.
Pro tip: Employees can use fun facts about themselves as hints for the photos, adding more opportunities for people to get to know each other.
2. Online Scavenger Hunt
Scavenger hunts let team members who are otherwise dispersed around the globe come together to solve problems, making them the ideal real-time team-building event for larger groups.
Step 1: Divide your employees into groups. Groups can either be comprised of employees from different departments to foster new relationships or from the same teams to strengthen existing camaraderie.
Step 2: Decide on a host who will keep scores, respond to queries, and guide the online scavenger hunt.
Step 3: Issue challenges and how long participants have to finish them. Tasks can be performed online or offline. For instance, participants can be asked to take a selfie with their pets, bake a homemade cake, or grab something from around the house. If participants would like to skip a particular task or are unable to complete it, they can mark an "X" and move on to the next one.
Step 4: Tally up the points! Teams with employees who complete all the challenges the fastest or in the most inventive way win.
Pro tip: Try adding quizzes and photo-taking assignments to the mix to encourage participation.
3. Online Award Ceremony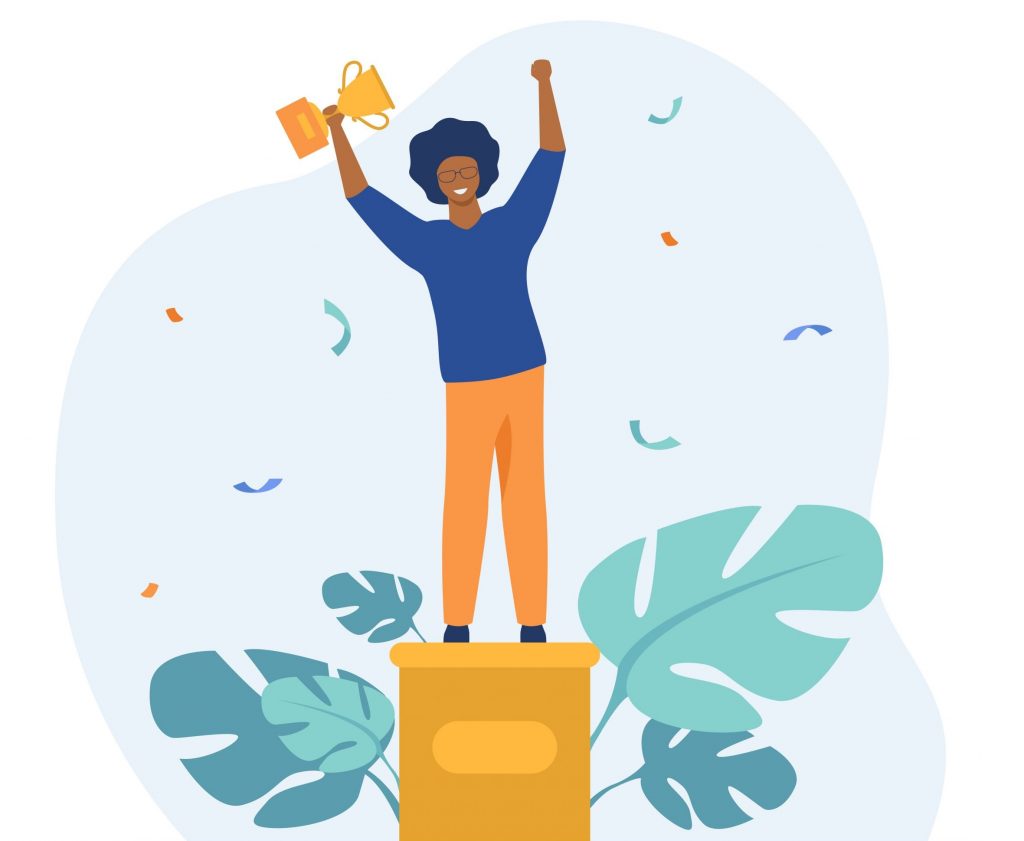 Throwing an award ceremony or party is an excellent way for organizations to show how much they appreciate and care about their team members. Studies have shown that when employees feel respected and appreciated by their managers or colleagues, they are more resilient and satisfied with their jobs.
Step 1: Determine or poll your team to develop award categories and encourage everyone to put forward coworkers for nominations. Involving your team to the best of your abilities will increase engagement with the final event.
Step 2: Encourage nominees to prepare emotional acceptance speeches before the ceremony. This makes the event more realistic and facilitates a chance to internalize their hard work and the support they get from colleagues around them.
Step 3: Prepare special rewards for award-winners, such as trophies or gift cards.
Pro tip: Incorporate fun themes such as "Hollywood Night" or "The Office" and encourage employees to dress up.
4. Virtual Garden Party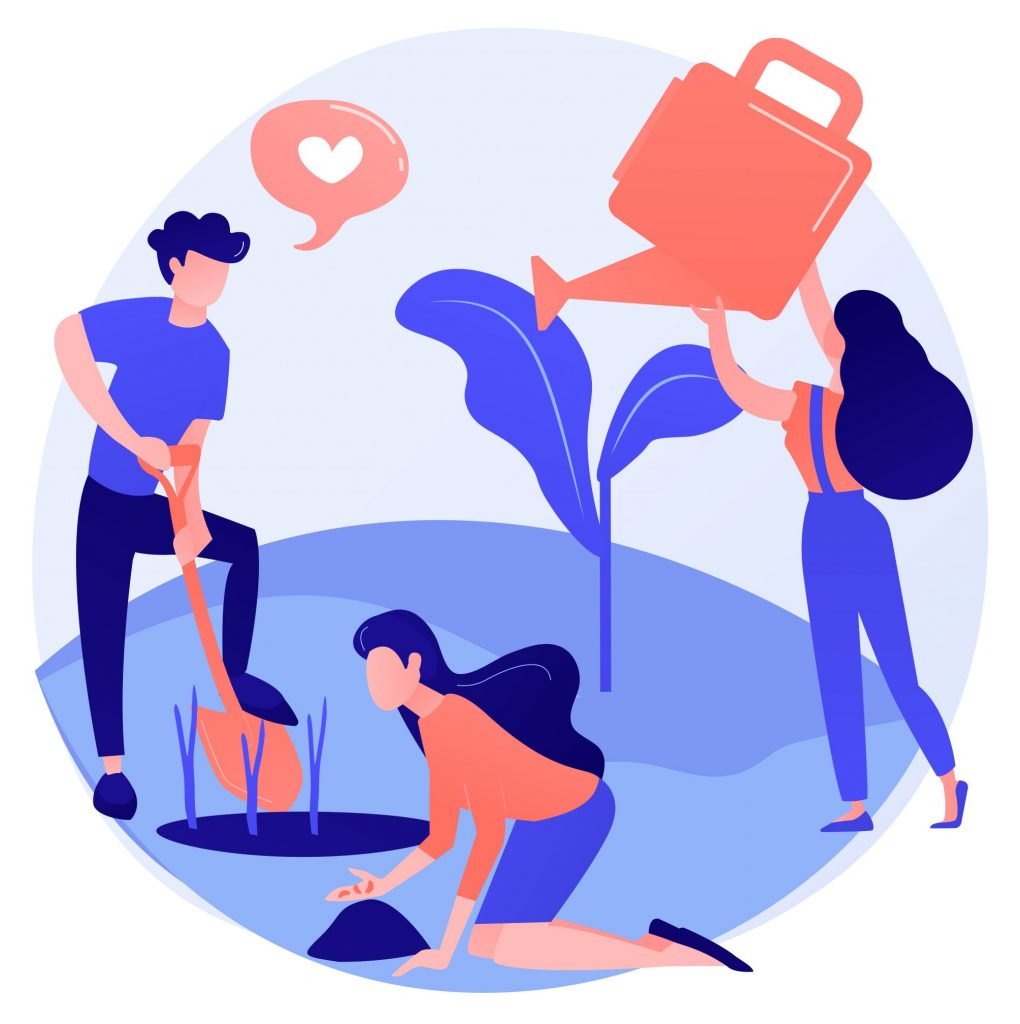 For many people, working remotely involves a routine of moving back and forth from bed to desk and back. Compared to office workers, who often spend at least a few minutes outside during the commute, remote workers typically spend less time outdoors. Given that everyone can benefit from time in nature, the lack of commute time can mean some people don't get fresh air for days at a time, missing out on its health-enhancing effects. Virtual garden events can remind staff members how fun it is to play in the dirt while encouraging them to bond with nature and their coworkers.
For a virtual garden party, encourage employees to go outside and stream the meeting from the lovely outdoor environment, whether in their backyard, front porch, or even a small balcony. Some fun activity ideas to incorporate into the event are:
decorating the garden
arranging flowers with an instructor
hosting backyard tours
creating cocktails using fresh flowers and herbs from the garden
organizing a contest for the coolest sunglasses
5. Virtual Trivia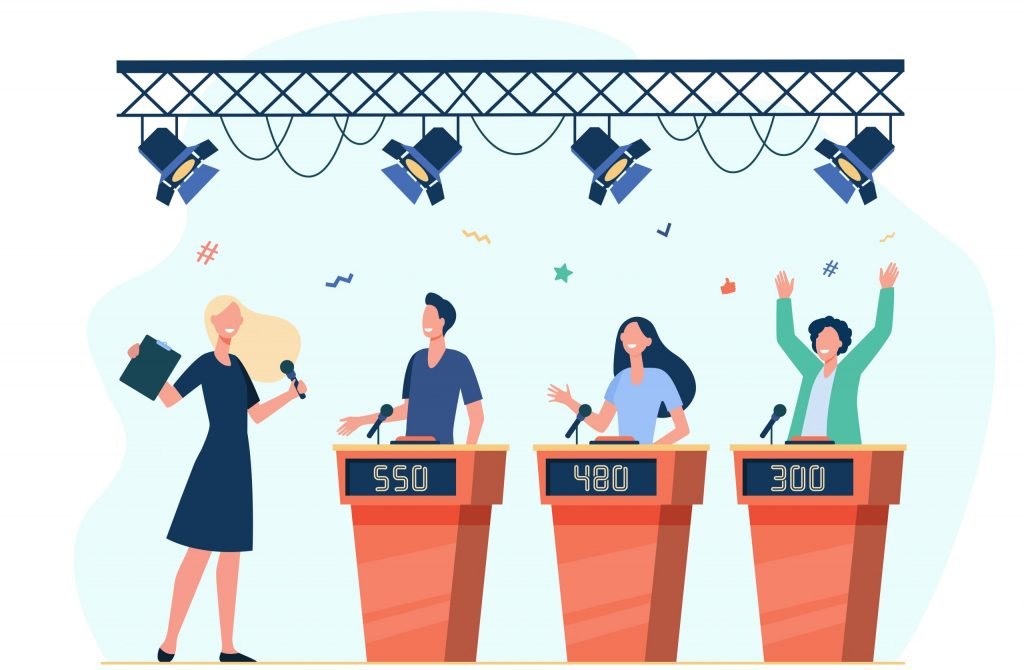 Trivia questions, while trivial by definition, actually improve brain health! Hosting virtual trivia is a fun and affordable way to engage employees while letting them share their interests outside of work.
Step 1: Divide team members into two or more groups
Step 2: Choose a host
Step 3: The host can generate the questions using a random trivia generator and tally the results.
Pro tip: The trivia game could have several themes, including sports, pop culture, leadership, and business-related. To encourage employees to participate, provide prizes like an Amazon or Starbucks gift card. Employees can also nominate themes or topics they are interested in to show off their trivia knowledge.
6. Virtual Happy Hours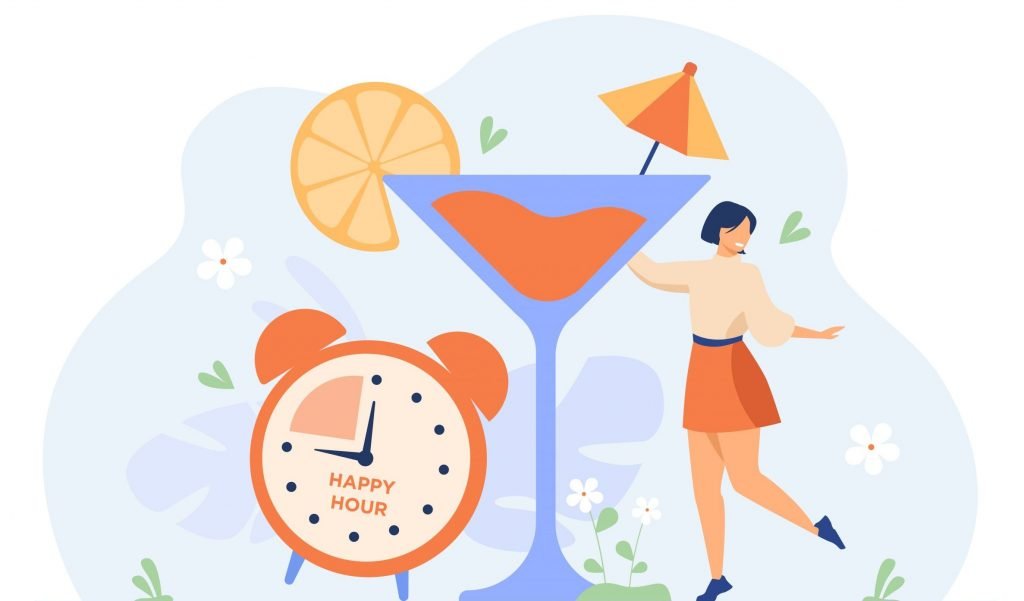 For many people, after-work happy hours are where camaraderie is built—interactions flow more easily when people are relaxed. This can be hard to do when team members are thousands of miles apart. With virtual happy hours, team members can still hang out and share a few drinks in the comfort of their homes. It also promotes connection and a sense of community, which can help people who work from home feel less lonely.
Step 1: Select the date and time, and send out virtual invitations
Step 2: This is optional, but teams can pick a theme, such as "Craft Beer & Crafts," to make the event more memorable.
Step 3: Providing a stipend or providing drinks and planning discussion topics and events will help make the event more fun, requiring less planning on the employees' end.
Coworkers have been going out for drinks after work for generations. By organizing and participating in virtual happy hours, remote employees can carry on the custom with a modern edge.
Pro tip: Give virtual happy hour an upgrade by hosting a cocktail-making session, with all the ingredients sent to participants' homes.
7. Virtual Charades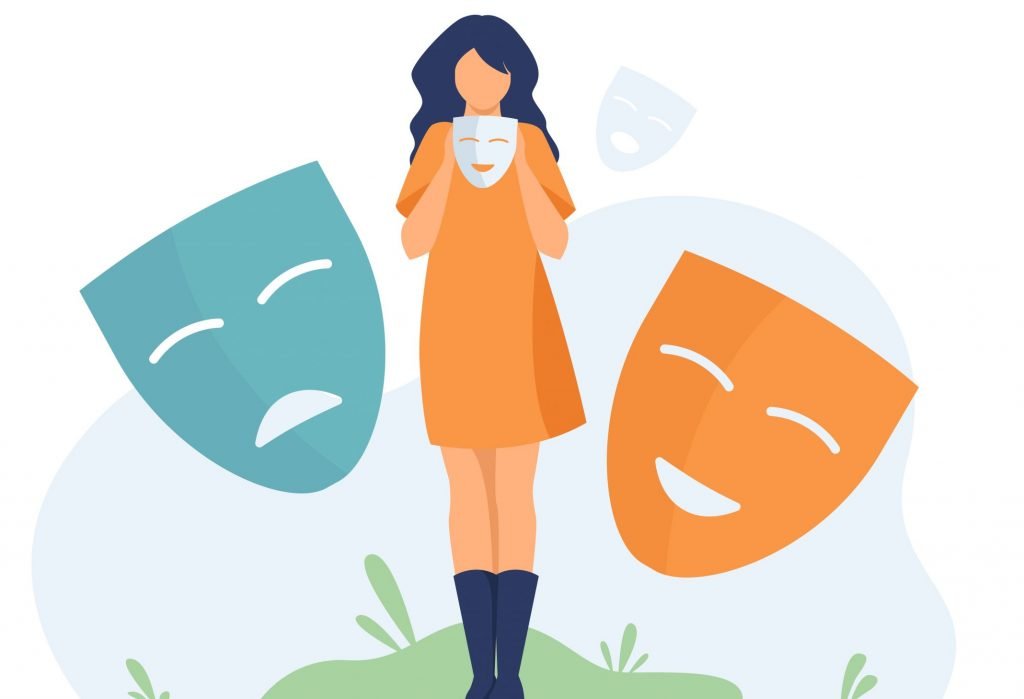 Charades has been a favorite household game for generations. It is fun and light-hearted, but still promotes some friendly competition. Playing charades online is possible with Zoom's spotlight capability.
Step 1: Divide the group into teams. The larger the number of groups, the longer the idle wait time for each group.
Step 2: Create your own themes and ideas, or use a charades idea generator to choose a theme or phrase.
Step 3: The chosen word or phrase is messaged privately to the selected player. Teams can agree on a time limit (usually 1 minute). Award points for correct guesses.
Pro tip: Tired of the official rules? Go with some popular variations, such as using only sounds, no expressions, or reverse charades where one person guesses and the whole team acts it out.
8. Virtual Yoga Sessions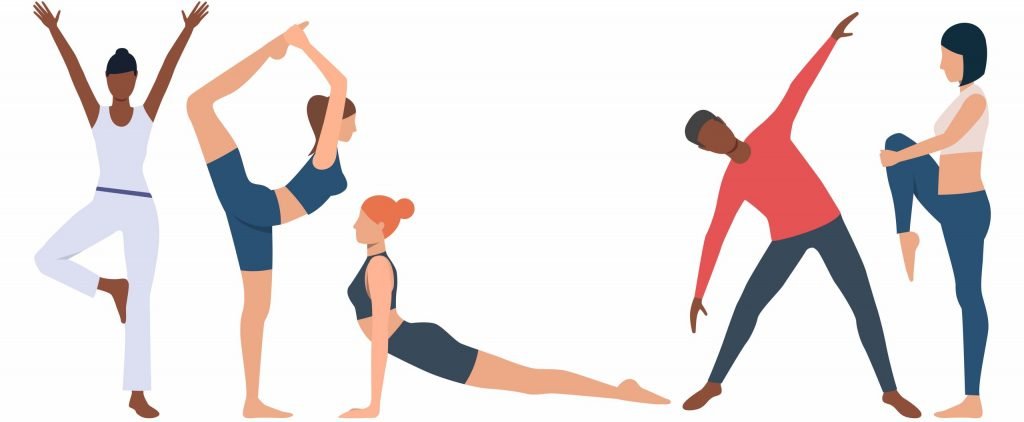 Morning yoga sessions are a great way to help people be active and get the right start to their day. To make it all-level friendly, go with a slower flow, stretching, and incorporate meditation. A special variety of yoga called "Restorative Yoga" can provide a chance for active relaxation, which strengthens the parasympathetic nervous system, lowering heart rate, blood pressure, and stimulating the immune system to reduce the effects of stress-related diseases.
9. Virtual Coffee Breaks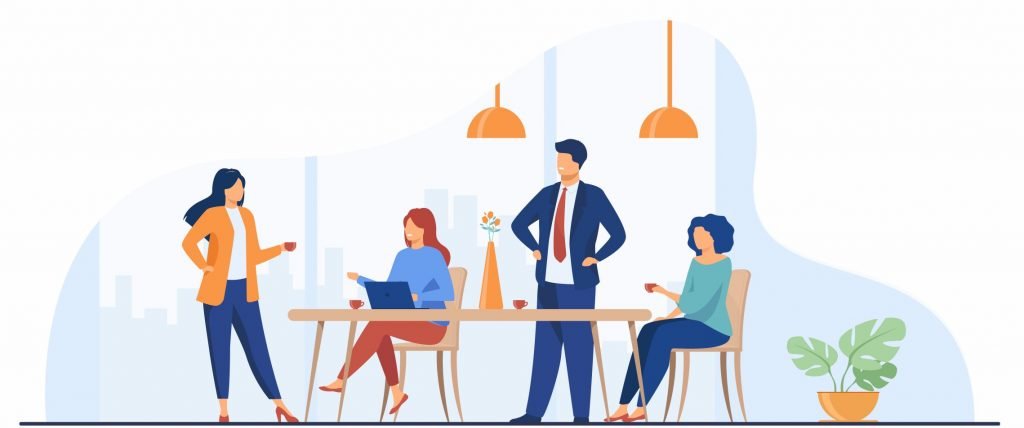 In the office, many people find coffee breaks a valuable time to catch up with coworkers or discuss quick work questions. Many organizations see the importance of facilitating these organic interactions even in the virtual setting, creating a "space" where employees can still come and be around their colleagues without having to set up a formal meeting or conference call.
Step 1: Choose a time block that coincides with when people usually grab a cup of coffee (e.g., first thing in the morning, around 11 AM, or early afternoon).
Step 2: Create a virtual meeting room and share the link with everyone on the team. Make it easily accessible, either through a recurring meeting invite or pinned in a group chat channel/bulletin board.
Pro tip: Organizations looking to introduce more perks to their employees can send high-quality coffee blends to employees' homes or provide gift cards to coffee shops. Coffee-making sessions with instructions on how to make special coffee from around the world, such as Vietnamese drip coffee, are also a great way to engage employees and provide a quick break from work routines.
Additional Tips To Engage Employees
It isn't easy to comprehend the art of employee engagement, since every workplace is unique. Even while virtual events are effective at engaging team members, there are still additional strategies needed, such as:
Training and coaching employees: This is a great way to foster a culture of continuous learning that goes beyond simply assisting employees in developing the skills required to perform their jobs. It also conveys that companies value their personnel and believe in their abilities.
Provide the right tools: Having a good working environment significantly impact job satisfaction. This includes having an ergonomic work space, having the right technology to get the job done, and comprehensive guidelines and procedures to eliminate any confusions.
Guide employees to develop career paths: Providing employees with opportunities to advance and transition positions within the organization is a crucial strategy for maintaining engagement and motivation. An inside promotion will encourage team members to take on unique demands within their function and keep engaged with their work, much like helping employees expand their career pathways will.
Promote a fun and healthy working environment: Working toward goals is difficult, so keeping your workers motivated with fun and healthy competition is essential. Studies suggest that 90% of people find working in a fun setting highly or incredibly motivating. Make sure to incorporate different ways employees can enjoy fun, and remember each person has their preferences.
Recognize and reward employees: The secret to establishing successful employee engagement is rewarding employees for excellent work. Giving them incentives like gift cards and cash awards is a great motivator. Hold regular meetings and thank your staff for their efforts.
Conclusion
Done right, virtual events allow organizations to engage employees in meaningful ways. They should not completely replace in-person interaction, but can add value and still promote employee engagement at a fraction of the cost. To realize the full benefit of these online socials, organizations will need to move beyond one-off events and develop a comprehensive strategy. The bottom line? Sending out a Zoom link and hoping for the best is not enough.
After each event, contact them for feedback on the experience or send out a survey to learn what may be done better next time.